Mobile industry boomed faster than a supernova in the mid-90s. While we were bracing ourselves with the latest technology and trying to adapt it in our daily mundane lives, it flooded humanity with multiple options, versions, and models.
We have come a long way from those "black & white" phones, yet those were the initial steps to what we have today – Smart Phones!
At this hour, Billions must be doodling with their phones, either playing games, shopping online or booking cabs. They all have one thing in common –  Mobile Apps.
Imagine you are using an app to book a cab, and you think to yourself, "Man! this app sucks, If they could change the interface & add extra payment options, it would totally sell more."
So, now you have an idea to create an app which can easily outrun the app you are using to book your cab.
What do you do?
You can either start a company, invest tons of money to get developers and then develop the app or you can take the smart way and connect with an experienced mobile app development company.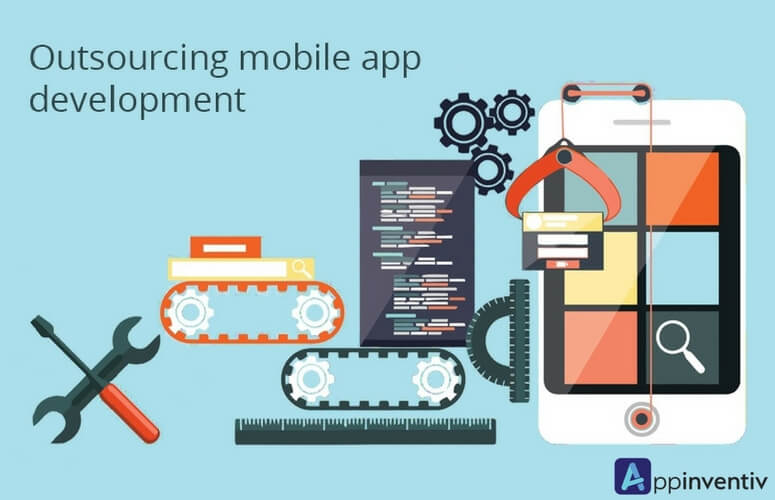 Here are my 4 Reasons why you should outsource mobile app development
Better Expertise –  Better Quality
Whether it is android app development or iOS app development, a professional app development firm will anyway have better experience and knowledge in developing an app than you. The only scenario where you may know equal to such a company is when you are a developer yourself, but given the fact you are reading this blog, it is highly unlikely.
So, when you are pitching your idea to such experts, chances are you're going to get what you expect or maybe a little more. The best app development companies always ensure that you get the best quality and can visualize your imagination into sheer reality.
Lesser Time & Greater Efficiency
When it comes to delivery, you can be assured that your app will be developed in a much lesser period than it would probably take you to setup your own team and develop. A mobile app development company is already developing on a daily basis, which will save a lot of your time as they are already waiting at the harbor to take you along on a journey of your own virtual app world.
Not to forget, the time you will save on compilation of a database of the intended audience and the industry you're planning to get into. The best mobile app development companies take care of industry specifics as well as all the research required to give your application a kick start.
Easy On The Pocket – Easy On Mind
Budget is one of the major concerns anybody would have because developing an app is not a cheap business. It takes hundreds of hours, a lot of virtual sweat and the efforts of multiple teams to finish a flawless app. This is the reason, developing an app of your own will probably multiply your expenses which would include the cost of setting infrastructure, wages of the developer and a lot more.
Whereas, mobile application developers are already finishing projects on a daily basis. They already have the setup, the skills and the time to invest in your idea and turn it into a fully functional and operational application. So, it becomes quite affordable.
Agile To Perfection
Most of the mobile development companies work on an iterative and agile methodology. This is the reason why most of the people prefer outsourcing their app ideas as they can have multiple revisions. The agile method helps in saving time and improving till perfection is attained.
So, if you are hiring a mobile app development company, don't think that it's just a one-time arrangement. As a client, you can always get the changes made and optimize your application as per your idea or imagination. A company working with an agile mindset would always be happy to perfect your application – Appinventiv is one of them!  
Final Thoughts
The reasons I have addressed are just the tip of the iceberg. There are numerous more reasons that can swoop you into the belief that outsourcing is economically feasible, mentally stable and imaginatively reliable. If you have any queries, questions or opinions relating to this or anything related to developing a mobile app as a whole, refer to our mobile app development guide.
In search for strategic sessions?
Let us understand your business thoroughly and help you
strategies your digital product.
Related Articles: