Written communication to engineering is superior because it is more consistent across an entire product team, it is more lasting, it raises accountability." – Ben Horowitz
As appropriately summed up by Ben Horowitz, written communication is like a river that immerses everyone that comes in its contact. The same holds true in a business scenario as well.
Written communication is, indeed, a more unified way to exchange information about a software that every team member should be aware of. This is the reason why product managers invest their time in maintaining documentation of every task concerning the software.
It is understood that creating several documents for numerous processes helps keep the whole development process organized, avoiding unanticipated problems caused by misunderstandings.
To determine the importance of documentation for product managers, let's look at some of the advantages of doing so.
Why Should Product Managers Focus on Documentation?
To Develop a Precise Product Vision – Documentation helps product managers to identify the answers to all the "whys" in projects revolving around the main product. Writing everything helps the product managers make crucial decisions and get answers right at the beginning for questions such as "Who is the product for? " and "why does the app needs to be developed?". This eliminates any chance of confusion and mistakes.
A Major Help in Planning – "You cannot assume that your product is the best solution — you need to plan for it to be." Now, before anything, Planning is paramount. When managers document their vision in a clear and eloquent manner via creating stories, sprints, and goals, the whole development team is able to create a software aligned with users' needs.
Supports Timely Execution – Plans are futile if they are not implemented on time and in the right manner. To turn an app vision into a real and well-functioning application, a product manager uses documentation and establishes written communication with designers, engineers, etc. to nudge them in the right direction and execute the well-articulated plans.
Keeps Team Members Accountable – By keeping documentation of all the tasks related to the product intact, a product manager can access a plethora of information about what team members are doing what and make them accountable for their share of tasks. Keeping a record of everything keep things simple and transparent.
Customers' Needs Are Fulfilled – By documenting everything from app vision to planning, product managers can easily access what features should be included in the application and what functions each must perform. Later, they can pass on this assessment to the team in a detailed and clear way so that the end product is exactly what users need.
Most Used Documents By Product Managers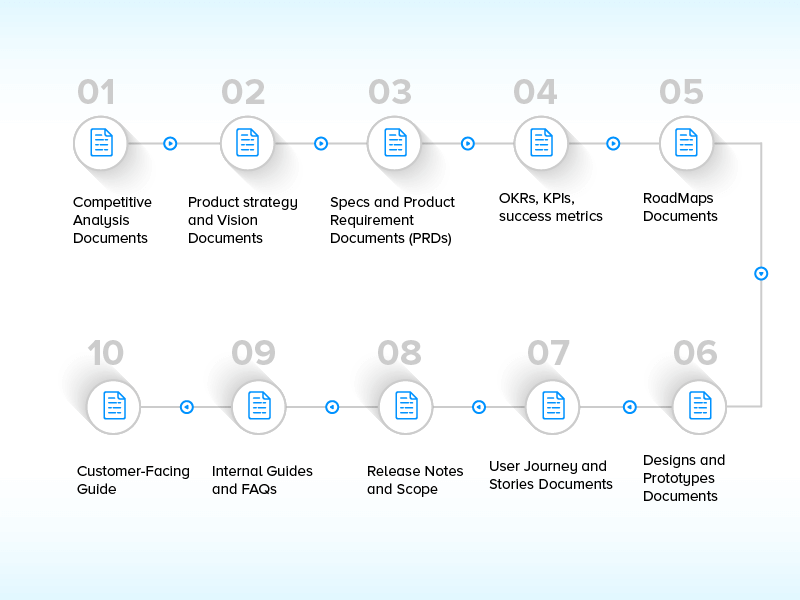 Competitive Analysis Documents
"One way to know your actual advantage is to run a competitive analysis."
Competitive analysis includes the study of the competitors' products and services, market share, and their strengths and weaknesses. A competitive analysis document is prepared inclusive of all the above-mentioned parameters to share with the whole development. A product manager, only after extensively studying the competitors, finalizes what their app or software is going to be like.
A competitor's table in the document may look a little like this:
Name of the Competitor
URL of the Competitor's website
Precise number of users it has  (to estimate the effectiveness of its products and services)
Duration of the competitor's presence in the market
Specifics and specialty of competitors
Cost of service/product
Miscellaneous notes
The contents in the document can differ significantly since there are several types of analysis that product managers perform. Some of the prominent ones are capabilities analysis, Competitive landscape, Competitive differentiation analysis, Imitability Ladder, and Value Proposition analysis.
Product Strategy and Vision Documents
The product vision is something that paints a picture of the future of the product that we are striving to create. It can be in the form of a storyboard, a narrative or a prototype which aims to inspire teams, investors, and partners towards the product.
Product strategy is the sequence of products that are meant to be created until the final product is achieved.
One of the best skills of competent product managers is to create a product vision, but not just that. They need to develop a compelling product strategy as well in order to impart a clear perspective about the product. The product vision must be inspiring, and the product strategy must be very intentional. So, documents are created to record all of the data related to exploring what product may turn out to be and how to turn a vision into reality. Primarily, these documents are shared with the stakeholders for feedback.
Specs and Product Requirement Documents (PRDs)
Product Requirement Documents are an all-in-one-place documents to bring the distinct elements of an app in one place. Specs document are the most common types of documents that contain a description of the apps' features, amongst other things.
Each PRD may differ from one another. These documents outline the research problem statements, success metrics, MVP features list, engineering implementation details and so on.
PRDs combine every step in the complete picture of the product, along with the choice of whether to include or exclude certain features and identify any potential problems. Product managers visualize the time required for project development processes, understand the budget needed for the development processes, and evolve a mutual comprehensive understanding between clients and the development team using this document.
OKRs, KPIs, success metrics
OKR, acronymous of Objective & Key Result is a method used by product managers to establish the objectives and then access the results of the ongoing product development process. The objective guides the team towards the goals and results show whether the goals are achieved or not. It includes two questions that are answered in the process – "Where do you want to go?" and "Have you reached there or not?"
Whereas, KPI (Key Performance Indicator) is a type of performance measurement of the ongoing development process's success. A few examples of KPIs are Customer Lifetime Value and Trial-to-Customer Conversion Rate in sales, Web traffic and Conversion Rate in Marketing, etc. The respective documents contain all these goals and their results achieved during the process.
Roadmaps Documents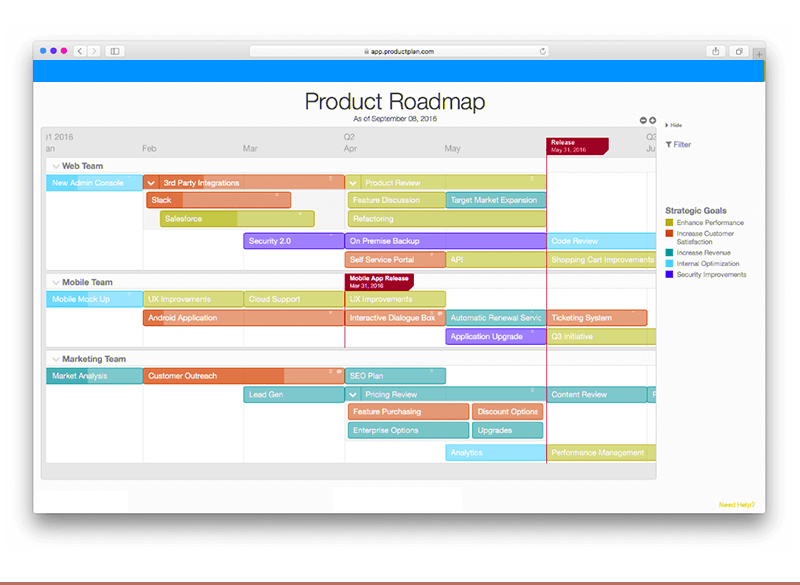 Image Source: Product Plan
RoadMaps are one of the primary and crucial documents that product managers are expected to keep. A roadmap is a way to let the team know the importance of the product.
A product manager develops a product life cycle explaining what needs to be done when and how the whole process will take place. A roadmap is a compiled document of all the projects developed in order to successfully create a software or an application. It is a path created by product managers that the whole team follows. These can be created as Word docs and decks.
Designs and Prototypes Documents
It's hard to nail something for the first time. And it is also true with product design. The initial idea may not be the final one for there are thousands of variations that take place during the process. So, product managers need to keep a document containing all of the changes and alterations made in the product's design.
Product prototyping is severely different for product managers as compared to engineers or designers. In prototyping, product managers set the expectations right and pave a path for the team to tread on.
If you wonder why do product manager needs to create an app prototype document then look at a few advantages of doing so –
Elimination of the risk of misinterpretation
Expeditious iterations
Justification of the concepts early in the process
Increased quality of technical feedback
User Journey and Stories Documents
User stories and customer journey maps are two important tools contributing to the smooth development of any application or software. Product managers create and manage documents for these two roles in order to record every little detail.
In the user story documents, the possibilities of the reasons why a user would use a particular feature are explored. Product managers create the documentation of every possible catalyst that would lead up to the user using a feature of the application. We could consider it a user journey on a microscopic level.
Whereas in the user journey, the whole of the user experience, from buying/downloading the product to using its features is mapped in a document. This helps product managers further explain it to their team and interested parties (stakeholders, etc) and establish their trust in the product.
Release Notes and Scope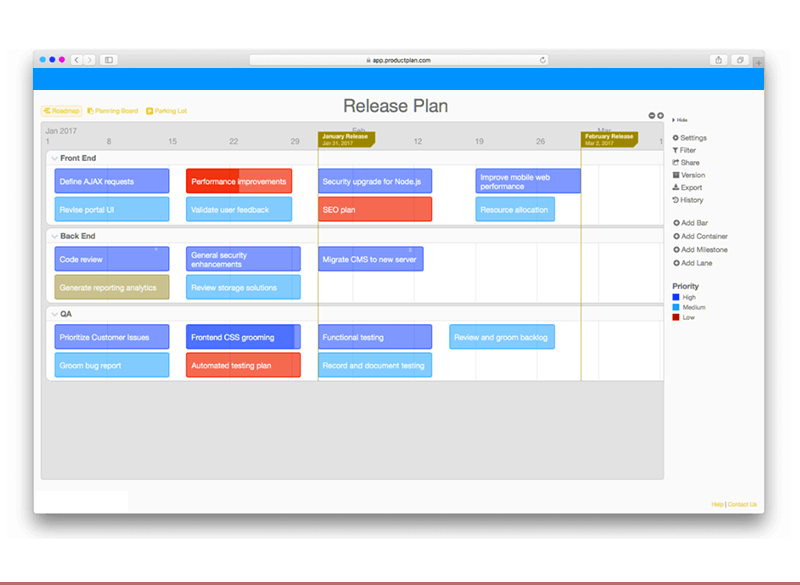 Image Source: Product Plan
As the name suggests, Release Notes are the documents that are released with the release of improvised applications. Product managers assemble this document in order to inform users about new specifications, what bugs have been fixed, and advertise the application after the upgrade. No two documents are the same, for the applications vary greatly from each other.
Scope notes are also known as Scope of work document. In this, managers map out the scope of the features that an application or a software possesses. What those features will facilitate and so on.
Internal Guides and FAQs
These private internal FAQs are prepared for the stakeholders to keep them updated with the whole product development process. The format these FAQs are written in is very simplified. This may possess wireframes of a product having a strong UX component or a link to divide wireframe documents.
These internal guides contain all the data on how things work in the development process. It plays two functions that are important for product managers – ensuring that data is recorded in a manner as to facilitate easy hand-off among members and poses as a reference for external-facing roles to assist customers like Sales, Marketing, customer support, and whatnot.
Customer-Facing Guide
Customer-Facing guide is a user manual document in simple words. It falls upon product managers' shoulders to create this document containing instructions on how to use that developed application.
Without this, users may find themselves in mayhem as to how to operate the product, in the initial stages at least, till they figure the flow out on their own. So, it is pretty clear why this document is so important that it is one of the most used or created documents by product managers.
Final Thoughts
To sum up, these were the top 10 documents that are most used by competent product managers in order to enjoy an effective product management process.
By segregating the tasks' information into different documents, they eliminate any chances of misunderstandings and discrepancies. It renders a highly organized and smooth development process which has been recorded at every little step.
Frequently Asked Questions
Q. What Documents Should a Project Manager Keep?
It is well known that keeping documents is a necessity for any proficient product managers. The question is which documents fare to be the important ones. So, here is the list of important documents that every product manager keeps.
Competitive Analysis Documents
Product strategy and Vision Documents
Specs and Product Requirement Documents (PRDs)
OKRs, KPIs, success metrics
RoadMaps Documents
Designs and Prototypes Documents
User Journey and Stories Documents
Release Notes and Scope
Internal Guides and FAQs
Customer-Facing Guide
Q. What Percentage of Time Should be Spent Planning?
The average percentage of time spent on planning is 10%
Q. What is the Difference between MRD and PRD?
While sometimes these two terms might get interchanged, they are essentially different in nature and serve different purposes.
MRD is known as Market Requirements Document and is used to articulate a focused definition of target market, users and buyers profile. It is a document discussing the needs and wants of the users.
Whereas, PRDs are are an all-in-one-place documents that bring all the different elements of a product in one place. This document defines the breadth as well as the scope of the product so that the whole development team knows how to develop a product.
Q. What Makes PRD Good?
PRD is an important document because it helps in painting the whole picture of what and how to develop a product.
Prateek Saxena
Co-founder of AppInventiv
In search for strategic sessions?
Let us understand your business thoroughly and help you
strategies your digital product.
Recent Articles: