Think of the last time you used your mobile; there are higher chances that you might have used it for one or another social media app:- WhatsApp, Instagram, Facebook, TikTok or Twitter, Yalla, Tinder. See, this is the power of social media in the present time! As we are concerned about our data and privacy, thus, we are finding new ways to dodge any situation or app that messes with our personal security. That's why we are opting for social media networks like MeWe app, also known as the next gen social network for safe and private networking.
In 2019, there were around 2.77 billion people using social media. In 2021, more than 3 billion people are using social media. We should expect to see these numbers grow even higher in the coming years.
A social media mobile app is not only an indispensable part of the lives of normal users but also holds a promising market for businesses. Social media app development for businesses provides a greater opportunity to reach users, engage them and increase brand awareness.
Want to know more about the benefits of these apps? If so, let's discuss its benefits before revealing the features that make a social media app every user's favorite.
Benefits of a Social Media Mobile App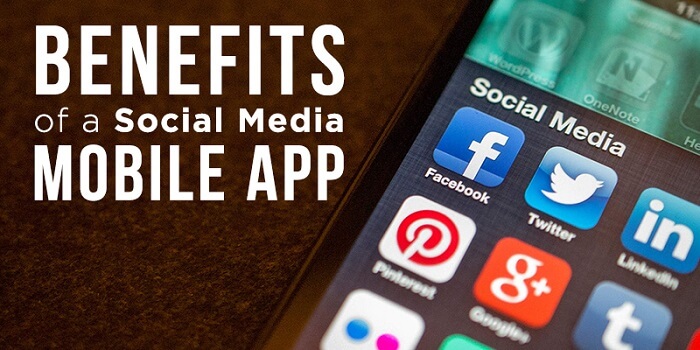 A Social media app offers ample benefits to a business; it acts as a great medium to know your customers, entice them and grow your business. Some of the benefits that we would like to share are as follows:
Better Brand Promotion
With almost every second person using social app for Android and iOS, it is a great platform to reach a larger audience, engage them and stimulate your revenue. The experts of a reputed app development agency share that if you provide the users with the facility to chat about your products or services in social network app, there are higher chances of keeping them engaged.
The very best example is Cairo-based Startup Elves which is earning $80,000 a month using Facebook's Messenger.
Besides this, the social app for Android and iOS are also suitable to find the right employees, partners or investors by astonishing them with your brand reputation and futuristic outlook.
Faster Service/Product Demonstration
By investing in social networking app development, you can promote your products directly to the targeted buyers easily and faster. You can spread the word about discounts, offers, and new arrivals and therefore, encourage customers to buy and share the news with others. Again, by constantly updating the users with valuable content, you can let them know that they are valuable for you and this way, prompt them for brand loyalty.
Unparalleled Insights about Your Target Audience
When talking about social media applications list, it is the ultimate source to the user's profile that includes valuable information like their interests, preferences, and opinions. By using this information and tracking the discussions made about your brand, you can easily build compelling marketing strategies as well as upgrade your product/services as per their expectations. Not just this, social networks can also be a great tool to monitor the activities of your competitors and make smarter business decisions.
Increased Search Ranking and Conversion Rates
It's quite interesting to know that each single like, share, or repost on your published content will raise your Google's search ranking. Without social promotion, you might take years to reach the customers. But, with a few posts on social media, you can be famous in no time. More consumers will come to know about you, will interact with you and thus, uplift your conversation rates.
Features to Consider in Social Media App Development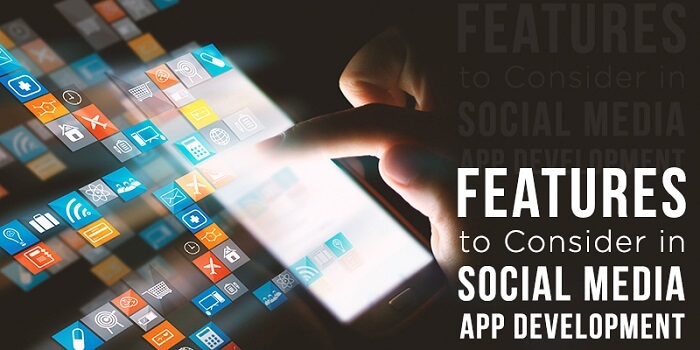 Now, as you know some of the advantages of social media app, are you ready for one? There's no denying the fact that the social media sphere is densely occupied, but still it is one of the best platforms to invest in and enjoy higher perks. For this, all you need to do is to work on the crucial features.
Many people believe that the more features, the more will be the user engagement. Unfortunately, it is not so. According to our developers, it's just a set of features that can make your application a "hot topic" in the market. Curious to know about those features of social media apps? Following are some of them:
Quick Login
Social media empowers users to connect with peers, friends, and family across the globe in a captivating manner. Due to the same, customers wish to have the procedure as easy, quick and effective as possible. Hence, if you are developing a social media application, ensure that the application provides easy login options. You can also integrate your mobile app with popular social media platforms and offer better services.
More the user-friendly your application is, more will be the chances of remaining in the minds of the users.
Simple User Interface
The main focus of a social media mobile app is to render a shared environment where the content can be easily accessed and shared, and conversations can take place. If you provide a strong visual design, it might make it harder for the users to pay attention to the main functionality. Hence, better prefer a simple yet interactive interface. The colors selected should be calm and supportive, with all the interface options placed well and complementing the prime purpose of the app.
Customizable Profile
Users like to update their social profiles according to their mood, interests, activities or environment. In such a scenario, if your app leverages them with options like uploading their favorite picture, giving a short bio, sharing their interests, etc., they would be more excited to use your application. In addition to this, if you provide them the authority of customization, they will get a sense of control and command over their profile and so, will be more loyal to your application.
Appealing News Feed
One of the reasons why social media applications like Facebook and Instagram have managed to take off over the last few years is their ability to show 'real-time', engaging content to the users on their news feed. For customers, social media applications are a medium to express their views and thoughts, and this way, influence the society. Thus, make it certain that the news feed will be filled by contents users wish to see.
Content sharing
Most social media app users love sharing content with their friends and network. It is one of the best features of a social media app that enables communication between people and lets users feel connected, even when they are far away from each other. Content sharing can include the ability to post and send photos and videos as well as allow users to comment on what is shared. 
Live video streaming
Live video streaming has become a really important part of a social media app. With this feature, users can stream live video to exchange ideas, celebrate occasions with friends and family, and more. This feature helps users to cherish moments and create memories with their family even if they are far away from each other. 
Follow or send friend requests
It's important to include a feature in your social networking apps that allows your users to become friends or follow others. Even apps that are not primarily for social purposes can also benefit from this feature. If your app's users have friends or followers to engage with, they are likely to feel more connected to your app and keep coming back for the interactions. Your app can also 'suggest' more friends or followers to its users based on their current connections.
Push Notifications
Push notifications is a powerful medium to keep the users notified with all the recent activities. So, don't forget to incorporate this feature in social media application development. Apart from this, you can also employ this one of the best social media features to provide trending, customized and smartly-targeted promotional content to the users.
Easier Search
It is necessary to include a search functionality in your social networking apps; after all, it will save the users' time to get access to a vast amount of information. According to the top application development agency, integrating the live search results and filtering option in your app design is the best thing you can do to engage the users. When the smartphone users will type into the search box, the results will be filtered out and shown quickly in a drop-down style. This will help the users to easily find the content they were looking for, without going through irrelevant data.
[Bonus Read: How To Determine WhatsApp Development Costs: A Complete Guide]
Private Communication
No matter how much a person enjoys public conversations, they will always end up with the necessity of a private communication medium. So, don't miss out this one of the best social media features in your application.
When your app contains built-in services for private communication, the user won't go to other apps for chat functionality and so, will spend more time on your application.
Security
With user's personal details and content in the social mobile app, it is necessary for every social networking app development agency to work on higher grades of security and privacy features. A regular app update fixing the bugs and loopholes must be introduced more often. When they feel secure, they will be able to better enjoy your application.
[Also Read: How Much Does it Cost to Create TikTok Like Mobile App]
FAQs
Q1. What are social media applications?
Social media applications are interactive technologies that allow the creation or sharing/exchange of information, ideas, career interests, and other forms of expression.
Q2. What is the most popular social media app? 
As of 2021, the most famous social media apps are Facebook, Instagram, Snapchat, YouTube, Twitter and more. 
Q3. What are the main features of social networking sites?
The main features of social networking apps and sites include content sharing, follow and send requests, private communication, chat and live video, push notifications, etc.
Finishing Thoughts
A social media mobile app can be the best investment for business growth. All you have to do is to choose the right platform, analyze your target audience and include the aforementioned points into your application. Bring the right feature and resources, hire the right app development agency, and you will be able to rule the hearts of users.
For any guidance related to how to make a social networking app for android and iOS from our experienced app developers, contact us anytime. We would love to assist you with the best piece of our knowledge and experience.
Read more blogs
With over 30 million sign-ups in just 16 hours of its launch, Instagram's Threads app, the recently launched "Twitter Killer" by Meta, has taken the world up a storm. According to the official app store description, Threads is a dynamic social media application that fosters engaging conversations and vibrant communities. Designed to cater to diverse…
Prateek Saxena
07 Jul 2023
In the modern world, messenger apps have become essential for communication. They facilitate staying in touch with loved ones, conducting professional alliances, and acquiring new knowledge. According to estimates, the global mobile messaging market is projected to rise and reach $101.41 billion by 2023, with an expected surge at a high CAGR of 15.9%, potentially…
Prateek Saxena
03 Jul 2023
An influencer marketing platform, also known as an influencer marketing marketplace, serves as a centralized hub for brands to discover, connect with, hire, and pay influencers for specific campaigns. This platform greatly benefits brands seeking to manage multiple influencers within a single campaign. Automating certain processes associated with managing influencers, the platform streamlines the campaign…
Prateek Saxena
21 Apr 2023