How Much Does Anonymous Social Media App Development Cost?
August 9, 2019
2. min read
Last update on:
August 21, 2020
Social media networks take multiple forms to keep up with the users' changing demands. One such form is anonymous social media.
Started in 2014 with Whisper, Secret and other ways, anonymous social media started off as a fun experiment but grew on to become a popular entertainment and social connect option for users who craved privacy. 
Even after 5 years of its existence, anonymity apps have found themselves standing strong in the online world, even though there are negative connotations surrounding it. 
The people who frequent these apps are mainly those who want to take measures to not get tracked by advertisers, employees, government, or simply people from their past. This need to exist anonymously on the internet and on social media is what has kept the attraction for anonymous social media market high. 
When we dissect the market that anonymous social media has formed for itself, we can find two types of apps playing contributing roles in not just the market but also in the estimation of cost to develop an anonymous social media app. 
Types of Anonymous Social Media Apps
The anonymous social media sector is primarily divided into two categories –
A.

Anonymous Chat Apps

These apps are one which only offers one functionality – send chats to others anonymously, without revealing the true identity. 
B.

Anonymous Social Media Apps

This is the category which Whisper and YikYak generally belong to. They allow users to send different type of content with other users in the app, anonymously. 

Irrespective of what type your anonymous social media app belongs to, there is a set of information that you will have to protect in order to maintain the anonymity factor. Let us look at what those pieces of information are before we move on to the technical side of apps like Whisper.
What User Information Should You Protect

To know the information that has to be protected to keep the integrity of apps like Whisper intact is just a part of the whole application development. There is another crucial side to it – The features set. 
When you invest in the development of a Whisper like application, you have to focus on not one but two versions of the application – A. Of the Customers' Side B. Of the App Admin's Side. 
Must-Have Features of Anonymous Social Media App
Users Side of the Application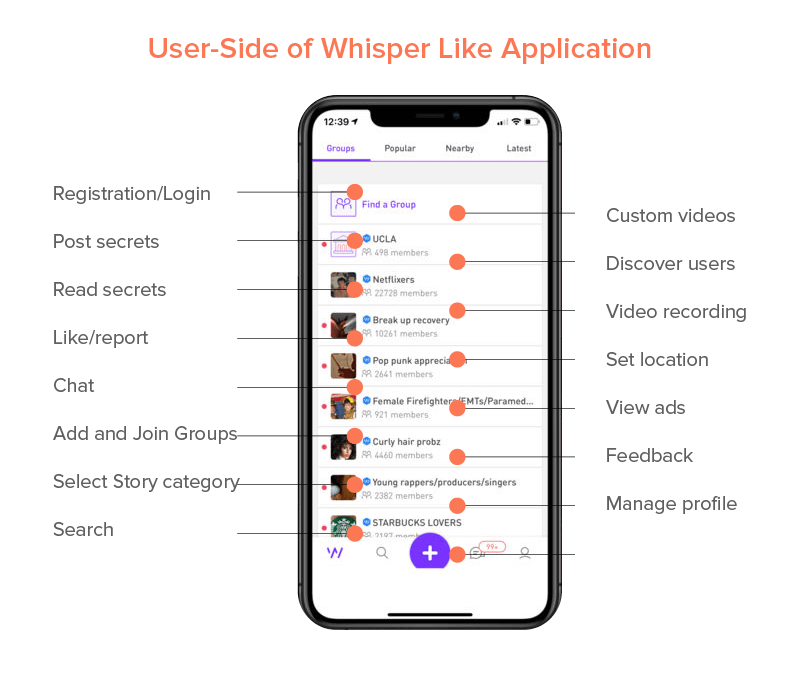 Admin Side of the Whisper Like Application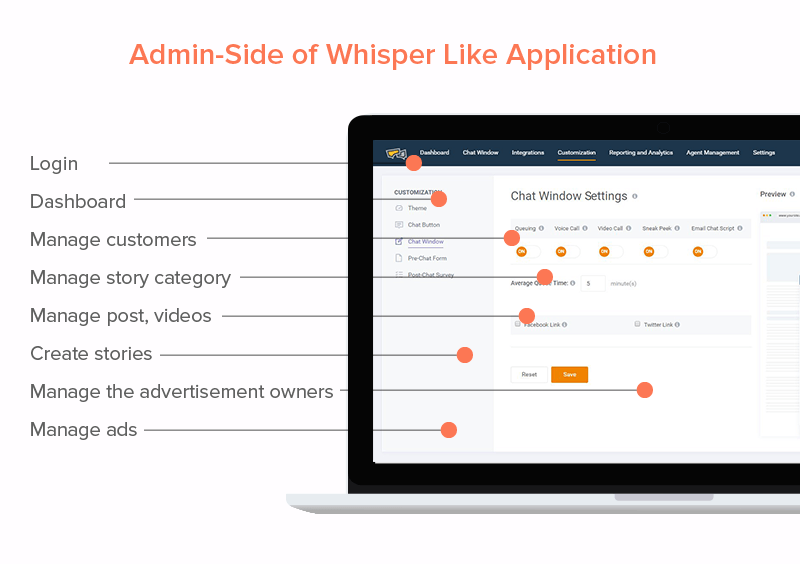 While these are the must-have features that your Whisper like application developers will be working around, there are a few other features as well, which would be inherent to your whole Whisper like app development process. 
The features that your Whisper like application would majorly be based on –
A.

Anonymity

Anonymity is the one feature that the application is based upon. It gives the freedom to the users to post and share their feelings with the other users without getting their name revealed. 

To maintain anonymity, a nickname is given to them by the system. This way they get to interact using their system generated names instead of the actual one.
B.

CMS Integration

Content is at the center of the application. By integrating the CMS feature inside the application, admins are able to keep manage and keep track of the content posted, while the users are able to post in real-time. 
C.

Chat logs

These are a pivotal part of any anonymous social media app. Only when you have a chat log system in place you will be able to take necessary measures against people, if found 
D.

Real-time Reporting

The feature facilitates real-time reporting of how people are interacting with the application. By combining analytics and real-time reporting, app admins will get access to users registrations, most engaging posts,  ads tracking, etc. 
E.

Cloud Storage

Integration of cloud storage in the app not just helps in keeping the data secure but also ensures that every activity surrounding post upload, modification, reporting, etc. happens in real-time 
F.

Location Tracking

Whisper app comes with a functionality that makes it possible for the users to see what people around their geographical location are sharing. For this purpose, the app makes use of a location tracking feature. 
G.

Manage Login Sessions

Admins should be able to access the number of users who are logged in a system at any given point in time.
How Much Does Whisper Like Anonymous Social Media App Development Costs?
Estimating the mobile app development cost of a semi-complex application like Whisper can come across as a challenge for there are a number of involved intricacies. 
However, it will be possible for us to give you an approximate range on the basis of the feature set mentioned above. 
And that range of whisper-like app development will be approximately from USD 61K to USD 81K. 
However, do note that it is simply an MVP range of anonymous social media app development cost, which would increase as the features set are increased in number. 
Now that we have covered the market, technicalities, and the answer to how much does social network app development costs, let us look into the factor that would determine the success of your anonymity based social media app. 
No matter how well-designed and robust your app development process is, it would all go downhill very soon if you don't have the necessary measures to keep cyberbullying in place. For there are a number of people who can use the opportunity of anonymity to create a lewd and inappropriate situation for other users. 
Here's how you can ensure that it doesn't happen with you. 
But before we go on listing the measures, let us first answer a pivotal question – how will you track the culprit when everyone is anonymous?
In Whisper, it is impossible for you to chack anybody's profile 
But you do, in fact, get push notifications on your devices when someone likes or replies to your post. It means that the app knows the device it should send notification on even when the information was not asked when you were logging in.
The algorithms that make it possible are the exact ones which make it possible to track anonymous users. 
For the purpose of clear explanation, let's divide anonymous social media apps into two categories – 
In the case of non-login apps, like Whisper, it is not possible to get their name or email address. 
In order to track anonymous users, the social media app developers would generate the token or unique user_id that would be associated with the users' device. When the user accesses the app from some other device, new code or token will get generated and a new entry will be created in the database. 
The user_id and all the posts that are made from it are stored in backend, making it possible to send notifications when somebody performs an activity on them. It is also possible to access the users' location using the app's nearby feeds.
There are a number of anonymous apps which although allot a nickname, require user details to enter the application. In this situation, tracking works like any other social media app. 
Now that we have looked into how to track anonymous users, let us look at the prevention side of the app as our parting note. 
How Can We Prevent Cyberbullying in Social Media Apps Which are Anonymous?

When not tracked, your whisper like app can become the house of a number of illegal activities that can take your brand image down very soon. 
But only at the back of a few measures, you will be able to be a part of an application where people are safe. Here are what those measures are.
A.

Flag Posts

Users should be given the ability to flag the posts that are inappropriate. And then the admin can perform a necessary action of those posts and the user who posted them.
B.

Geofencing

There are a number of apps that are developed in a way that they are restricted in some geographical locations like schools or offices etc. By applying the facility in your app you too will be able to limit their usage in places which are the breeding ground of bullies. 
C.

Appoint a team

There are a number of posts which are difficult for machines to identify and categorize as harmful. In this case, human's involvement becomes absolutely necessary, for they are better able to gauge the state of the post. 

Now that you have looked into everything that is needed to get on the journey of anonymous apps like whisper development and have the answer to how much does anonymous social media app development costs, the only thing left to do is actually get on the process. Let us help you.

Fill in the contact us form below and our team will get in touch with you shortly. 
FAQs About Anonymous Social Media App Development
1. Are anonymous apps like Yik Yak and Whisper really anonymous?
From the users point of view, yes anonymous apps like Whisper and Yik Yak are truly anonymous. But on the admin or parent company point of view, they are not. It is not impossible to identify the users who post content or make comments on other users' posts. 
2. What are the best anonymous apps?
There are a number of anonymous social media applications that are being widely used in the world which demands secrecy and anonymity. Some of the top ones are:
Whisper

Yik Yak

Secret

Erodr
In search for strategic sessions?.
Let us understand your business thoroughly and help you
strategies your digital product..
Related Articles: