How Much Does It Cost To Develop A Messaging App Like Snapchat?
August 8, 2018
2. min read
Last update on:
April 21, 2021
Imagine yourself as a college boy who gets an amazing photo showcasing and messaging app and you develop it along with some of your college friends.
The next thing that you know a few years later, Facebook is ready to pay $4 Billion to own the app a proposal that you proudly reject. And ultimately you end up with an app that gets valued at $20 Billion. Also, you bag $250 Million investment from Saudi prince!
Sounds like fiction, doesn't it?
But it isn't. This is the true story of Snapchat.
In a very short span of time, Snapchat has understood the secret behind the apps that go viral and has established itself as the most used social media cum messaging app. A doing that has inspired hundreds of entrepreneurs to search for how to develop apps like Snapchat and invest in a social media mobile app development agency that understands the nuances of how to develop messaging app like Snapchat.
Majorly, all the businesses are aiming to fall into the revenue chart that apps like Snapchat lie in.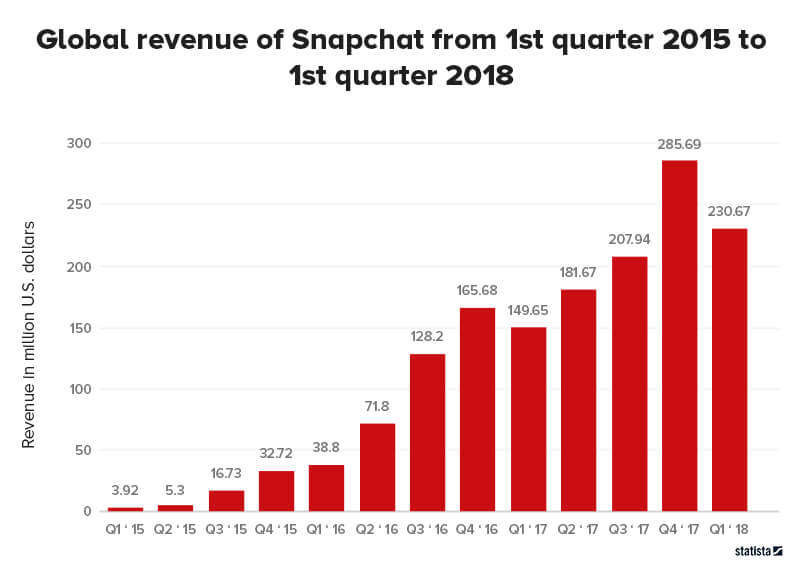 This article is for all those brands or entrepreneurs who are looking to transform their yearly P&L statement and bring it in-line with how the revenue chart of Snapchat looks like.
Having a similar growth tangent as an app like Snapchat and benefitting from the 191 million daily active users is the dream that has brought in an increase in the number of Snapchat competitors, with some hot shot brands being one of them.
*Even though the majority of them have accepted copying/getting inspired from Snapchat.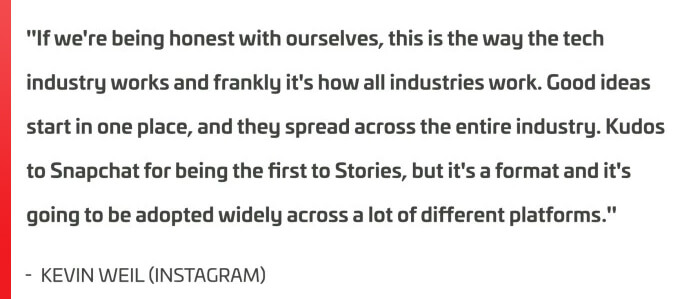 Top Market Players in Snapchat Category

The biggest reason why brands continue to get inspired apps similar to Snapchat is the app's list of features. It was Snapchat that first introduced the feature of disappearing messages in the social media industry and soon the concept went mainstream. Other than the disappearing content, the introduction of AR to help customize the facial features is also something that was popularized right after Snapchat.
One of the second prime reasons behind the growth in a number of businesses getting inspired from the brand and the willingness to develop apps like Snapchat is the non-complex Snapchat app technical stack.
This low complexity of the technology stack carries an impact on the cost to develop an app just like it does on the estimate of apps other than social messaging app development.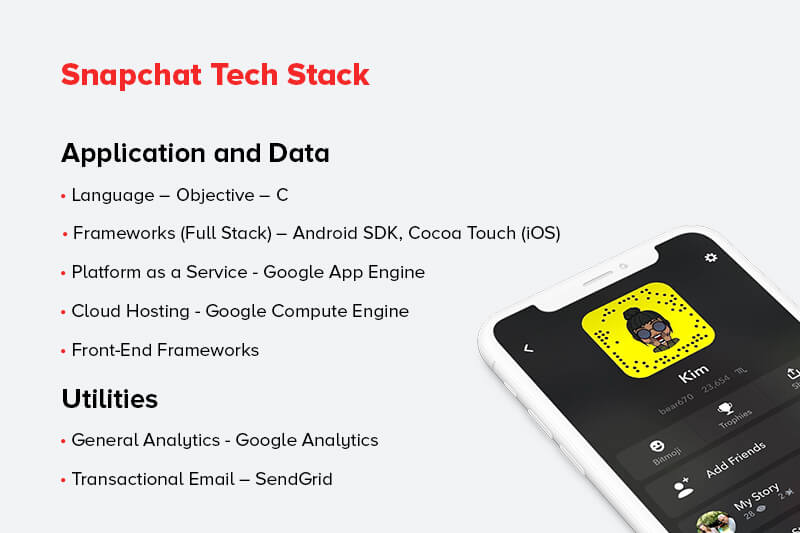 In order to answer how to develop an app like Snapchat, it is of prime importance that you know the features that go into the making of the popular social media app and understand the time it takes to develop them.
So, before we get to the part where we discuss What is the cost of building an app like Snapchat, let us look into the features it should have and the hours it takes to develop apps like Snapchat.
Basic Snapchat Features and the Time it Takes to Develop Them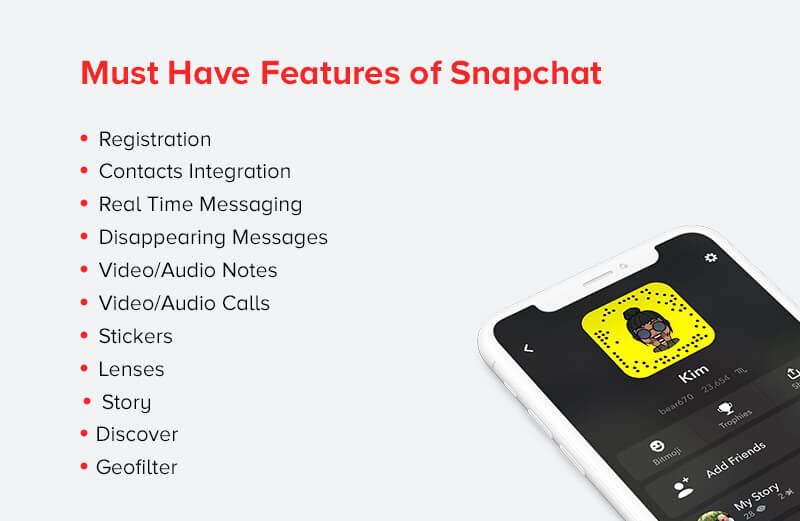 1.

Registration

Snapchat doesn't have a social media login option. Their original reasoning behind this was simple – to avoid adding parents in the snap friend list.

In case you wish to follow the same approach in your messaging app development, For a user to login into Snapchat, they will have to enter their name, birthdate, contact number, and lastly choose a nickname. Once these pieces of information are filled in, they get a confirmation code on their linked phone to finish the registration process.

Development Time: 70 – 80 hours (Backend and Frontend of one platform)
2.

Contacts Integration

When it comes to finding friends on Snapchat clone app, a user usually gets either of these four options –
Search with the help of username

Allow Snapchat to import contacts from the phone book

Add contacts in the same geographical vicinity

Share the Snapcode through email, message, or social media platform
Development Time: 80 – 100 hours
3.

Real Time Messaging

The next feature that specifies how much does Snapchat cost is instant messaging. Like all the other social media platforms used actively, also comes with the option of real-time chat. To enable the messaging and push notification system in your Snapchat clone app, you can make use of the XMPP and HTTP + Push Notification technologies.

Besides these, you can even ask your mobile app development company to add these in your Snapchat technology stack list for development – Erlang language (used by WeChat and Whatsapp), YAWS server, XMPP, and Mnesia DB.

Development Time: 100 – 150 hours.
4.

Disappearing Messages

One of the biggest contributing factors of the answer to How much does it cost to make an app like Snapchat are the vanishing messages. This is how the Disappearing messages work –

The user sends a message to another user, which is uploaded on Snapchat servers. The user receives the message notification and the content gets downloaded on a temp location on the device

Once the message is viewed, the message gets deleted from the Snapchat server and the chat within 24 hours.

Development Time: 120 – 150 hours
5.

Video/Audio Notes

Your Snapchat like app should allow users to record and then send 10 seconds video to other users. It is ideal for the creation and sending of reaction gifs. Using this feature, you can even send audio-based messages to another user.
6.

Video/Audio Calls

What makes Snapchat a lot similar to Whatsapp and Facebook is the voice and audio call option.

Development Time: The time it takes to develop both call and sending notes option, takes somewhere around a month.
7.

Stickers

Stickers have grown to become a very important element of a social media app. They are immensely helpful when it comes to keeping users engaged and entertained within the app.

There are several sticker extensions available to download for both Android and Apple and it takes approximately 10 to 20 hours to integrate one in your Snapchat clone app.
8.

Lenses

Lenses are what makes Snapchat what it is today. The ability to paste different faces on yours and change what your voice sounds like is what keep Snapchat users hooked to the social media app.

The element is so synced with the app's identity, that it is impossible to find the answer to 'How much does Snapchat cost' without the mention of lenses.  

For integrating the same facial recognition feature in your app, you can make use of the Mirror Reality SDK, which is a cost-effective alternative to the development of a proper AR facility. You can even use Snapchat's own Lens studio app for the creation of your own AR animation.
9.

Story

The one element that creates a striking resemblance between Instagram and Snapchat is Stories. Through the stories feature, users get the option to publicly broadcast the content on the app, which then remains live for 24 hours.

The brand made an addition in its story feature a while back – Live Story. You can also add the feature of creation of live real time video with the help of Wowza Media Server (the one that Periscope uses) and then use a content delivery network.

Development Time: It takes around 100 – 200 hours to develop a story and live story feature for the Snapchat clone app.
10.

Discover

On this section, the Snapchat users generally find content shared by Snapchat sponsors. Like the main story section, the stories in Discover is also only live for 24 hours.
11.

Geofilter

Using this feature, users can paste custom geographical templates on their image. To enable this feature in your Snapchat clone app, you will have to hire a mobile app development agency that is acquainted with the development process of Geocoding.

Now that we have looked into both – the technical stack of Snapchat clone app and the features + development hours the app would have, let us come to the last and probably the most awaited/crucial part of the article – How much does it cost to build an app like Snapchat.
What is the cost of Building an app like Snapchat?
This section is your answer to 'how much did it cost to make Snapchat'. This table below will give you an idea of the time it takes to develop/integrate different elements into the Snapchat clone app.
Noting these design and development hours, it can be assumed that the answer to how much does it cost to make an app like Snapchat would come somewhere around $45,000 to $60,000. However, this is a very rough estimate. There are a number of factors that can increase or lower the numeric answer to how much does it cost to develop an app.
Now that you have gathered the complete understanding of not just the Snapchat clone app market potential but also the answer of how to make an app like Snapchat, along with the near actual cost estimate of Snapchat app development, it is time.
It is time to use the information you gathered on how to create an app like Snapchat and contact our team of mobile app development experts and get your Snapchat clone app made.
In search for strategic sessions?.
Let us understand your business thoroughly and help you
strategies your digital product..
Related Articles: