With more than 300+ downloads, Snapchat seems to be a game-changer in the world of social media apps. With ultimate features and functionalities, Snapchat has garnered tremendous success and has quickly taken the center stage. Part of this success can be linked to Snapchat offering something new to its users. This popular messaging app has been a real pioneer in bringing Augmented Reality to its users through filters and interactive lenses. The app also allows you to share multimedia messages that will "self-destruct" in up to 10 seconds. 
As of 2021, Snapchat has more than 265 million daily active users worldwide. Nearly 6 in 10 or 59% of US internet users aged 13 to 24 years use the photo-sharing app. Additionally, Snapchatters watch over 10 billion videos per day. The success story of Snapchat has inspired hundreds of entrepreneurs and users. They are now looking to invest in a social media mobile app development agency that understands the nuances of how to develop a messaging app like Snapchat.
Businesses in this domain are aiming to fall into the revenue chart that apps like Snapchat lie in.
In a very short span of time, Snapchat has understood the secret behind the apps that go viral and has established itself as the most used social media cum messaging app. A doing that has inspired hundreds of entrepreneurs to search for how to develop apps like Snapchat and invest in a social media mobile app development agency that understands the nuances of how to develop a messaging app like Snapchat.
Majorly, all the businesses are aiming to fall into the revenue chart that apps like Snapchat lie in.
This article is for all those brands or entrepreneurs who are looking to transform their yearly P&L statement and bring it in line with how the revenue chart of the Snapchat app looks like.
Having a similar growth tangent as an app like Snapchat and benefitting from the 191 293 million daily active users is the dream that has brought in an increase in the number of Snapchat competitors, with some hotshot brands being one of them.
*Even though the majority of them have accepted copying/getting inspired from Snapchat.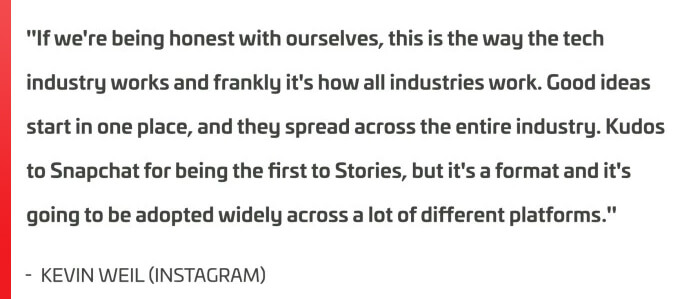 Top Market Players in Snapchat Category

The biggest reason why brands continue to build apps similar to Snapchat is the app's list of features. It was Snapchat that first introduced the feature of disappearing messages in the social media industry and soon the concept went mainstream. Other than the disappearing content, the introduction of AR to help customize facial features is also something that was popularized right after Snapchat introduced it.
One of the second prime reasons behind the growth in a number of businesses getting inspired by the brand and the willingness to develop apps like Snapchat is the non-complex Snapchat app download technical stack.
This low complexity of the technology stack carries an impact on the cost to develop an app just like it does on the estimate of apps other than social media app development.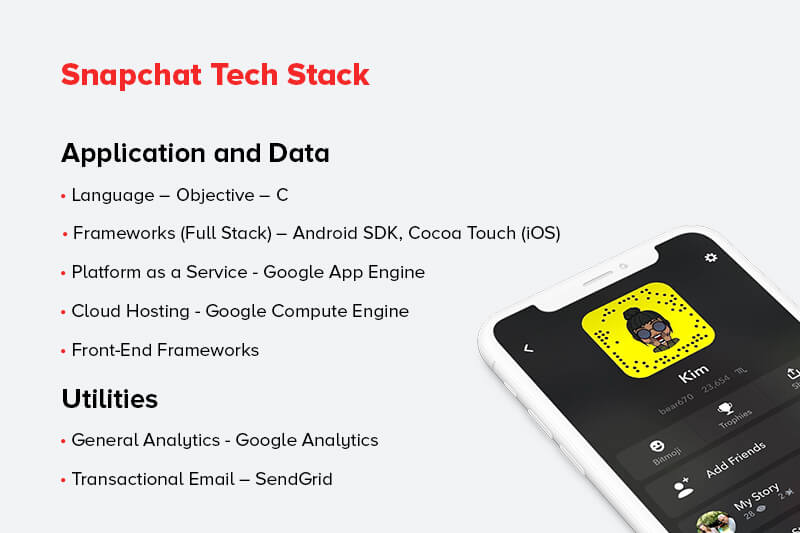 In order to answer how to develop apps like Snapchat, it is of prime importance that you know the features that go into the making of the popular social media app and understand the time it takes to develop them.
So, before we get to the part where we discuss what is the cost of building an app like Snapchat, let us look into how to make an app like Snapchat, the features it should have and the hours it takes to develop apps like Snapchat.
Basic Snapchat Features and the Time it Takes to Develop Them
1.

Registration

Snapchat app download doesn't have a social media login option. Their original reasoning behind this was simple – to avoid adding parents to the snap friend list.

In case you wish to follow the same approach in your social media app development, users will have to enter their name, birthdate, contact number, and lastly choose a nickname. Once these pieces of information are filled in, they get a confirmation code on their linked phone to finish the registration process.

Development Time: 70 – 80 hours (Backend and Frontend of one platform)
2.

Contacts Integration

When it comes to finding friends on the Snapchat clone app, a user usually gets either of these four options –
Search with the help of username

Allow Snapchat

app

to import contacts from the phone book

Add contacts in the same geographical vicinity

Share the Snapcode through email, message, or social media platform
Development Time: 80 – 100 hours
3.

Real Time Messaging

The next feature that specifies how much does Snapchat app cost is instant messaging. Like all the other social media platforms used actively, it also comes with the option of real-time chat. To enable the messaging and push notification system in your Snapchat clone app, you can make use of the XMPP and HTTP + Push Notification technologies.

Besides these, you can even ask your mobile app development company to add these to your Snapchat technology stack list for development – Erlang language (used by WeChat and Whatsapp), YAWS server, XMPP, and Mnesia DB.

Development Time: 100 – 150 hours.
4.

Disappearing Messages

One of the biggest contributing factors of the answer to how much does Snapchat app cost are the vanishing messages. This is how the Disappearing messages work –

The user sends a message to another user, which is uploaded on Snapchat servers. The user receives the message notification and the content gets downloaded to a temporary location on the device

Once the message is viewed, the message gets deleted from the Snapchat server and the chat within 24 hours.

Development Time: 120 – 150 hours
5.

Video/Audio Notes

Your Snapchat like app should allow users to record and then send 10 seconds of video to other users. It is ideal for the creation and sending of reaction GIFs. Using this feature, you can even send audio-based messages to another user.
6.

Video/Audio Calls
What makes Snapchat a lot similar to Whatsapp and Facebook is the voice and audio call option. However, the special thing about Snapchat calls is the ability to be on a call and send pictures at the same time.  
Development Time: The time it takes to develop both the call and sending notes option, takes somewhere around a month.
7.

Stickers

Stickers have grown to become a very important element of a social media app. They are immensely helpful when it comes to keeping users engaged and entertained within the app.

There are several sticker extensions available to download for both Android and Apple and it takes approximately 10 to 20 hours to integrate one in your Snapchat clone app.
8.

Lenses
Lenses are what make Snapchat what it is today. The ability to paste different faces on yours and change what your voice sounds like is what keeps Snapchat app download users hooked to the social media app.
The element is so synced with the app's identity, that it is impossible to find the answer to 'How much does Snapchat download cost' without the mention of lenses.  
For integrating the same facial recognition feature in your app, you can make use of the Mirror Reality SDK, which is a cost-effective alternative to the development of a proper AR facility. You can even use Snapchat's own Lens studio app for the creation of your own AR animation.
Development time: It generally takes 130 hours to integrate lens features in the app.
9.

Story
The one element that creates a striking resemblance between Instagram and Snapchat is Stories. Through the stories feature, users get the option to publicly broadcast the content on the app, for viewers, which then remains live for 24 hours.
The brand made an addition in its story feature a while back – Live Story. You can also add the feature of creation of live real time video with the help of Wowza Media Server (the one that Periscope uses) and then use a content delivery network.
Development Time: It takes around 100 – 200 hours to develop a story and live story feature for the Snapchat clone app.
10.

Discover

In this section, the Snapchat download users generally find content shared by Snapchat sponsors. Like the main story section, the stories in Discover are also only live for 24 hours.
11.

Geofilter

Using this feature, users can paste custom geographical templates on their image. To enable this feature in your Snapchat clone app, you will have to hire a mobile app development agency that is acquainted with the development process of Geocoding.
12. Location Sharing
Using this feature, Snapchat app download users can share their location with friends or other users. Their site will appear on Snap Map. Snapchat users can also choose who can see their place or update it only when they have Snapchat open.
13. Admin Panel
To keep your Snapchat like app in order, provide technical support to customers, and get customer insights, you need an admin panel. It should be safe and secure and used by your team only.
Development time: It takes around 120 hours to create an admin panel for your Snapchat like application. 
So, the development time to create features like registration, story and contacts integration generally take around 80-100 hours, while adding lens features in your app take around 130 hours. Adding stickers takes approximately 10 to 20 hours. And the development time to create an admin panel takes around 120 hours. In short, if you're planning to add all the features mentioned above, then it will approximately take 1400 hours to develop a Snapchat app. 
Now that we have looked into both – the technical stack of the Snapchat clone app and the features + development hours the app would take, let us come to the last and probably the most awaited/crucial part of the article – How much does Snapchat app cost?
What is the Cost of Building an App Like Snapchat?
This section is your answer to 'how much did it cost to make Snapchat'. The table below will give you an idea of the time it takes to develop/integrate different elements into the Snapchat clone app.
Noting these design and development hours, it can be assumed that the answer to how much does it cost to make an app like Snapchat would come somewhere around $45,000 to $60,000. However, this is a very rough estimate. There are a number of factors that can increase or lower the numeric answer to how much does it cost to develop an app.
Factors that Determine the Cost of Snapchat Like App Development
Some of the factors that affect the cost of building Snapchat like app are given below: 
App Platform
When developing an app like Snapchat, you should keep in mind that the cost for developing the app for iPhone differs from the Android platform. However, there is not much difference. If you are a startup with a minimal budget, better opt for one platform in the initial stages, later on, you can shift to multiple platforms.
App Size
Another important factor that will answer your question 'how to create an app like Snapchat' is the app size. If you want to keep all the features of Snapchat downloaded in your app, then it may be a burden for you in the first step. So, it is advisable to concentrate only on the core features in the initial version of the app. It will help you offer a great customer experience at affordable costs. 
App Design
Non-complex and attractive designs play an important role in the success of your Snapchat like app. The cost of Snapchat like app development will depend on the requirements. The right plan will cost more but it would be beneficial for you in the long run. Every part of your app like UI/UX design, wireframes, etc., will take time to design depending on your choice of requirements. If you need a more complex design, you need to invest more money. 
Team
The cost of your app development will also depend on the team you choose. To build an app, you require the standard team of a project manager, Android and iOS native apps developers, a UX/UI designer, a QA engineer, a copywriter, and a marketing specialist. To speed up the development process you could hire more developers. If you want to add some complex features like face recognition algorithms, you need to hire specialists in your team. 
App Launch
If you hope to build a successful app like Snapchat, you need to start a powerful advertising campaign. And you must be aware that it needs a great deal of money, even if you limit yourself to promotion in social networks.
Now that we know how to create an app like Snapchat, let's wrap up this article with the monetization strategies Snapchat app uses to earn money and how you can also make money. 
How Can You Make Money with an App Like Snapchat?
1. In-between ads:
The Snapchat download offers 10 seconds of promotional/advertising on Snapchat videos to viewers. There are several types of ads such as snap ads, story ads, and video ads that make good sales of their products/services.
 2. Lenses and filters:
Sponsored lenses and Geofilters are two other ways Snapchat app earns money. The sponsored lens feature is used by many brands to market their products. Geofilters, on the other hand, are fixed filters that are only available in specific places. Mcdonald became the first user of this feature with their branded geofilters available for all of their restaurants in the United States. Brands can easily pay to have special lenses and filters designed for them.
3. In-app purchases:
The app allows users to purchase additional features like Re-play to a feed, a video, or a photo that the user has already seen.
4. Discover:
This is another revenue-generation source for the Snapchat app. Brands partner with the company to get their content featured on Discover and pay a lot of money.
5. Premium access:
App users can also purchase premium access to the latest mobile features of Snapchat download and experience new lenses.
If you're planning to develop a Snapchat like app, you can contact our team of mobile app development experts. Our team has extensive expertise in developing messaging apps and social networks. They will help you in creating an app like Snapchat that will appeal to users and help you run a successful business.
Read more blogs
Mobile apps are making the world go round. As of the first quarter of 2021, Google Play Store had nearly 3.48 million apps available, which were downloaded 108 billion times. The App Store, on the other hand, had roughly 2.22 million apps in the same quarter. These stats project the unprecedented growth and popularity of…
Sudeep Srivastava
06 Dec 2021
In February 2021, the jewelry industry in the US sold jewelry worth nearly $3.4 billion, as per a report by Statista. Certainly, the US offers a pool of opportunities for jewelry businesses to flourish. However, great results come to those who improvise. With over 290 million smartphone users in the US alone, it won't be…
Sudeep Srivastava
15 Nov 2021
The concept of Fantasy Sports has never been new, it has stayed among us for many years. You must be thinking how? Well!! The emergence of sports betting apps started with the first reported fantasy game of baseball began in Boston in 1960, and from there the journey began and never hit a stop. The…
Sudeep Srivastava
22 Sep 2021