Whenever one talks about questions and answer platforms, the first name that passes our minds is Quora. The platform, despite the fact that there are various other popular brands in competition, has established a benchmark in the market.
It has become an ultimate source of getting relevant answers to your queries, sharing your knowledge with others, driving higher traffic to your portal, and more. An amalgamation of these is what has together created a hype in the market.
While it has made users curious to make their presence on the platform, it has encouraged developers and entrepreneurs to design a similar platform on getting familiar with Quora-like app development cost.
Taking the same thought into consideration, let's walk you through the process of how to make an app like Quora. Here, we will talk about the basics of this Q&A platform, its monetization model, and eventually the development cost.
But first, let's have a glimpse of what brands are in top competition with Quora.
Popular Quora-like Apps in the Market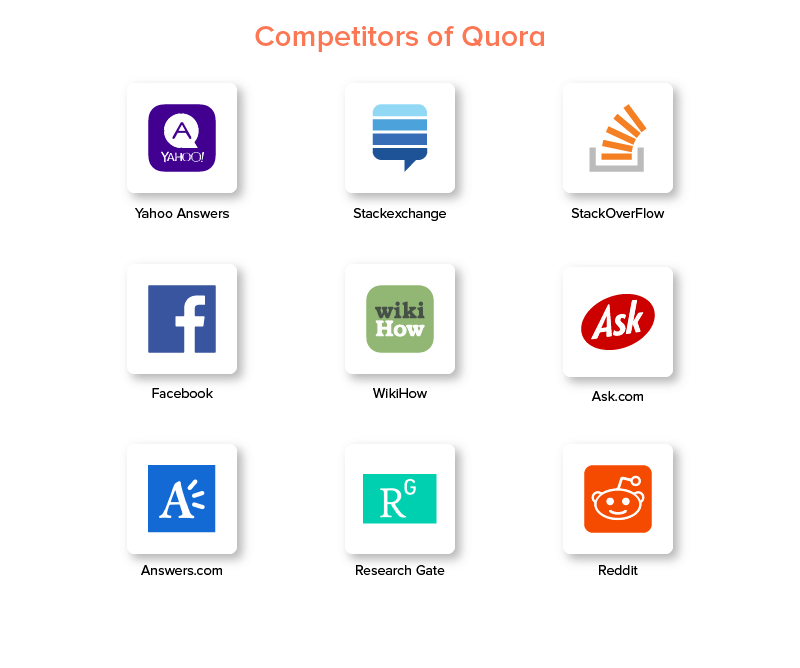 With this attended to, let's have a quick understanding of what Quora is and how it works.
A Lookback at Quora- Its Fundings and Working Mechanism
Launched back in 2010 by Adam D' Angelo and Kelly Battles, Quora is basically an American question-and-answer website where users can ask questions, write answers, edit both, and perform various other actions.
It was created with an intent to make it possible for Internet users to share their knowledge with each other. And hence, help each other with relevant information. A ripple effect of which is that Quora presently holds 183rd position in Moz Top 500 sites list.
The company behind the platform, Quora Inc., raised a total of $286M in five funding rounds from around 14 investors to deliver the best features and experience. A few popular names among those investors being Peter Thiel, Josh Hannah, Tiger Global Management, and Sam Altman.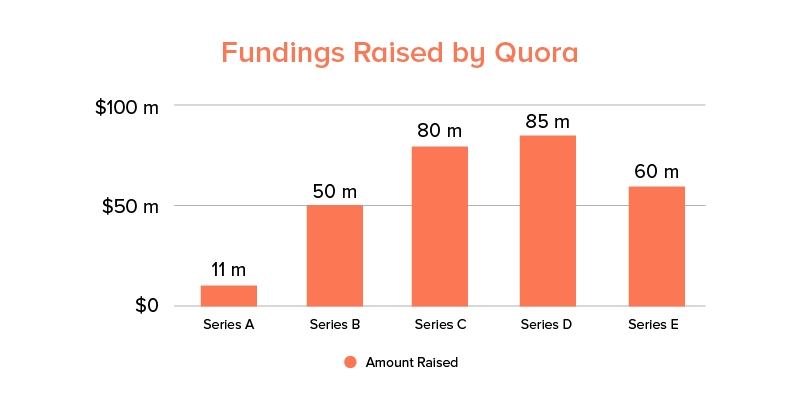 How Does Quora Works?
The process of working around Quora is quite simple and straightforward. It allows users to create their own profile, follow different topics, people and questions, answer questions, ask their queries, and even upvote, comment and share the answers they liked.
In this way, the platform allows users to perform multiple tasks and build a whole community. And the best part is that, unlike its competitors, it provides you with your own personal profile where you can add details about you and get a detailed information of all activities you have done on the platform. .
Here's a video to walk you through Quora working, visually-
Now that you have brushed your knowledge on what is Quora, and how it works, the probability is that you would be interested in finding out the development cost of such QnA apps.
But before we head on to the parts which would come together to estimate your Quora like app development app, that, let's give you some validating reasons why you should develop an application like Quora with the help of some statistics.
Statistics Showing Popularity of Quora in the Q&A Market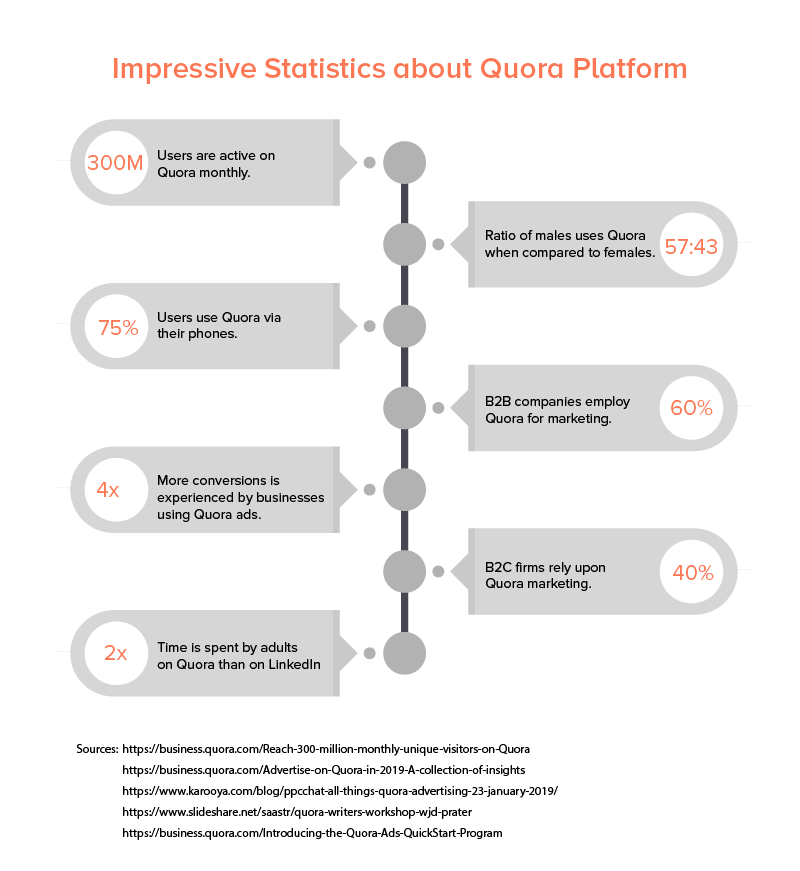 The growth validating statistics that you just read are the doing of the features set that Quora comes with.
Features to Consider While Developing a Quora-like App
When talking about developing an app like Quora, you will have to invest in two different versions of the app –
For Users

For Admin
Let's look at the feature set of both versions, individually.
Features in User Side of Quora-like Platform
Besides the profile creation and sign up functionality, here is the set of features to consider when you develop a question-answer mobile app like Quora:-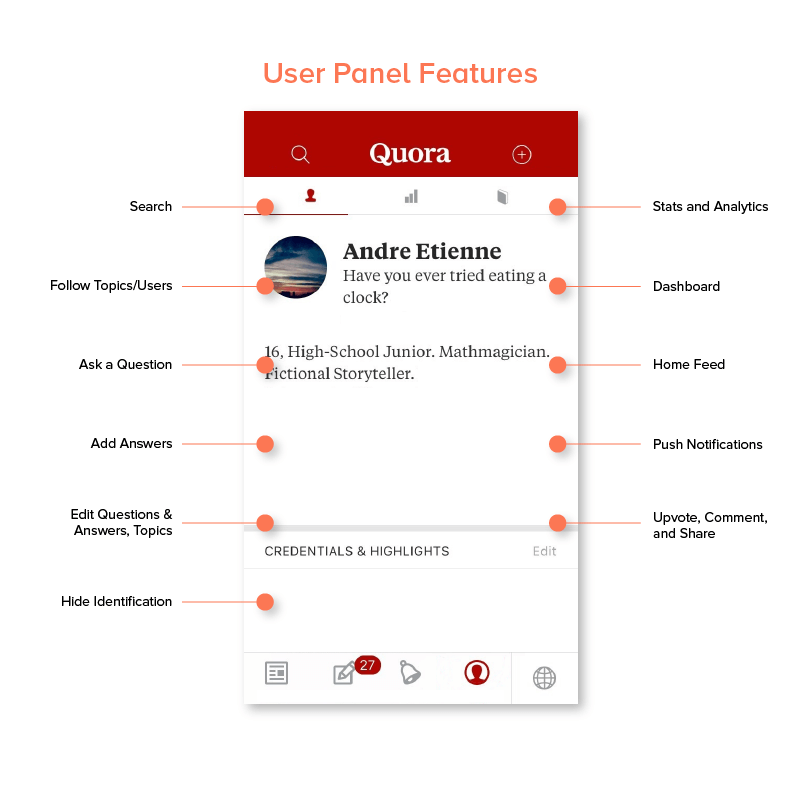 1.

Search

As depicted by the name, Search functionality enables users to search for any particular phrase, question, profile, topic, or blog on Quora platform.
2.

Follow Topics/Users

This is yet another feature to develop an application similar to Quora. It provides users with an option to find all the questions related to any particular topic or written by any specific person on their home feed.
3.

Ask

a Question

This feature provides users with an option to ask their question and set the right topic category. Besides, it enables them to request users for writing an answer.
4.

Add Answers

Using this feature, users can respond to a requested question or write down an answer for any question found in the home feed/search option.
5.

Edit Questions & Answers, Topics

The platform also provides users with an option to suggest some changes in any particular question, answer or topic. And this way, contribute to increasing visibility of the particular content as well as help users to upgrade their knowledge.
6.

Hide Identification

Knowing that not all users are comfortable with disclosing their identity, Quora has also introduced the feature to go anonymous while writing an answer. So, ask your partnered mobile app developer to introduce this functionality into your development process.
7.

Home Feed

Just like other social media platforms, it is good to add a home feed to your Question-and-Answer like app. This screen will deliver a personalized view to users. Meaning, it will show all the questions, answers, and blogs related to their recent search.
8.

Dashboard

The Dashboard feature will help users to edit their profile, send/receive a message, and have a recap of their interaction with the platform.
9.

Push Notifications

Push notifications act as the right weapon to acquire, engage and retain users while making more money. So, do not overlook introducing this feature into your mobile app development plan.
10.
Upvote, Comment, and Share
Alike other social networking platforms, Quora also provide the option to like/dislike (upvote/disvote) any content, leave a comment or share them on their profile. So, look ahead to introducing these social interactions into your application and make it user's favorite.
11.
Stats and Analytics
While developing a Quora-like mobile application, introducing the feature of stats and analytics is also a profitable step. This feature empowers users to keep an eye on how much views, upvotes, and shares they are getting on each of their answers. And in this way, determine what to introduce in their quora marketing plan for gaining higher outcomes.
While these were the features and functionalities that users enjoy, let's turn towards what a Quora-clone platform should offers in the Admin panel
Features of Admin-Side of Quora-like App

1.
Manage Ads
This feature makes it easier for admins to manage their advertisements efficiently and effectively. And eventually, get more traffic with advertisements.
2.

Manage Users

Introducing this feature in your question and answer platform empowers admins to handle their target user base and plan their market strategies wisely.
3.

Manage Posts

This feature of a Quora-like Q&A application provides admins with an opportunity to craft relevant posts and manage their visibility, interactions, and marketing. And eventually, drive better outcomes.
4.

Filter

By adding this feature into your Quora-like application, you can help admins with filtering out the right topics for user engagement. Or better say, focusing on topics that are non-lewd and unbiased.
5.

View Stats

The feature of viewing stats will provide admins with a real-time and detailed insight of how effectively their processes and content are performing, what type of content their target user base is finding engaging, and more. And in this way, will aid them in planning the right strategy to keep their users hooked and drive higher ROI.
6.

Manage Notifications

This feature lets admins know when and how to amp up their push notification game and plan their re-engagement strategy in an non-intrusive way.

Apart from the aforementioned features, there are various other functionalities that you must focus on while building a mobile app like Quora. Some of them are:-
1.

CMS Integration

Since content is the core element of working of Quora application, integrating a CMS (Content Management System) for managing content across the platform would be an ideal option.
2.
Cloud Storage Integration
Embracing cloud storage feature can also help with securely storing information across the platform.
Now as you know what features must be considered while Quora application development, let's take a look at the technical aspects of the application. Or better say, see what comes under the label of tech stack of Quora platform.
Tech Stack to Consider for Creating a Quora-like Platform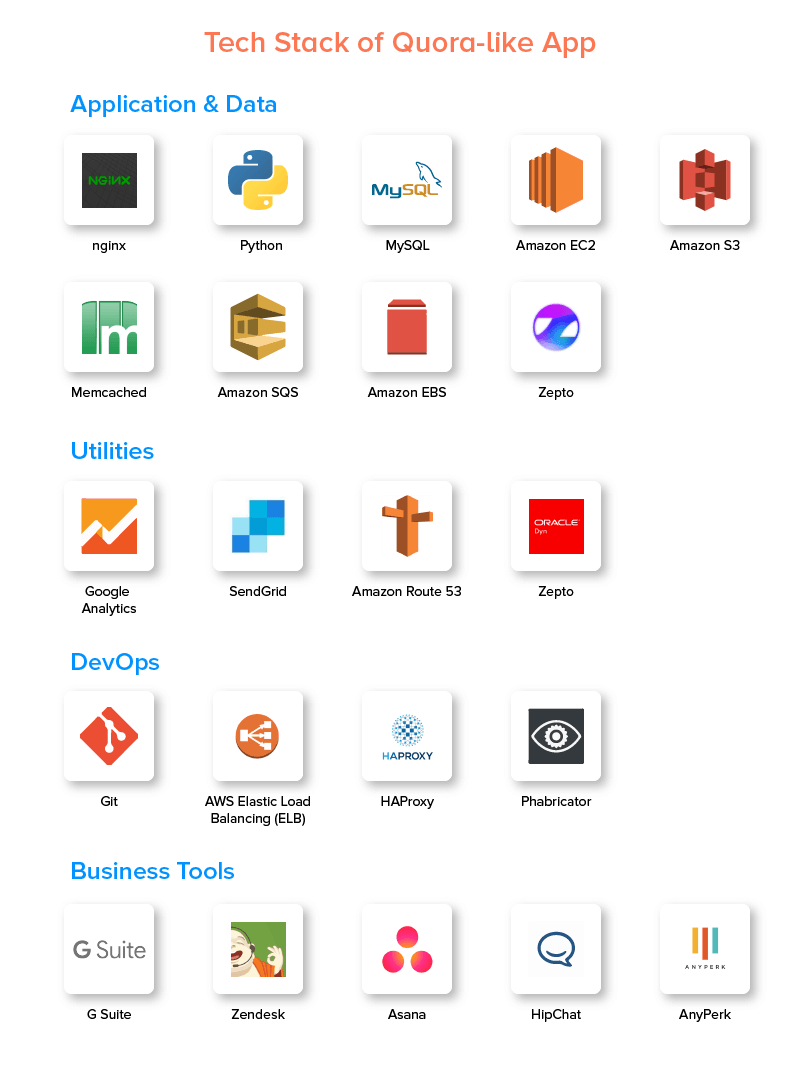 With this covered, let's wait no further and find out Quora-app development cost.
Cost of Quora-like App Development
Since mobile app development cost depends heavily on the features, tech stack and the number of hours required for integrating them in your app, consult the app costing with your hired app development agency.
But, if you are planning to get a Quora-like application designed at Appinventiv with the set of features and tech stack mentioned in this article, the cost range would be between $70 and $80k.
However, this is just an estimated value. The exact value might vary depending on various factors – for which you will have to discuss your app idea with our mobile app development experts.
Now, while this was about how much does it cost to develop an app like Quora – the budget you need, it is likely that you are curious to know how to earn the invested amount back and make more after.
So, let's have a sneak peek into monetization strategies that Quora-like applications consider.
Monetization Model of a Quora-clone Mobile Application

1.

Advertisement

The foremost app monetization model employed in Quora-clone Q&A platform is advertisement.

Under this business and revenue model, users get relevant advertisements from advertisers, which eventually enhance their experience.
2.

Deliver Premium Features

Offering premium app features to your customers in return for some fee is yet another method to gain higher profits from your application. For example, you can provide admins with an opportunity to get detailed demographic-wise information of users in premium mode.
3.

Accept Donations

Another app monetization model you can consider is to provide users with quality content and ask them to donate money to aid the project. This model is used by Wikipedia and can be introduced in your Quora-like app development by investing in the process of payment gateway integration.
4.

Google Adsense

Lastly, placing ads on your question-and-answer platform and getting paid on Google Adsense per click is also a profitable way. However, since Google has announced termination of Adsense mobile app, there might be some changes with opting this feature.

With this attended to, let's wrap up this article by understanding what strategies Quora mobile app follows to engage its customers and gain higher profits. One that you can take inspiration from.
7 Customer Engagement Methods that Quora Focuses On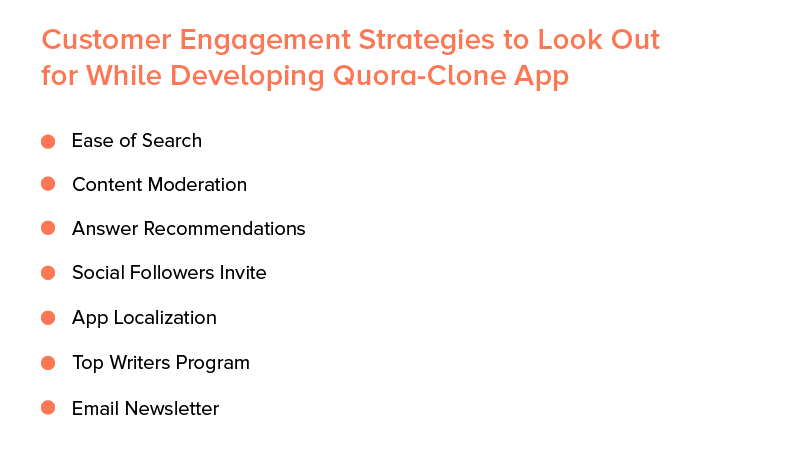 1.

Ease of Search

Though over 75% of traffic is directed to Quora from organic searches made on search engines, it also has its own search engine that helps users to add different tags to topics and questions. And this way, simplify the process to search for them in real-time.
2.

Answer Recommendations

Quora, being a customer-centric platform, keep a watch on the type of topic and answers users interact with. It then, based on the insights gained, recommends reading different questions and answers. Also, the platform displays related and relevant questions and other content to users in their Daily digest.

Besides, it shows answers depending on the view-upvote ratio which make it easier for users to come across the best answer.

This, as a whole, provides users with a personalized experience and encourages them to spend more time on the platform.
3.

Content Moderation

With an aim to deliver quality content to their target audience, Quora provides users with the opportunity to provide suggestions to the questions, topics, and answers written by others. Also, it gives the writers the privilege to accept or reject those suggestions.

Moreover, the platform provides users with an option to report any answer that is incorrect, spam, or violate the guidelines set by Quora.

This, as a whole, gives users an impression that they are valued and thus, prompts them to spend more time on the platform.
4.

Social Followers Invite

Quora also aid users in knowing which of their social friends are available on Quora and thus, prompt them to connect with them on the platform. This eventually leaves a positive impression on users and encourage them to spend more time on Quora.
5.

App Localization

The site is available in English, German, Hindi, French, Japanese, Spanish, and 13 other languages – something that hints that it uses the power of localization to enjoy higher conversion rate.
6.

Top Writers Program

Quora has also introduced the program of Top Writers that provides the best writers with a 'Top Writer' badge and some gifts. Since this classification is done based upon the engagement level of answers written by them, it also encourages users to spend more time on Quora and share quality content.

So, plan something like this as a part of your mobile app engagement and retention strategies to drive better ROI.
7.

Email Newsletter

Last but not least, Quora sends an email newsletter weekly where they share relevant questions to their users. Thus creating an omnichannel experience across platforms.
Read more blogs
Mobile apps are making the world go round. As of the first quarter of 2021, Google Play Store had nearly 3.48 million apps available, which were downloaded 108 billion times. The App Store, on the other hand, had roughly 2.22 million apps in the same quarter. These stats project the unprecedented growth and popularity of…
Sudeep Srivastava
06 Dec 2021
In February 2021, the jewelry industry in the US sold jewelry worth nearly $3.4 billion, as per a report by Statista. Certainly, the US offers a pool of opportunities for jewelry businesses to flourish. However, great results come to those who improvise. With over 290 million smartphone users in the US alone, it won't be…
Sudeep Srivastava
15 Nov 2021
The concept of Fantasy Sports has never been new, it has stayed among us for many years. You must be thinking how? Well!! The emergence of sports betting apps started with the first reported fantasy game of baseball began in Boston in 1960, and from there the journey began and never hit a stop. The…
Sudeep Srivastava
22 Sep 2021