As the mobile world is getting overflowed with new devices and mobile apps, the users' demand for more innovative features is touching the sky. It has become imperative for all the mobile companies to introduce a WOW factor to their operating system for gaining limelight in the market. 
In this constant race of engaging their target audience with convenience and innovations, many a times Google and Apple have been found to get inspired by each others' ideas and features. They, at different instances, have shown that they pick the best features of each other and introduce them in their devices. Remember when Tim Cook said he relies on Google Search? This give and take of inspiration is something that is still in practice in the year 2019.
While, we have heard a lot about the features Apple copied from Google's Android, today we will be looking at the other side of the coin. Meaning, the features that Google has cloned from Apple's iOS in 2019 and earlier. Features that have traditionally played a role in defining the Android mobile app development cost.
Android Features that Have Been Inspired from Apple
1.

Fast Sharing Feature

Google is introducing a 'Fast Share' feature on Android devices that will work similar to AirDrop in Apple. This feature will combine WiFi and Bluetooth functionalities together to send files, URLs, and text snippets to people nearby.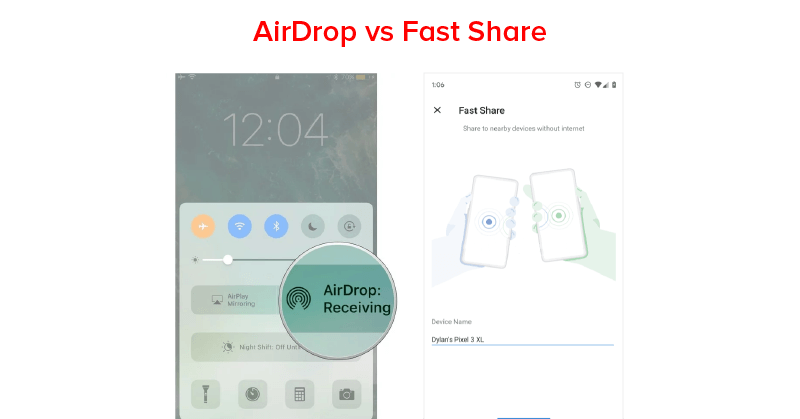 However, there will be a difference. Unlike AirDrop, the transfer functionality will not be confined to your contact list and device. You will be able to share files with anyone using Chromebooks, iOS smartphones and who wear AndroidOS smartwatches. 
2.

Battery Saving Features

Google has announced that Battery Saver will be one of the significant Android Q features that will hit the market in 2019. This feature will turn off the battery saver mode automatically when the battery is charged up to 90%. Likewise, it will turn the Battery saver mode 'on' again when the charger is unplugged.

It is again a feature that is much like the 'Low Power Mode' of iOS, where the battery saving option is turned off automatically when the iPhone is charged to up to 80%.
3.

Facial Recognition

The feature of unlocking devices and apps using facial recognition or better say Face ID is again a feature that Apple brought into the market. They first introduced the idea of scanning faces for authentication purpose, which is now considered as the main element for Android devices.

In fact, as per the sources, Android Q is coming up with an advanced level of facial recognition features that will give heads on challenge to Apple's Face ID feature.
4.

Native AR

Google has proven to be the best in the market to try different AR-based features on smartphones and other devices. They have brought various new opportunities in the market with respect to AR technology. A recent proof of which is that Google, as per the sources, is introducing AR affects into their messaging app to make it competitive to Apple's iMessaging app. 

However, it was Apple who took the first step in the direction of integrating Augmented Reality in the mobile world and give us the best of both the real and virtual worlds.
5.

DND (Do Not Disturb)

Again, Apple introduced the idea of making the process of DND (Do not Disturb) accessible and visible to users. They took the first step of giving users an opportunity to customize the DND activities and manage them. Google just followed the footsteps of Apple to give this freedom to Android users and give them a peace of mind during meetings and in other such situations.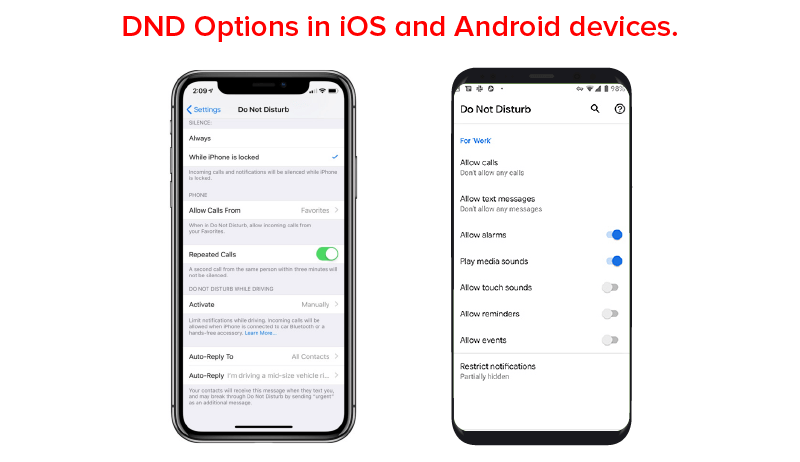 6.

Gesture Controls

The gesture control facility that we are enjoying on Android devices is also one of the features copied from Apple devices. It was Apple who ditched the home screen button and introduced the idea of using gestures for operating devices. And now, Google has brought this feature into the Android market.
7.

Emojis

Not just the technical features, Apple has also proven to be the first in the market for making app experience enjoyable. They have introduced a series of realistic emojis right from the beginning. And Google is known to be trying to bring improvements in their emojis every year to make it aligned to Apple's emojis.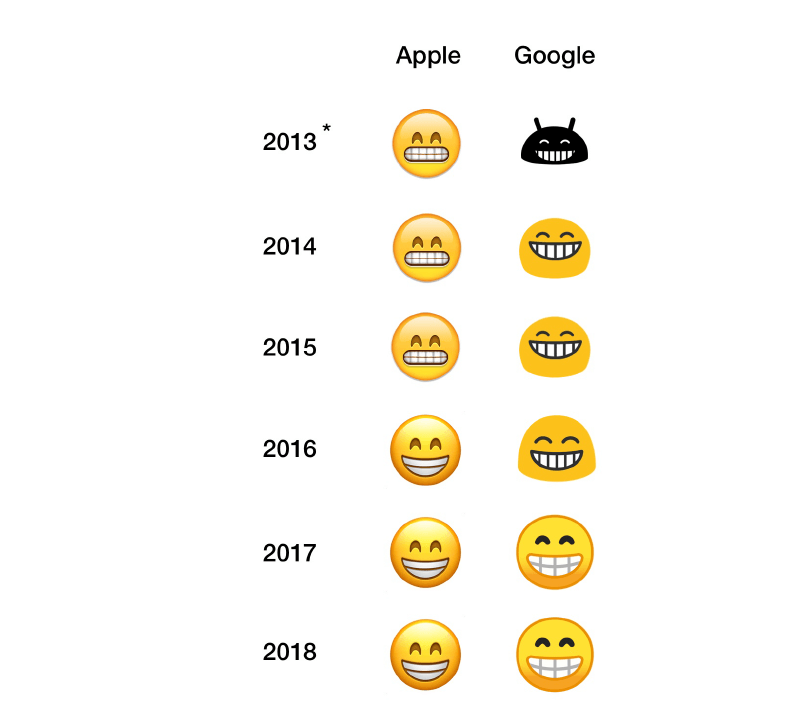 8.

App Store Features

Asking users for a one-time and all-or-nothing request before installing any application is an old Apple approach. And now, Google has also introduced Apple's features of apps asking for users' permission for the first time for accessing the camera, or other such features.
9.

Performance Improvements

Google again turned towards Apple for learning how to deliver higher performance and user experience to their target audience. 

Just like Apple, Google have also started showing no support for older devices to cut down the efforts of Android app developers to make their app features available for all the devices. And this way, the tech giant has come up with a solution to fight against the challenge of platform fragmentation, while ensuring that the performance is not compromised.
Bonus: Ecosystem
It was Apple that introduced the idea of making an ecosystem where all the Apple products function in sync with each other. They initiated the concept of building a synergy between products and brand services to ensure users never leave the ecosystem and the ROI numbers remain intact. 
Google has recently embraced this concept of connecting all of their services to encourage users to leverage their services and thus, add to their profits directly or indirectly. 
So, these were some of the significant features that came to Apple's iOS first before they were applied in the Android market, making both the platforms appear similar to some extent.
Read more blogs
Android 10 was a big shift for Google in the Operating System environment. We did not just finally get to work around the long-awaited Dark mode and saw several important changes happening on the app permission front, we also saw the end of an era.  With Android 10, Google brought its tradition to name operating…
Avinash Sharma
02 Apr 2020
Whenever we talk about the top programming languages to consider in the development ecosystem, the first few names that strike are Java, Python, C++, Swift, SQL, and JavaScript. However, the world of programming languages is not confined to these languages only. There are various other programming languages that are slowly and gradually rising up in…
Avinash Sharma
01 Oct 2019
Linking the power of mobile and the web together has always been one of the major challenging tasks for the development community. While the purpose saw several tools and frameworks trying to develop the perfect blend of performance and wide reachability, the result had always been sub-par.  But in 2015, everything changed.  Designer Frances Berriman…