Native vs. Hybrid Apps: The Decision that holds the Key to Undisputed User Experience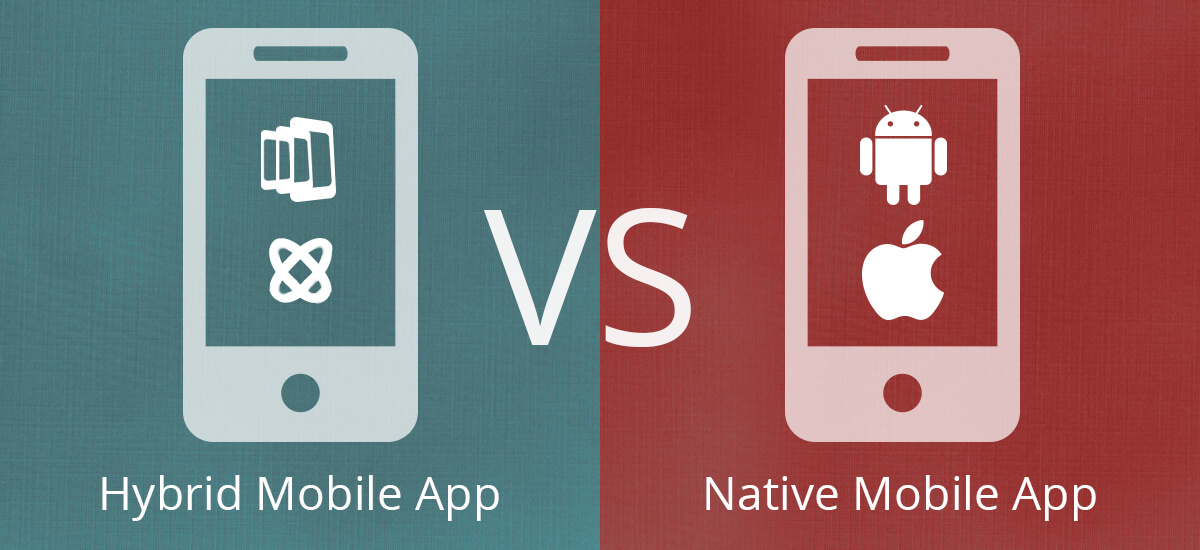 One of the most frequent questions that is thrown at me is how do I ensure impeccable user experience in the apps that our team develops.
And the answer depends entirely on the decision that the clients take when it comes to Hybrid and Native Apps.
Let's unravel what Top App Development Companies have realized when it comes to an approach that ensures superior user experience.
When you see life from your user's perspective, you'll find that mobile devices form an indispensable part of their lives.
Our mobile is with us, quite literally, at all waking hours of the day.
How many hours have you spent without thinking of where your device is or what new is happening on the apps that you frequent.
How long can you go without thinking – Did your friends post something new? Did the time gap to move on the next level in your game, end? Did the media company that you follow on Facebook post something even more relatable than the last video?
It is impossible to imagine a life without your device, along with its plethora of apps.
Now for a device that is on you at all times, the basic expectation that you have from it is that it should preform great, it should be reliable, and that it should be highly responsive.
It's a given that you don't have time for a bad experience.
And it is not just the case with you. This is every mobile app user's story.
The experience that users generate after the end of every app session depends highly on whether you choose Native apps or Hybrid app development.

Native vs. Hybrid App – What to choose for your next app
Now as we take a deep dive in the answer to which you should choose between Native and Hybrid, let us first acknowledge one prime element and put it aside.
Whether your app is a gaming one or on demand or even educational, the only way it can survive in the industry is by giving superior user experience. Something that will get affected by opting for Hybrid Apps instead of Native.
Hybrid apps do come with their share of benefits and perks but User Experience is definitely not one of them. But, nonetheless there are reasons Hybrid apps exist and are used by users. So let's not diss them altogether.
Now before we get down to the factors that favor and unfavor both the development process, let us first look at both the processes in some detail.

Native Apps
Native apps are those applications that are designed for a specific Operating System. Now since they are developed keeping one OS in mind, they feel more right to the users as compared to any other type. Because these apps are individual OS focused, they are in-sync with the device's elements, making it easier for users to adapt to the app. Lastly, Native Apps access the in-built device capabilities like Camera, GPS etc. , which is not possible in case of Hybrid Apps.

Platforms for Native App Development
There are two platforms, each specific to Android and iOS that are used to develop Native Apps for both the OSs. They help develop apps that are known to offer unmatched performance quality.
Here they are –
Android Studio
It is the official IDE of Android Operating System. The platform comes with a number of features, including –
Android Based quick fixes and refactoring
Gradle specific build support
Lint tools for catching performance, version compatibility, and usability
ProGuard Integration
Layout Editor which allows users to drag and drop UI components.
Built in support for the Google Cloud Platform that enables integration with the Firebase Cloud Messaging and Google App Engine.
Xcode
Xcode is Apple's IDE that have a suite of tools used for developing apps for iOS, macOS, tvOS, and watchOS.
These are the features that Xcode 9 has come with –
Source code editor has been rebuilt to give greater control on line spacing, cursor type, and multiple font styles.
The new editor even comes with built in transformation engine and refactoring.
Xcode 9 integrates source control with GitHub. With this, the clone window shows both – the personal GitHub repository and the ones where you added a star.
It allows you to connect any of your tvOS or iOS devices on local network for installing, running, or debugging your app by connecting through network, without the need of a USB Cable.
Hybrid Apps
These are the mobile application types that are developed to work on a number of platforms. They are written with the help of single standard codes, which are compiled for execution on different platforms. To enable device specific interactions, plugins are used with the operating system.

Platforms for Hybrid App Development
1.

Cordova/PhoneGap

It is an open source platform backed by Adobe. It allows developers to build multi browser mobile apps with the help of HTML, JavaScript, and CSS. Apps developed using this operate on WebView and are then mixed with a native code.

PhoneGap provides native plugins that allows you to incorporate device functionalities like Camera, Compass, Media, Storage, and Notifications, etc.

Apps made using this are packaged with binary files that consist of webview wrapper and app's HTML files.

Apps on PhoneGap – Untappd and Tripcase
2.

Framework 7

The open source mobile HTML framework is used to build hybrid apps weith the look and feel of native Android and iOS apps. Focused entirely on iOS and Google Material Design, the idea of Framework 7 is to give an opportunity to make apps with CSS, HTML, and JavaScript.

The platform offers a number of features for easier app development such as library agnostic, pages transition animation, native scrolling, and multiple views support, amongst various others.
3.

Ionic Framework

Ionic Framework is an open-source platform for developing hybrid mobile apps. Developed on top of Apache Cordova and Angular.js, it offers services and tools for hybrid apps development with the help of web technologies such as HTML5, CSS, and Sass.

Apps can easily be developed with the help of these technologies and then be distributed over the native app stores to then be installed on devices with the help of Cordova.

Now that you know the details of both the apps' types and the most commonly used frameworks to develop each, let us now move on to the section where we see which should be used when.

So, which is better? Native or Hybrid app
The decision between the two depends entirely on what approach you are planning to follow. If your plan is to entice and keep your users hooked to the design and your app performance, native app should be your ideal choice. But, if you are planning to launch your app in least possible time and wants to worry less about app maintenance, without worrying about user experience so much, go for Hybrid.
If app launch time is not your biggest priority, there are reasons why you should stay away from Hybrid apps and focus all your efforts on Native apps like how LinkedIn and Facebook did. Here are the challenges they faced that pushed them to make the switch –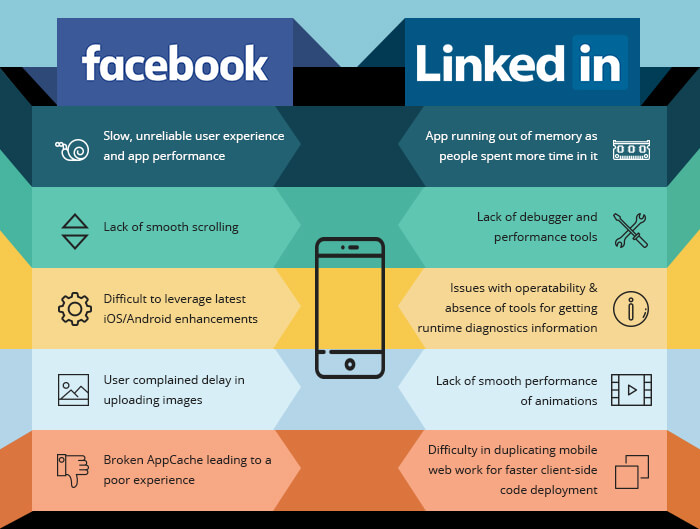 This is what happened once they made the switch.
A faster app, better scroll irrespective of the content size.

Zero app crashes because of the Native SDK tools

Unsurpassed User Experience irrespective of OS and device

Sleek UI elements including animations

The possibility to integrate app with external devices with help of Wi-fi and Bluetooth
If you wish to be the next Facebook or LinkedIn, native would be the way to go.
hybrid app
native app
native or hybrid app