Healthcare as we know it, is one of those industries that has transformed 180 degrees from what they stood for ever since human evolution. What started with herbs and prayers has drastically evolved into something so advanced that now it has seamlessly planted itself in not just the nearest clinic but even inside our bodies. All of this has been growing alongside the developments in technological advancements.
With every passing minute, technology has and will continue to take part into making help come closer.
One of the mediums through which the industry has found a place in our every waking moment is through healthcare apps. With technology finding a dominant position in the medical industry, our world has been seeing a number of solution-oriented top healthcare app developer coming into existence. These establishments have made it easy to bridge the gap between technology and wellness.
Mobile healthcare technology can be seen as a mainstream communication tool in the health industry. A number of hospitals and clinics using mobile apps in healthcare can be observed rising notably. The rise can be seen with the mobile health devices earning a business of US$37 billion in 2019, and this is said to grow in the upcoming years.
Mobile apps in healthcare have bought everything – from diagnosis to post care and emergency services to our fingertips. With mhealth services comes various features and challenges that one should keep in mind. However, we will get to the app's contribution in a while, let us first look into the marvels that technology, as a whole, has brought into the Healthcare and Medical industry.
The Move from Healthcare 1.0 to 3.0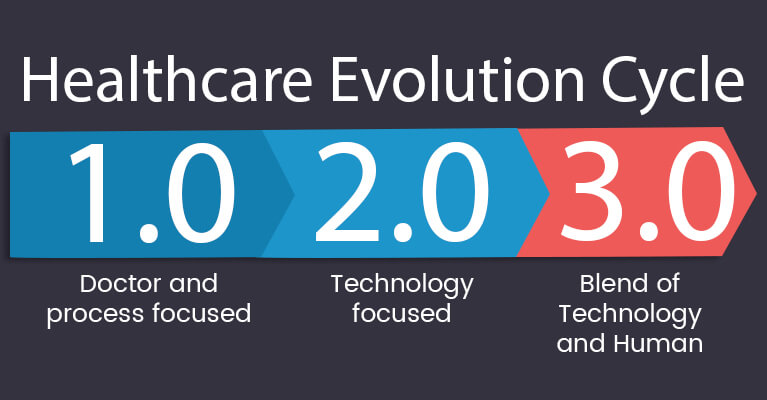 Healthcare 1.0 or The Healthcare of the past as people call it by, was a time when the industry was dominated by paper records, non-experimental, fixed set of practices and treatments. The era was concentrated on the human side of healthcare as compared to the technological.
Healthcare 1.0 mainly attributed to limited awareness about healthcare among people and the practitioners relied on the conventional method of care.
The abundance of paperwork and the human effort involved in every process from admission process to post-treatment formalities, is what led the Healthcare and Medical industry to move from the Healthcare 1.0 era to Healthcare 2.0.
Healthcare 2.0 is a concept that was introduced in the 2000s to mark a time zone that was focused on technology as compared to human interaction. The 2.0 era focused mainly on quality of care and the upcoming medical technology. Not just that, but it also focused on pharmacy, and diagnostics, single specialty care, digital platforms, and patient focused health and wellness services.
The initial definition that was attached to Healthcare 2.0 was that of using technology as an enabler for the industry. However, in 2011, it got a new definition that was related to using Saas, device technologies, new cloud, and mobile which are –
Concentrated on user experience, which in turn lays the foundation of the elements' user centered design.
Interlinkable technologies, which allows other applications and tool to get integrated and linked with them.
Data Driven – in a way that data is created and presented to the users to aid in quick decision making.
Although introduced as a concept that would encourage streamlined process and less human efforts, Healthcare 2.0 instead has today become a version that has reduced the human interaction to an extent that now technology has taken the dominant seat in every process.
This lack of human connection in an industry that depends greatly on empathy and doubts is what has now been laying the foundation of Healthcare 3.0. To establish the lost touch of human connection, while embossing mobile healthcare technology in every process is what has led to a growing prevalence of different types of mhealth apps and healthcare service based mobile apps. These are designed to be an intermediary between the patients and doctors, thus serving their purpose of being an enabler as compared to a dominant element.
The mobile healthcare technology can be seen focusing on the use of AI, machine learning, and digital health. The 3.0 era focuses on technology being used to take care of patients and saving time for medical practitioners.
These apps are usually focused on acting as a bridge between today's technologically sound users to their technologically sound healthcare providers' counterparts.
Mobile Apps – The Foundation Stone of Healthcare 3.0
mHealth apps are being used by the industry as both an enabler between the patients & doctors and/or the institution and in its Augmented Reality mode, as a medium for doctors to explain complicated processes to their team and the patients alike.
In addition to that, mHealth applications are now being seen as ones that are advantageous to both – Patients and Hospitals/Doctors. A few of the features that are setting mHealth apps as the proof of technology enabling the Healthcare industry, from both user and doctors/hospital perspective are –
1.

Records Management

Patients' records management is one of the most time consuming and crucial tasks in a hospital. Keeping a track while extracting the record on a moment's notice is something that is of highest priority when it comes to an industry that has emergency and promptness in its foundation.

Introducing an app that is focused on patients records management in the system, is something that all leading hospitals would swear by.
2.

Cost Saving

There are a number of situations that happens in a medical establishment that cost them money. From patients missing their appointments by losing their way first in finding the hospital and then in the onboarding process, costing the hospital money, to sending post care instructions or booklet to every patient, there are a various little ways that together add on to the expense sheet of a hospital.

More often than not, mHealth applications can solve a number of issues that increases the cost accured by hospital.

[Also Read: How data analytics in healthcare is reducing costs]
3.

Time Saving

By streamlining the processes to a great extent, mHealth apps are of great help when it comes to saving the time that one spends with hospital formalities and getting their appointments.
4.

Reduced Workload

Some of the major tasks like creating and managing databases, sending care and post care flyers, managing appointments, and hospital onboarding are cut down by massive numbers with the help of mHealth applications.
5.

Reduced Frauds

One of the biggest contributions of mHealth apps in the industry has been in the field of reducing the number of medical frauds. With every data from health practice related to medicine information, and financial details are now kept transparent between the patient and the hospital administration.
6.

Improved Health through iOT

With the onset of apps that lets you track your health, reminds you to take pills, drink water, checks your cholesterol levels, and even those that keep a tab on your sleep, it has become much easier for people to know their health status and when they need to consult a doctor. Moreover, it has led to a new evolution of technology in healthcare at home.
7. e-Prescription
The concept of e-prescription allows doctors to create and send prescriptions to their patients, along with all of the relevant details. It's a way of digitally improving communication and patient satisfaction between the practitioners and the patients. One can also add a built-in pharmacy lookup feature to see whether drugs for prescription are available nearby or not.
8. Patient Dashboard
When it comes to mHealth features, then users enjoy easy-to-use dashboard that they can quickly find and bring to their use. The dashboard should include user tracking data, recovery progress, and a visual health record which either a doctor or a patient can instantly have a look at. As we know that a human brain retains information better when it comes to visual or pictorial format, thus bright and vivid graphics in the dashboard does help a lot.
Today, not every situation is a concern, solely because of the fact that people have now become more educated both in terms of medical terms and their severities.
Fitness and Health apps have transformed the Healthcare Diagnostic industry around the world. Based on the different services they offer, the mHealth market have been divided into categories corresponding to their individual revenue generation scope.
As depicted in the graph above, it is evident that the use of mobile apps in healthcare will last long. Now in its 3.0 phase, it is now imperative for apps to act as an enabler between patients and their doctors and vice versa: a move that has already begun.
mHealth Apps
Keeping the blend of human and technology alive in the industry, there are a number of mHealth apps that are doing a perfect job.
Ranging from athletics applications to FemTech solutions such as Women health tracking application development, mHealth apps are improving millions of lives. 
Some of those are-
A. WebMD App
Available for both Android and iPhone, the app helps you check your symptom, get treatment, drug information, and find out the local hospital listings in real time. Along with that, they even offer first aid details in offline mode for quick access. So, whether you have a broken bone or insect sting, the app gives you a series of helpful tips.
It prepares you to be prepared when you talk to your doctor about your condition.
B. Health –ePeople
The app is one of the best medical record management apps in the market currently. Through it, you cannot just track your health information related to blood pressure, weight, physical exercise count but also remote care, meaning you can track the movements of your loved ones when they are somewhere far from you.
C. Doctor on Demand
The app connects you with doctors near your location. With its help, you no more have to wait to cross the levels from you contacting hospitals asking for the availability of doctors. From booking appointments to well in advance to finding a doctor in urgency, the app have you covered.
D. GOLD COPD Strategy
This app is great for medical professionals who are searching for ways to manage chronic obstructive pulmonary disease (COPD). By strictly following the Global Initiative for Chronic Obstructive Lung Diseases (GOLD) standards, it allows medical practitioners to examine patients with this particular disease, and administer a COPD assessment test. The app also lets the doctor record the patient's status and track the symptoms to predict the severity and course of COPD accurately.
E. Dr. Pad
This is the practice management app that allows the professionals to conveniently manage all the patient records, for example, their personal information, medication, visit history, medical reports, medical history, and other health details. The information regarding various tests and screenings, including blood tests, X-rays, ultrasound, and other files of the patients can also be easily stored and accessed using this app.
Now, when talking of the importance of mobile health apps, it is imperative that we do a quick comparison of the two biggest app Platforms of the world that hosts the series of apps that are Healthcare industry's enablers.
Let us look at the offerings of both, to understand what the industry prefers to choose from – Android healthcare mobile app development or iOS healthcare mobile app development services.
Android vs Apple for Healthcare App Developers
The answer to this comparison lies in the purpose of the mHealth app. If yours is an app that is based on giving free information or working around databases, you can go with Android's interface to take benefits of mobile health apps.
If your purpose is to have an app that is based on security measures, you should choose iOS as Apple focuses a lot on device security, making its encryption impossible to disable – something that is a prerequisite according the HIPAA Compliance act, which entails that all network, physical, and process security measures should be in place when dealing with Protected Health Information (PHI). Also, the company's stringent control on its mhealth app market size has made malware attacks a rare phenomenon.
Other than these factors, both Apple and Android come with their set of opportunities and scope of growth for the app developers. So, depending on what way you look at it, the industry sees both iOS and Android as equals in terms of usage, with each offering something better than the other.
Also it is to be noted that amidst the COVID-19 crisis, the global market for Mobile Medical Apps is estimated at US$4.2 Billion for the year 2020. This estimation is further projected to reach a revised size of US$20.7 Billion by 2027, at a growing CAGR of 25.5% over the analysis period 2020-2027.
Whether through Android or iOS, the role of mHealth apps in healthcare are on the track of changing the industry by making it more accessible. With every passing time, one can expect to witness faster response time, saved administration costs, and greater time to research on ground changing medical research.
Are you prepared for this change? If you think you are ready to imbibe the changes in your app or ideas then you can refer to appinventiv, a trustworthy and reliable healthcare mobile app development USA company to provide quality development to clients across the globe.
Read more blogs
The worldwide healthcare industry is expected to hit a valuation of around $665.37 billion by 2028. Simultaneously, healthcare spending in the United States alone is predicted to soar to a staggering $6.2 trillion within the same timeframe. This data underscores the pressing need for cost-efficient, effective medical billing solutions, irrespective of the size or specialty…
In the current era of global interconnectivity, where healthcare information is increasingly being shared through digital means, safeguarding patient privacy and upholding data security are of utmost importance. To address challenges like these, the Health Insurance Portability and Accountability Act (HIPAA) comes into play. HIPAA (Health Insurance Portability and Accountability Act) is a set of…
With the modern lifestyle taking a toll on human health, chronic diseases like diabetes have now become quite common and can be seen in every 1 out of 10 individuals. As per a report by Statista, diabetes is growing so exponentially that its global expenditure is expected to increase from $966 billion in 2021 to…