Table Of Content:
1. 5 Best Face Changing Apps Prevailing in the Market (Alternates of FaceApp)
2. FaceApp – An AI-powered Face Changing App
3. Filters That Make FaceApp 'Apple of Everyone's Eye'
4. Working of FaceApp – The App That Makes You Look Old
5. Tech Stack That Might Be Behind the Popularity of FaceApp
Have you visited Twitter or Instagram this weekend?
If so, you would have certainly saw most of your friends, followers, or celebrities sharing their supernatural and uncanny pictures. You might have noticed that they look older than their actual age in those pictures. Haven't you?
Well, it's not that all of they have stepped into a time machine or have consumed something that turned them into their 50s – it's an exciting feature of an AI-enabled face changing app, FaceApp.
Sounds surprising? Wondering how this application deliver a realistic picture of your older version?
Take a comfy seat and start reading.
Here, we will talk about FaceApp – the app that gained 4.8 ratings on App Store and 80 million active users.
But, firstly, let's take a walk through the market and see what are the best five face changer apps in the market, besides FaceApp.
5 Best Face Changing Apps Prevailing in the Market (Alternates of FaceApp)
Snapchat is the foremost application that offered the face swapping feature by selecting one of the lenses it provides.
Photo Face Swap is another popular alternate of FaceApp to change face in picture. This application lets you access photos from your gallery and swap their faces. But, this can be possible only when faces in both the pictures are aligned properly. 
Besides, this application also provide users with a Face bomb effect that enables users to put a single face on all the faces available in the picture.
As depicted from its name, this mobile application enables users to swap their faces with each other in real-time. It also comes with tons of filters that enhances your selfies and have fun by using others' face (including celebrities) during video calls.
4.
MSQRD
Acquired by Facebook, MSQRD (short form for Masquerade) is another face swapping mobile app that allows you to switch your face with that of your friends and famous celebrities. It also provides you with a myriad of masks and video selfies opportunities, which makes your experience fun and exciting.
5.
Lip Swap
Unlike other apps, this Android mobile application allows users to swap particular features of their face. It offers a limited number of filters and features. But, is highly liked by users to take a break from regular face changing mobile applications.
With this attended to, let's turn towards what is FaceApp.
FaceApp – An AI-powered Face Changing App
Introduced back in 2017, FaceApp is a face changing app for iPhone and Android devices designed by Russian company, Wireless Lab. The application works on Artificial Intelligence and neural networks technology to generate highly realistic face transformations.
The app offers around 28 filters to make it possible for users to try and see hilarious, weird, freaky, and amusing alterations of their faces  – a few of which we will cover in the next section of this article.
Note: Only 21 filters are available in basic version of FaceApp for free. To access all these features and enjoy other services like priority photo processing and no-watermark, one has to pay an amount of $3.99.
Filters That Make FaceApp 'Apple of Everyone's Eye'
1. Age Filter
When talking about Faceapp filters, the foremost filter that helped the app recreate its popularity is Age filter. 
Using this filter, users can play with their age and see how they would appear in the coming 10 years, or how someone would have appeared in their younger days. 
The filter is highly liked by users – a ripple effect of which is that #AgeChallenge and #FaceAppChallenge has entered among trending hashtags on social media. People are not solely enjoying adding the filter to their picture, but also on others faces.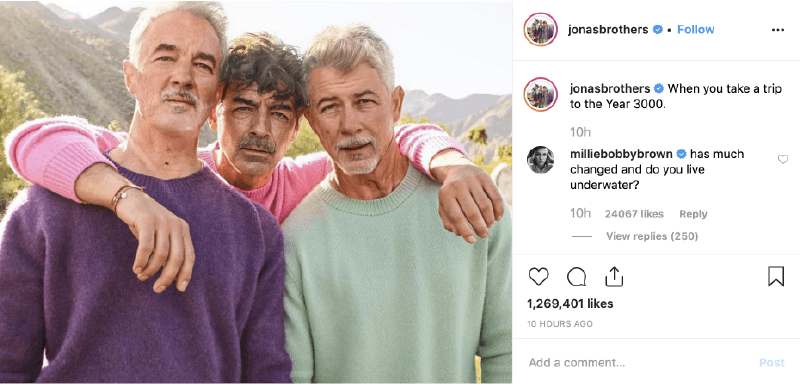 2. Smile Filter
Smile filter is providing users with an opportunity to customize their smile, including deciding how wider their smile should be.
3. Hairstyle Filter
Hairstyle filter lets users try different hairstyles on their picture and make fun of themselves in an amusing way.
4. Gender Swap Filter
The male to female photo changer filter has also proven to be the reason behind the growing popularity of FaceApp. This filter, as depicted from its name, gives you an opportunity to discover your other side.
5. Skin Tone Lightning Filter
Last but not least, FaceApp mobile application also provides users with an option to lighten their skin tone. 
While this is all about the prime filters it offers, let's turn towards how exactly this application work.
Working of FaceApp – The App That Makes You Look Old
When you open this face changing application, it allows you to either click a selfie or pick a picture from your Gallery and apply a filter on it. On doing so, this app uses the power of Artificial Intelligence (AI) to detect the right spots for smile, wrinkles, and other features on your face. It then analyzes what difference will appear in those sections when applying the old age or any other filter. 
It uses trove of data and its learning power to deliver the most accurate results to the users – a simple proof of which is:-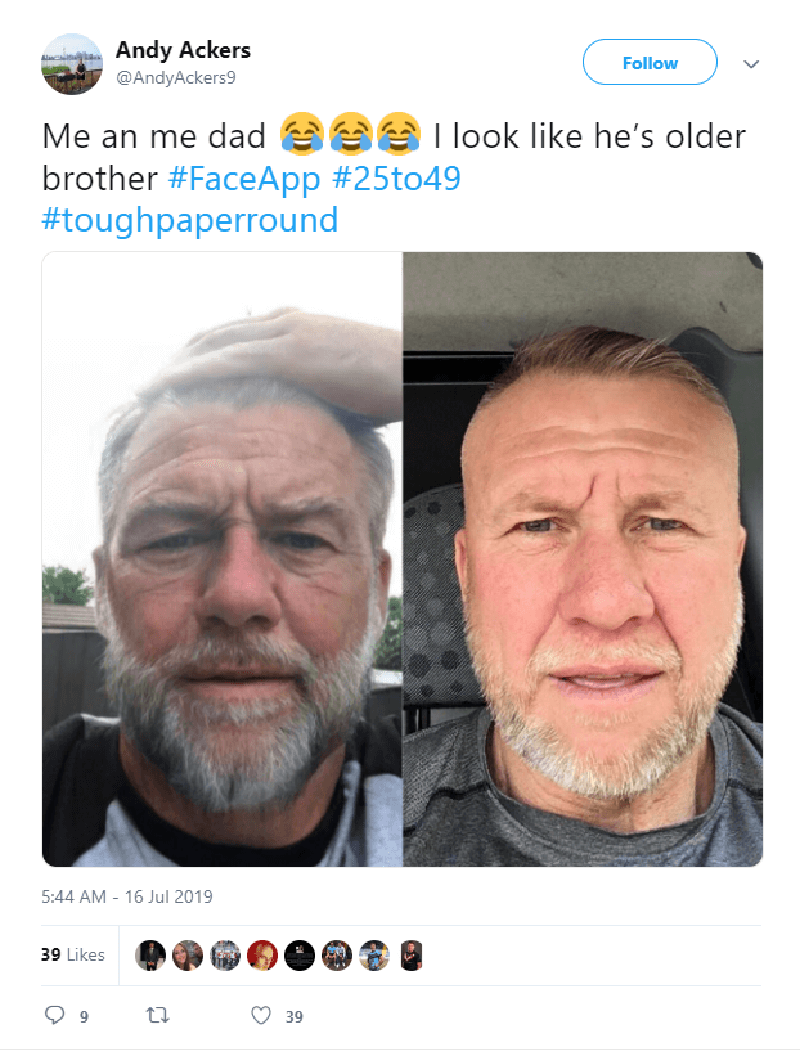 This mobile application, just like Prisma app, uses server-side technologies to add filters on your photos and further, upload them on FaceApp's server. However, it does not ask for access the complete photo gallery to apply filters. Rather, it accesses only one picture at a time.
Wondering how? 
While Faceapp has not yet revealed their actual tech stacks, the following are the tools and frameworks that our AI mobility experts believe are behind the spectacular features of it.
Tech Stack That Might Be Behind the Popularity of FaceApp
1. Swift and Java/Kotlin
When talking about frontend development, it is expected that this face changing application is relying upon Swift for its existence on iOS platform and Java or Kotlin for building its Android presence.
2. Python
Since the application is based on Artificial Intelligence, Python – one of the top programming languages – is also expected to be used for server-side development.
3. OpenGL or OpenCV
Either of these two libraries have also been considered as a part of FaceApp's tech stack due to the fact that real-time processing is performed on pictures.
4. Apple API
Above all, this face changer application uses an API introduced in iOS 11 that make it possible for AR app developers to give their users an option to select a single photo from a system dialogue for further processing. 
Bonus Read: You can view the documentation of this API here.
With such filters and tech stack, Faceapp is getting a huge momentum in the market. But, at the same time, it is facing various contraversaries. A few of which are:-
1. People are accusing the application for asking for more than required permissions.
2. When you submit a photo on FaceApp, it is processed and stored on its server. However, there is no clarity of what happens to image after that, which act as an alarming factor in terms of privacy concern. 
3. Besides, various users have sensed that although this AI-face editor application claim to pick only one picture at a time, it secretly access the whole of your photo gallery and other folder. This again creates a concern in terms of privacy and security to sensitive user data.
Right now, none of these concerns have been proven true. Whereas, the app features are gaining limelight every passing day, which gives a clear indication that the company will live its dream of becoming the next billion-dollar company.
Rest, let's keep a watch on what new FaceApp features and announcements are entering in the Face changing app market.
Frequently Asked Questions (FAQs) about FaceApp
1. What is the purpose of FaceApp?
FaceApp is a face changing application that provides users with ample of filters to create funny, amusing, and creepy pictures of themselves or others.
2. Is FaceApp free or paid?
Facepp comes in two versions – basic and premium. While basic is free and offers limited filters and options, premium one is paid and provides exceptional services.
3. Is FaceApp old age filter accurate?
Yes, it is. The face changer application uses advanced Artificial Intelligence and Neural network technology to provide you with the most realistic and possible pictures.
4. Why is the FaceApp challenge trending on the internet?
FaceApp provides you the most realistic picture of yours on applying different filters, which users are finding an interesting stuff. Because of this, the FaceApp challenge is trending on the Internet.
5. Is FaceApp safe?
Yes, it is. Unlike other apps, it access only a single picture rather than the whole photo gallery or other folders of your device. 
6. Is there any privacy threats in using the FaceApp?
Although people are raising eyebrows due to its policies, there is no such statement that proves that FaceApp is a privacy threat. So, the answer is – No.
7. Is FaceApp really spying on users?
No, it is not spying on users.
8. Does FaceApp keep your photos private?
Yes, it does. 
9. Which language is used in the Android app FaceApp?
Though they have not yet revealed their tech stack, it is assumed that Java or Kotlin is used for Android app development and Python for AI-powered functionality.
Read more blogs
The victim-count of Coronavirus has increased to 28,276 while taking 565 lives already.  With the virus epidemic being on the verge of becoming pandemic, there is a cloud of concern hovering over not just the affected nations but also the rest of the entire world.  The grim picture of Coronavirus is not just of the…
A few days ago, Dropbox acquired an open-source Store library. The aim behind taking the ownership was to modify it to make it more suitable to the prevailing Android developer ecosystem. Now, Store also includes Google JetPack collection of libraries which poses as a solution for creating current-day Android apps. Google JetPack makes it possible…
Google recently announced that they have acquired AppSheet, a Seattle based no-code mobile app development platform. The terms of the acquisition have not been disclosed yet, but it has been revealed that AppSheet will continue to serve its existing customers. AppSheet was founded back in 2014 by Praveen Seshadri and Brian Sabino to help businesspeople…
Bhupinder Kour
15 Jan 2020