Table of Content:
1. Stablecoins will be More in Use
2. Security tokens will gain momentum
3. Hacks and Scams will continue to exist
4. Buying Cryptocurrencies anonymously will be a daunting task
5. Blockchain will become transparent
6. Bitcoin will reach new heights in the marketplace
7. Ripple's XRP Will be More Popular
8. Change in Constitution of EOS
9. Ethereum 2.0 will be Introduced in the Market
10. Litecoin will have Private Transactions
From AT&T allowing payment via cryptocurrency to Facebook announcing the creation of its own coin, and the London Stock Exchange to Microsoft providing financial support to Blockchain and Crypto-based startups, there are various instances proving that big businesses are raising stakes at these virtual coins.
In the next 8 minutes, we are going to look into the fundamental picture of Cryptoworld and determine what are the new emerging opportunities in the year 2019 and beyond and if cryptocurrency is a to stay trend or a passerby east wind.
But before that, let's have a quick look into how far cryptocurrencies have reached.
An Introductory Look into the Crypto Market So Far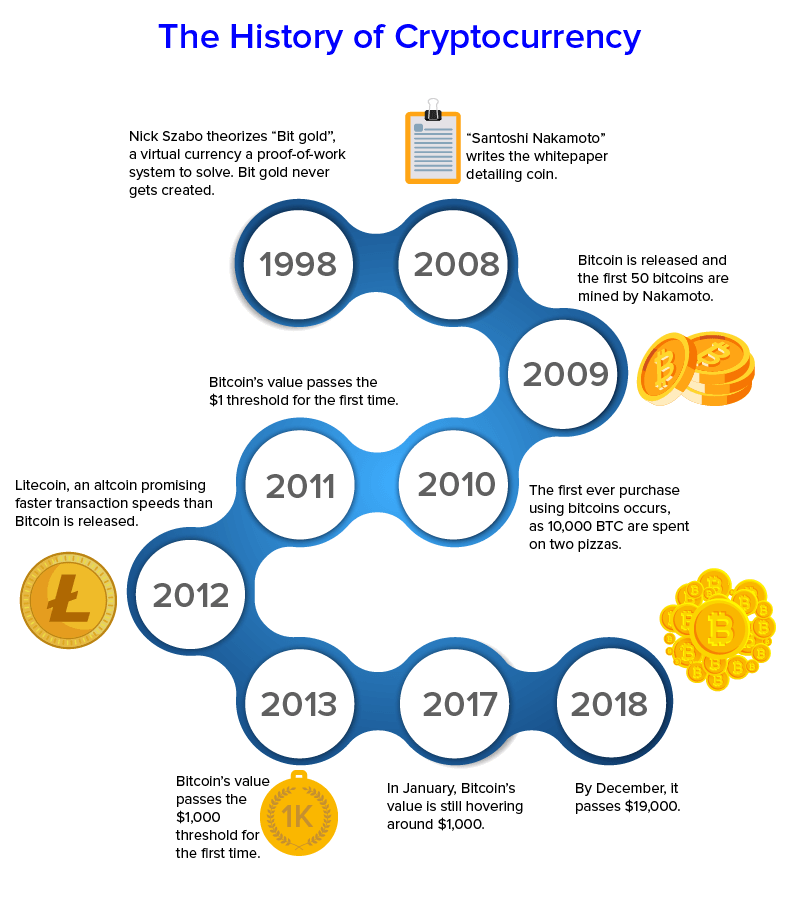 The first Cryptocurrency, Bitcoin entered the market back in 2009. At that time, nobody knew much about the virtual currency, but in 2013, the cryptocurrency market experienced huge growth. A proof of which is that cryptomarket is more about Bitcoin only. Today, we have more than 1500 different cryptocurrencies in the market with all performing incredibly great by the passage of every year. One of them is Cardano crypto, whose main purpose is to provide a platform for dApp Development.
But, what's next? What is the future of Cryptocurrencies and should businesses invest in creating their own coins? Let's figure out in the next section of the article.
Prediction Related to the Future of Cryptocurrencies
According to a report by

Worldwide Market Reports

, the Cryptocurrency market is expected to evolve with a CAGR of 56.2% between 2017 and 2025, while it was of $189.9B in 2017.


These numbers are predicted to a ripple effect of growing adoption of Cryptocurrencies usage for the transaction and other payment/wallet-related tasks in countries like France, South Korea, Finland, Germany, Spain, Japan, Sweden, Canada, Switzerland, and Mexico to name a few.


When talking about the vertical-wise impact of Cryptocurrency, Retail industry is expected to experience the widest adoption, especially in the case of large business chains.



As predicted by Tim Draper, a Venture Capital Investor, the

Cryptocurrency market capitalization will reach $80 Trillion in the next 15 years

.



The author of the best-selling book, "

Rich Dad, Poor Dad

", Robert Kiyosaki disclosed his belief that cryptocurrencies will replace US dollars soon.
While the aforementioned are the predictions that would become a reality some day, let's head towards what has been happening in the Blockchain and Cryptocurrency market in the year 2019.
Cryptocurrency Trends for the Year 2019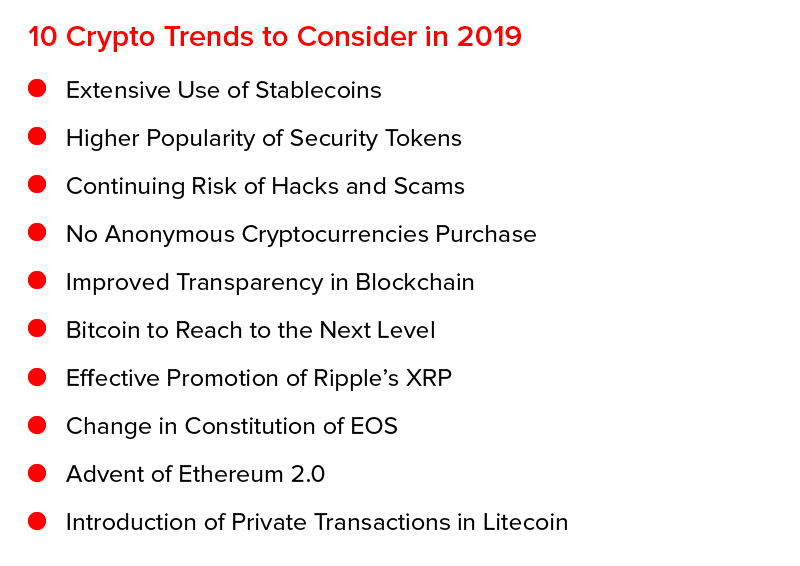 1.Stablecoins will be More in Use
The Stablecoins that were built in 2018 with the aim to represent the US dollar as a digital token are getting momentum this year.
Today, businesses who are entering into the Crypto world are choosing their stablecoins over Bitcoin and other cryptocurrencies. And the finest example is the announcement that Facebook is planning to launch its own stablecoin to employ within WhatsApp and other applications and tools.


2.Security tokens will gain momentum
Security tokens that are often offered to authenticated investors only are also expected to experience the next level of popularity. These tokens, as we already shared in our blog based upon top Blockchain technology trends, are predicted to replace ICOs and provide us with better results on a long run, provided institutional investors are more likely to participate in this.

3.Hacks and Scams will continue to exist
Since cryptocurrencies are still somewhat new for the users, the chances of them struggling with finding when and how to use Cryptocurrencies and getting into the claws of frauds is high. As a result of this, more incidents like Mt. Gox Hack are expected to become a headline in the market.
While these hacks and scams will remain prevalent in the market, various brands like Coinbase will launch programs to educate users about cryptocurrencies, which will enable users to realize and prevent getting into a scam.
4.Buying Cryptocurrencies anonymously will be a daunting task
In 2019, the process of purchasing cryptocurrencies won't be done under the table.  The Know-Your-Customer (KYC) protocol, that has been gaining limelight in the market to add security to cryptocurrencies, will be introduced in all the coins as a fundamental need. It will empower users to buy a cryptocurrency only after disclosing their personal details including a copy of their passport or driving license. It will also be added to final bastions of LocalBitcoins, person-to-person exchanges, and Paxful, and more. This implies it would be tougher for anyone to make a purchase in the Crypto world without sharing their personal details.
5.Blockchain will become transparent
With more publicly accessible Blockchains and KYC protocols gaining momentum in the marketplace, companies will find it easier to get a clear picture of the ecosystem, track the ill practices and maintain better money flow. Thus, the world of Blockchain for Cryptocurrency will be more transparent.
This will not just improve the trustability and accessibility in the whole process but will increase the security issues as well. So, it will be imperative to consult with a reputed Blockchain development company.
6.Bitcoin will reach new heights in the marketplace
Bitcoin will continue to relish the first position in the cryptocurrency market this year also. This will make it nearly impossible for the crypto exchange development companies to overlook the idea of developing a clone of this cryptocurrency with a value of $73 billion. The currency will be considered as a standard, with every new feature being introduced into Bitcoin first and then adopted by the other coins.
While this is at the business front, Bitcoin will also experience numerous changes in terms of the technical aspect. In 2019, the Bitcoin team will pay attention to introducing better privacy features and making it easier to run the cryptocurrency on phones.
In addition to this, Lightning Network which is designed to run on Bitcoin will also exhibit newer ways to spend Bitcoin in daily life.
7.Ripple's XRP Will be More Popular
Ripple will keep focusing upon providing efficient cross-border transactions opportunities. It will continue to form a network of trusted exchanges from the cities and nations for boosting the adoption of XRP. The platform, till date, has come into partnership with 12 popular companies, including Mercury FX and is expecting many more companies on board.
Besides, the platform is hoping that the XRP currency will be considered as an alternative mode of payment in the reputed banks by the end of the year 2019, with its value crossing $3.84 – something that will provide us significant insights about how will cryptocurrency impact the future.
[ALSO READ: Ripple's Xpring Launches Developer Platform to Streamline Transactions]
8.Change in Constitution of EOS
EOS, the platform that raised $4.1 Billion without going live, has been struggling in terms of decentralization and the number of block producers delivering full history nodes – something that is important for the proper working of dApp.
This year, EOS will showcase a major change in its constitution to meet the requirements of EOS users as an answer to what's the future of the crypto market. It will create a constitution from scratch which will hold different rules depending on the user behavior. But, to make this possible, it will be imperative to deal with low voter turnout, which is a prevailing challenge for this cryptocurrency.
Now, here either the experts will discover ways to lessen the voting threshold or bring out a better awareness campaign to encourage people to vote. If they get successful in this action, EOS will be able to enhance its efficiency and sustain to better market conditions, eventually resulting in long-term survival. But, on the converse side, it might centralize at a higher level to keep evolving.
9.Ethereum 2.0 will be Introduced in the Market
Ethereum remained a slow and steady platform in the year 2018. But this year, seeing the growing number of Blockchain platforms luring the app developers with faster transactions and higher revenue, this platform will introduce an upgrade.
Ethereum 2.0 will soon enter the market, with Phase 0 announced to be available this year itself. [ Read in detail about Ethereum 2.0 here: Ethereum 2.0: The Roadmap to More Scalable Experience]
10.Litecoin will have Private Transactions
Another coin that will get the attention of the users when talking about which cryptocurrency has a future is Litecoin. The virtual coin will experience a push towards private transactions this year. However, unlike virtual currencies like Monero, it will provide this as an optional feature.
Besides, the year will witness extensive efforts put into the marketing of the currency as hinted by the recent partnership of the Litecoin Foundation with the UFC.
Apart from these, various Crypto-blockchain based platforms like Decentraland, Grin, and Polymath will also hit the market and compete with the existing Cryptocurrencies and portals.
Seeing all these trends and the plethora of advantages, various business domains are entering the world of Blockchain and Cryptocurrency. So, let's wrap up this article seeing what all industries are ready to enter the Cryptomarket.
Industries That are Prepared to be Decentralized in the Days to Come
Government – The government realm will bring drastic improvements in voting and other processes to build trust and transparency using the end-to-end blockchain voting solution.


Music – Blockchain and Cryptocurrency will add transparency in the music industry, cut down the intermediaries in the process and prevent the chances of re-distribution of music files without permission of artists.


Messaging Apps – Various messaging applications like Telegram will invest in the idea of developing their own Blockchain-based platforms for secure and effective file storage, payment and censorship-free browsing.


Banking – While Blockchain and Cryptocurrency has already made disruptive changes in the Banking domain, Ripple's currency XRP will enter the market as an alternate to the existing payment modes.


Photography – Blockchain and Cryptocurrency will also make it easier for the photographers to not encounter with the situation of getting their image misused somewhere. Or better say, they will find it easier to get paid royalties for their work.
So, as we have seen in this article, the future of Cryptocurrencies in 2019 and beyond is better than ever. Cryptocurrencies and Blockchain will enter many more forms and business verticals.
They will gain newer heights of popularity in the market in a year or two. In a scenario like this, investing in cryptocurrencies and Blockchain-based features will be the right step taken towards a profitable future. So, go ahead!
Read more blogs
Blockchain Technology was mainly created for catering to the digital currency trade. However, the tech-savvy world soon realized that blockchain technology can be utilized in empowering businesses. Blockchain implementation has the potential to bring more efficiency, trust, and transparency into day-to-day transactions. As a result of this, industry leaders are now planning pivotal projects for…
Chirag Bhardwaj
16 Sep 2022
The rise of DeFi has strengthened the prospects of blockchain implementation in the development of financial apps. DeFi or decentralized finance, has recently gained prominent attention as it has garnered massive amounts of capital for various businesses. You will be surprised to know that almost $20.46 billion is locked in DeFi protocols, proving that the…
Chirag Bhardwaj
02 Aug 2022
Bitcoin and other digital currencies have created an entire ecosystem around blockchain. So much so that the world has started arguing that decentralized solutions are going to replace traditional financial services in the time to come. Whether or not it will happen is something that only the future will tell, but what we are seeing…
Chirag Bhardwaj
01 Aug 2022