How Much Does It Cost to Develop a P2P Payment App Like Venmo
July 29, 2019
2. min read
Last update on:
April 30, 2021
With the number of mobile-based P2P payment users reaching 26 million in the USA alone, the industry is showing a picture of uncontested growth.
Straight from the number of participating players to the transaction volume that is on the verge of becoming mobile-only, every facet of the P2P payments industry is on a fast-tracked growth rate.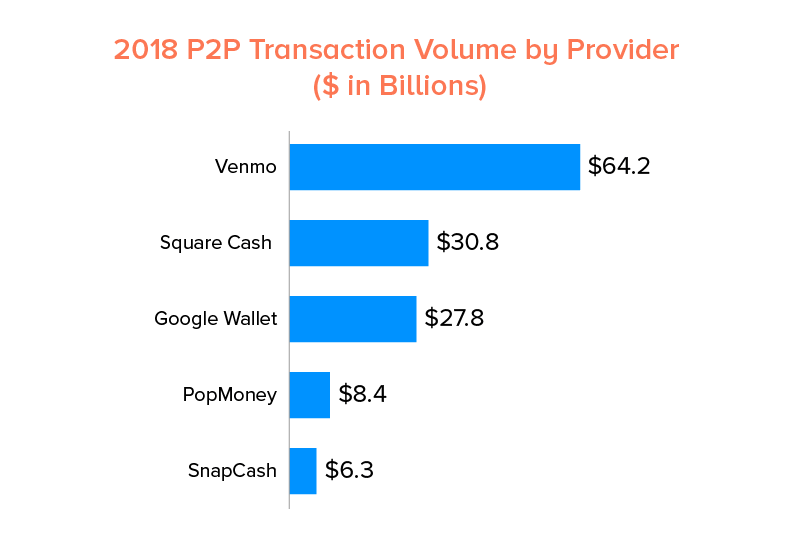 The transactional growth of P2P payment marketplace is mainly the mix of these two factors driven by the leading P2P payment providers:
User's inclination towards innovative tech

Ease of doing untimed financial transactions.
Now when we talk about the mobile P2P payment providers that have contributed to shaping the present state of the industry, there are a few names that emerge to rule the charts. Some of the apps that have made it to the list are –

Venmo is leading the charts in P2P payment providers.
Popularized by Braintree, P2P payment app Venmo, at the back of its innovative features, saw itself becoming the center of Millenials' attraction in 2012 when it was acquired by Braintree. And soon, the stories of its ease and social quotient reached the ears of PayPal who took no time in acquiring Braintree and become the name behind Venmo.
The tag of being a part of the PayPal family brought an instant spike in demand for the application. A demand that has grown to such an extent that it has become a tough competition for other industry's players and an ideal business model for the many entrepreneurs who aim to follow its growth trend.
Now the primary question that these entrepreneurs are always struggling to find an answer to is How Much Does Venmo Clone App Development Costs? One that is very closely related to how to build a P2P payment app.
Well, the struggle ends here.
We are here to answer How Much Does It Cost to Develop peer to peer Payment App Like Venmo.
In this article, we are going to discuss Venmo app holistically – covering not just what does Venmo's cost structure look like but also its market and the features that made the app famous.
But before we head on to the estimate of the cost to develop p2p app like Venmo, let us start by looking at the market growth chart that Venmo business model has drawn for itself among the users across all its operative nations.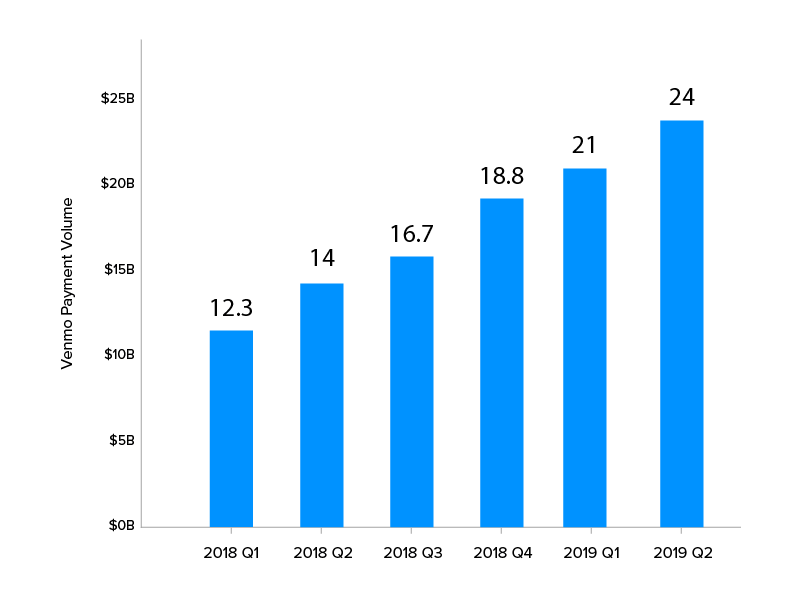 One of the reasons why Venmo has found a strong, loyal customer base in the P2P payments market is because of its easy user flow which brings down the learnability curve. Knowing how the users move within Venmo can be a great starting point for entrepreneurs who are looking for an answer to how to create an app like Venmo.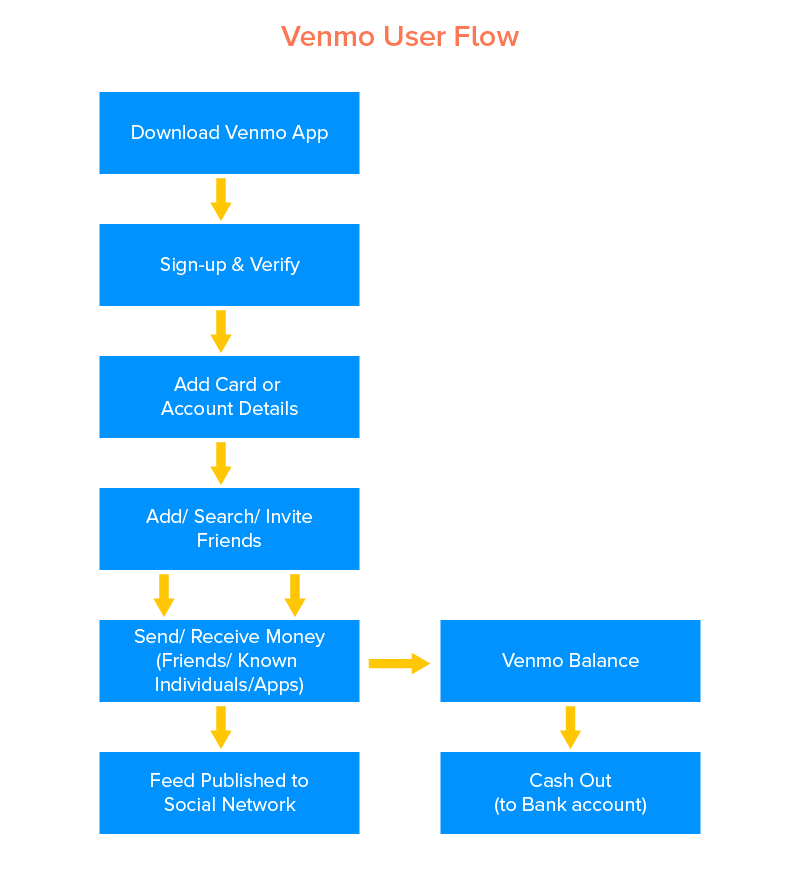 While this is simply a skeleton view of the Venmo app user journey, there are a number of features that go behind the development of the mass.
It is these features that goes into forming the answer of how to build a P2P payment app and the estimation of cost to develop P2P app like Venmo.
Let's look at what those features are.
Primary Features of Venmo Like Application
1.

Make payments

The primary/base feature of the Venmo like application would be the facility to make payments in real-time. You can either make payments to someone you know or you can use your Venmo money for bill payments.
2.

Link bank accounts and debit cards

Another important element of a peer to peer payment technology like Venmo is enabling users to link their bank accounts and debit card in the app. This makes it easier for the users to make payment straight from their bank account, without having to rely on the in-built wallet.
3.

Purchases

Venmo has tied up with a number of businesses and websites for enabling the facility of making purchases on their sites through the app. To make the whole process streamlined, they have created their own API.
4.

Venmo Money transfers

In order to make your peer to peer payment system all the more useful and convenient, you should give users the feasibility of transferring the money from their Venmo like application to their bank account. And then from their bank account to their app wallet.

The ease with which Venmo money transfer happens is something that you too should plan to achieve in your app design.
5.

Share payments

One of the features that separate Venmo business model from other payment applications is that it gives the option of sharing the payment transactions with friends and other people in the Venmo app through an in-built social feed.
6.

Sync with Facebook and phone contacts

Syncing phone contacts should be an obvious part of your Venmo like application in order to make it easy for your P2P payment users to easily find people to connect with. But syncing Facebook with the application is more of a Venmo centric feature. The idea behind this is to make the whole process of selecting contacts and sending messages expansive and convenient.
7.

Data encryption

This part of the feature deals with creating an ecosystem where the data of the users are protected with such robustness that they become hack-proof.
8.

Request money

Using this feature, users can request money from other Venmo users who owe them an amount. This functionality requires an in-app messaging and notification feature to notify the other users of the request.
9.

Track payments

Both for the sake of federal financial regulations and user experience, you should give the users the option to keep track of their financial history. In addition to giving the option to track transaction history inside the application, you should send them weekly/ monthly emailers as well.
10.

PIN code

It is very important for you to have a multi-factor authentication system integrated into your application. It helps in ensuring that your users' account is secure and that nobody is able to use the application when the phone is unlocked, besides them.
11.

Account settings

The next crucial feature that should be added in your P2P payment application is account settings. Your users should be given a space where they update information and select a preferred payment method, amongst other features.
12.

Split bills

This feature is related to giving your users the ease to split bills with their friends from inside the application itself.

The features set that we just looked at are ones which are commonly present in the many P2P payments apps. And this commonality is what makes them the must-have features that a Fintech app development company generally works around.

But when we talk specifically about Venmo, there is one feature that stands out – Social Feed.

Let's spend a few minutes on it.
The One Feature That Has Made Venmo a Millennial's Favorite
While other P2P payments applications are more on the transaction side of the operation as compared to social, Venmo offers as a pleasant change with its Social Feed functionality.
Along with being one of the most leading P2P payments apps, Venmo also acts as a social network for its millennial user base.
Users can share their payment activity with their friends who can then post a comment using the 'Friends' feed. The users can even share their activity with the whole Venmo public for strangers to see and react on it via the app's public feed.
For a lot of the young aged consumers, sharing everyday activities is how they lead their life. And catering this second nature of the consumers has become an inherent part of the business models of companies like Instagram and Venmo.
"Venmo is not an inherently social app in the way of Facebook or Twitter, but it offers emotional support and the ability to keep in touch," said Cliff Lampe, the social-media professor at the University of Michigan's School of Information. "Young people are good at repurposing feeds and emojis and signals to mean different things and to become social even when it's not intended to be social."
Even though Venmo exists to perform the same old boring purpose of money transfers and paying bills, the social feed is what makes it the emoji infused, millennial heavy, thriving social phenomenon.
The feature set that we have listed above – both ones that are common in all P2P payment apps and the ones which are specific to Venmo, come attached with a price range that can be a little on the higher side.
Here's what we are talking about.
Here's the answer to How much does Venmo clone app development costs.
How Much Does Venmo Like App Development Costs?
The feature set and security measures that a Venmo like application requires, puts it in the category of a high complexity app.
Now while there are still a number of other things to be considered when deciding on the Venmo like app development cost, it is possible to give a rough ballpark range on the basis of the features set mentioned above.
In case your feature set is specific to the ones mentioned above, the answer to what is the cost to create an app similar to Venmo will come down to something like USD 100K and USD 150K .
Although the range is on the higher end, as the app's complexity demands, the rate of return are considerably higher.
Especially when you keep Venmo's monetization model into consideration.
How Does Venmo App Make Money?
There are multiple ways through which Venmo makes money – ways that the brand is going to use more extensively since it is not presently in a high-profit state.
Here are the ones which you can incorporate in your Venmo like application –
1.

Credit Card Payment Charges

Venmo charges a 3% transaction fees when payment is made through credit card as opposed to a debit card transaction. By incorporating this monetization model in your P2P payment app, you will not just become the recipient of a steady income but would also be able to cut down on the losses that you might face when the credit card payment doesn't go through.
2.

Faster Money Transfer Charges

Venmo charges a fixed amount from all app users who wish to avail the fast money transfer facility. What happens is that usually, Venmo takes some two or three days to transfer money to the users' bank account but when the user agrees to pay additional amount to expedite the transfer the money transfer time shortens to a great extent.
3.

Merchant Charges

Venmo monetizes from its merchant partners to a great extent. This is also one of the reasons why the company is working on increasing the customers to business transactions on the platform.

The idea of this plan is that Venmo takes a percent cut, something around 2.9% of the transaction charges.

This was all about how Venmo makes money. If you are still with us, reading the piece, you are now 80% on the path of becoming the next Venmo app.

The 20% is what will be covered in a few scrolls once you fill the form and get in touch with the industry's leading Fintech app developers.
FAQs About Cost to Develop P2P Payment App Like Venmo
1. How do I make a Venmo like P2P payment app?
The process of Venmo like P2P payment app development requires an in-depth understanding of the feature set that you will be basing the application on. In addition to the factors, it also helps to know the technology stack and team requirement, etc to initiate the whole Venmo like app development process.
2. How does peer to peer payments work in Venmo?
P2P payment apps like Venmo or SquareCash allows users to send each other money from their mobile devices through the P2P payment. To make the transaction possible, they are giving the functionality to both – link their bank account/ card and keep the money in their in-app wallet.
3. How does Venmo make money?
There are three ways through which Venmo primarily makes money –
Credit card payment charges

Merchant charges

Faster money transfers
In search for strategic sessions?.
Let us understand your business thoroughly and help you
strategies your digital product..
Related Articles: