Ever had trouble finding a fully-furnished room to stay for a night or more in a new city? Most of us who have moved to a new city for studying, internship, starting a career, or setting up a business has gone through this tiresome hunt of finding a space while dealing with cunning brokers, nosy landlord, pale food, and poor maintenance – just because of lack of budget or resources.
Thankfully, things have changed now. Today, one can easily find a sharing apartment, a private room, or share common space with a few taps on a mobile application like OYO and ZoloStays. This, on one side, has provided the users with a facility to enjoy all the amenities at low budget. While, on the other side, it has served the businesses with plethora of perks – making many more interested in finding a way to enter the Co-living market and determining the cost of OYO like app development – something we will talk about in this article in detail.
But, rather than directly jumping into real estate mobile app development like OYO and the other requisites, we will dig deeper into the Co-living market space to determine what is the present and future of the market and why OYO is gaining a huge traction in the market among all the different options available.
So, beginning with the recent fundings raised in the Co-living market.
Recent Fundings Raised in the Co-Living Market
The co-living industry, solely in India, gained a market value of $120 Million in the year 2018. But, this number is expected to grow by 20X by the year 2022 – a hint of which can be taken from the funding raised last year:-
StayAbode raised an undisclosed amount from Voyage Group, Akatsuki and Incubate Fund as an add-on to Pre-Series A funding.

CoLive received a funding $1.8 Mn from Ncubate Capital Partners in the year 2018.

Grexter, a co-living startup based in Bengaluru, gained $1.5 Mn in a Pre-Series A funding from Venture Catalysts.

Mumbai-based ZoloStays raised a $30Mn Series-C funding by IDFC Alternatives, Mirae Asset and Nexus Venture Partners.

In 2018, OYO started the 'OYO Living' offering that is predicted to expand to top 10 metros this year with 50k beds and monthly rental payment of min. $109 per bed.
While various startups have been raising funds in the Co-living market space, not all of them are making a profitable business in the domain or have even established themselves. In a scenario like this, having a clarity of the top players of the industry helps to plan wisely. So, considering the same, we will turn our journey towards the top players of the domain.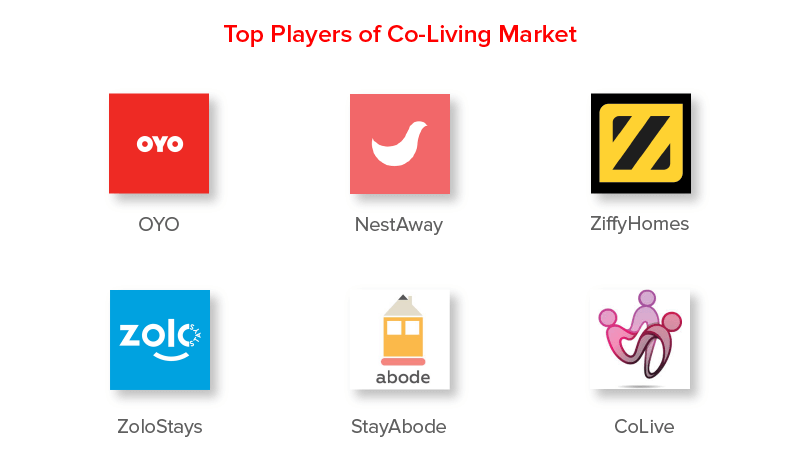 Although all budget building hotel booking apps are giving a tough competition to each other, the app that has proven to hold the potential to be the No.1 in the industry is OYO Rooms.
Let us look a little into the backstory of Oyo before we move on to look into the cost of developing an application like it.
OYO – A Brief History
Popularly known as OYO, OYO Rooms came into existence in 2013. The company started from India, but today it is ruling the market of China, Malaysia, Nepal, UK, and USA. It has become one of the top Hotel Chains in the world and the 3rd largest hotel brand in China. The brand has launched various new products in the market including OYO Living, SilverKey, OYO Homes, and Palette.
It has also gained a huge popularity in the marketplace while offering a plethora of benefits to the consumers and its business partners – a glimpse of which can be taken from the numbers shared below:-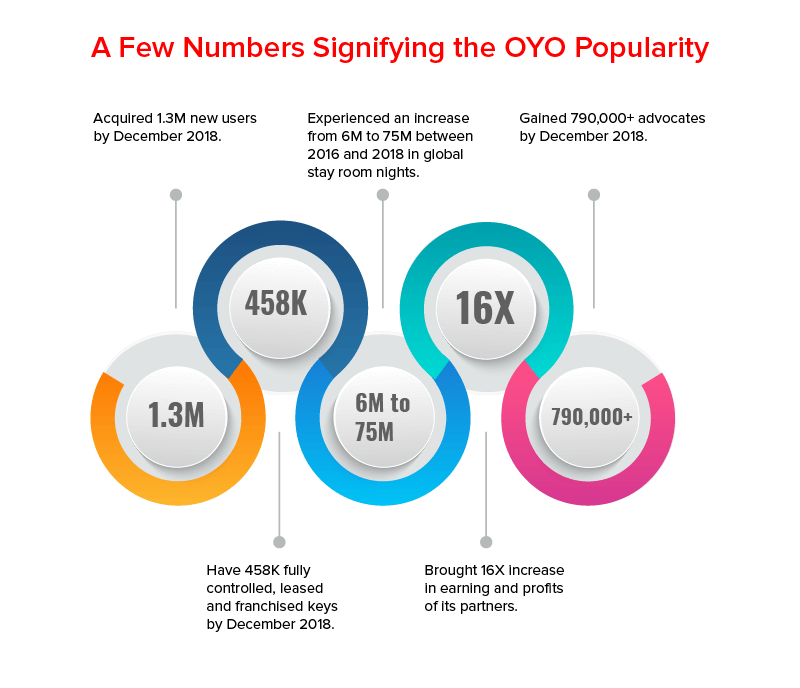 Now, as we have covered the basics of the Co-living market and OYO mobile application, let's begin with the technicalities – starting with the features of the mobile application.
Features of OYO like App
Though you'll be familiar with the basic features of the app, let's, nevertheless, take a quick look to ease the OYO app design process:-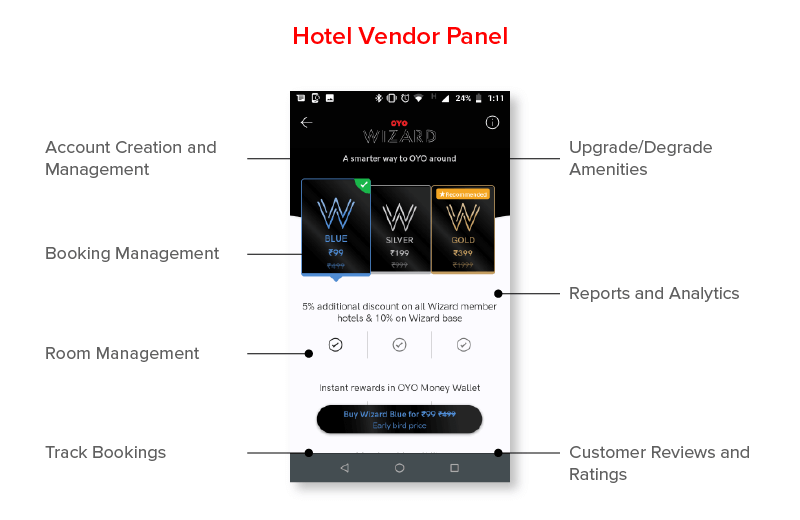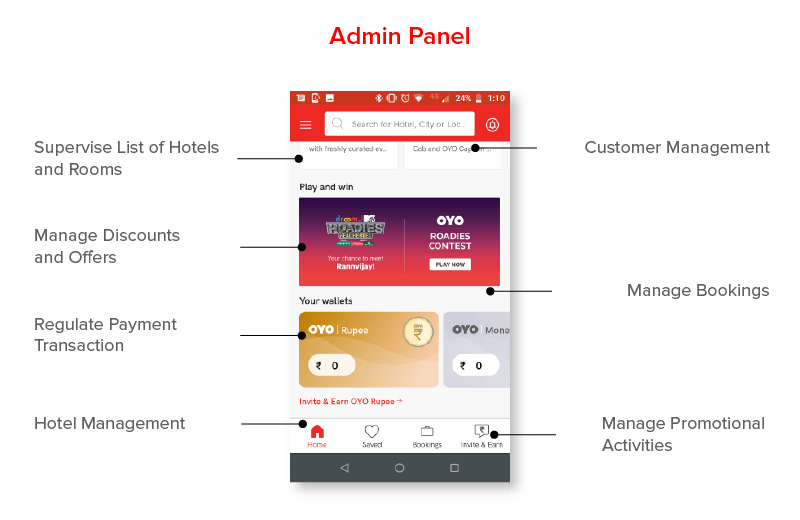 While these simple features helped the application enter the co-living space, the company introduced various new functionalities to provide better living experience to students, bachelors, travelers, and millennials. Some of the newly added features that you should consider to create an app like OYO are:-
OYO Money and OYO Rupee: These are the two virtual currencies available in OYO app that shows the amount you earned by referring the application to your friends or by availing some relevant booking offer.

OYO Wizard: It's a membership program where the loyal customers of OYO will get bonanza discounts and offers on their bookings.

OYO Captain:- Using this feature, the customers can hire a local OYO representative who will take care of everything regarding their stay. They will review the condition of the hotels book, check for all the facilities and training of the hotel staff, and assist you in case of any concern of assistance. Besides, they also provide you with information about places to visit around, restaurants to dine at, things to do, and much more.

OYO Assist:- Unlike OYO Captain, this app feature renders the facility of self-service. That implies it provides you assistance in getting familiar with the booking-related policies of the hotels, modifying any booking in just 3 taps, claim for refunds at a faster pace, and file a complaint against any hotel service quickly and effectively.

OYO SOS:- This OYO app feature provide you with support in case of a safety-related emergency.

Deals for You:- Here, you come across the hotel booking deals and exclusive discounts offered by the OYO partners including the banks and other service providers.
The company, with the motive of becoming the largest hotel chain by the year 2023 and having more 330,000 rooms in 550 different cities, is also investing maximum efforts in analyzing the customer needs and coming up with far better opportunities.
In a scenario like this, if you are someone stumbled upon this article hoping to develop an app like OYO with all these upgraded features, let me share that it won't help. The brand established itself in different customer and market trends and today is working with customers of different desired and perspectives. This implies the best approach to enter the market and get the limelight like OYO is to invest in developing an MVP first. [Read More about MVP on:- The Digestible Guide to Minimal Viable Products (MVP) ]
With that attended to, let's get into the technical aspects of the application and see what lies under the label of OYO app tech stack.
OYO Rooms Technology Stack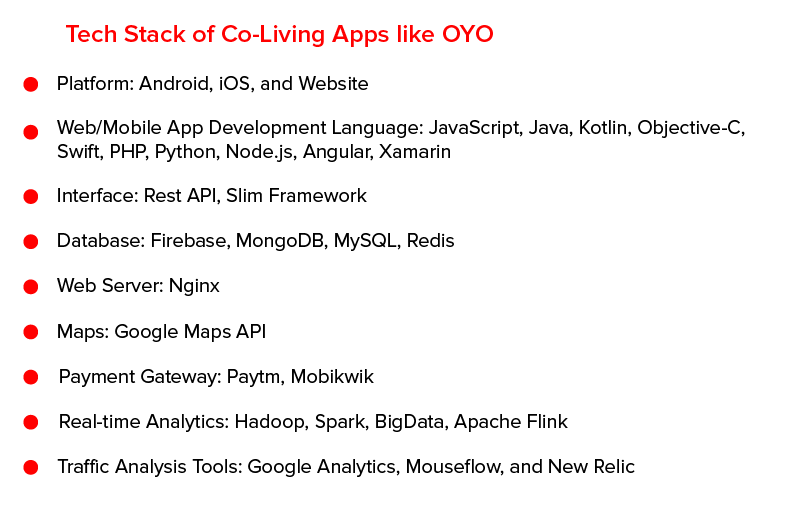 Now as you know what OYO rooms technology stack is and what features it entails, you would be looking forward to determining the cost of OYO app development – something we will soon disclose with you.
But, firstly, let's dig deeper into the OYO business and revenue model and see what are the possible ways to recover the invested money and do business profitably.
The Business and Revenue Model of OYO Rooms
When it comes to how to start a business like OYO rooms, you can go with two different business and revenue models:-
Aggregator Model

Franchise Model
Aggregator Business Model
The Aggregator model, which OYO Rooms followed till 2018, allows you to connect with different hotels, property dealers, and room owners for partnership and ask them to sell their services under their brand name. That means the customers connect them via your platform and receive their hospitality services with no clue about their actual name – just like what we have seen earlier in the case of Uber business and revenue model.
In this revenue and business model, you earn around 22% of profit share while the partnered hotels and room owners gain a huge traction at their end, and the customers, of course, get exceptional experience.
Franchise Model
This is the current business model that OYO works with. Under this business and revenue model, the hotel and place owners became constrained to your terms and offer plans. They have to ensure the quality of customer services and grow their business as per your standards, and provide you with around 90% of the revenue gained from hotels operations.
With this, we are all set to move into the core element of this article, i.e, to find out the cost of OYO like app development.
So, here we go.
Cost of OYO Rooms App Development
DISCLAIMER: While you would be heading to this section with hope to get a finite value, let me disclose that the answer to how much does it cost to make an app like OYO is not finite.
The cost to make an application varies based upon different factors, including the app features, tech stack, hourly price of the hired app developer, and most importantly – the no. of hours required for the development process.
[table id=13 /]
When we, at Appinventiv, calculate the cost to deliver our services of OYO-like app development based on the number of hours, the value comes down to $93,800.
This estimated cost of OYO-like app development may differ based on the geographical location and the size of the team you hire. So, it is advisable to look into how to outsource app development before signing a deal with a company.
[Also Read: How Much Does Airbnb like app development costs?]
Read more blogs
Gone are the days when we strolled through the bustling streets and bargained with edgy vendors to secure the best deals on their wares. Now, the picture has changed, transposing that tiring shopping experience into a digital adventure where online auction meets the age-old practice of negotiations. Online auctions have emerged as a dynamic marketplace,…
Sudeep Srivastava
06 Oct 2023
In the Middle East, the rise of FinTech solutions is revolutionizing how people manage their finances. The rise of eCommerce and the penetration of mobile phones and the internet have contributed to the meteoric rise of the sector, especially in the Middle East. One app that has taken the Middle Eastern market by storm is…
Sudeep Srivastava
29 Sep 2023
In the rapidly advancing healthcare sector of the Middle East, technology plays an increasingly crucial role in patient care and management. myAster serves as a standout example in this context, revolutionizing how medical services are accessed and provided. Whether it's scheduling appointments, managing prescriptions, or ensuring secure lines of communication between doctors and patients, myAster…
Sudeep Srivastava
28 Sep 2023