The next six minutes will talk about – The state of Audiobook App Industry. Reasons to Invest in Audiobook App Development. The Business Model of Audible and Kobo. Cost of Development of an Audiobook app like Audible. What's New and What's Next.
The market of books is one of the oldest and most profound. The industry has seen and survived one of the most stark transformations – from paper to digital. Overtime, Publishing industry has established itself as one of the cash cows like the Education sector and Matrimony market, the demand for books like these industries, would rarely ever go down.
The user demographic that constitute the growing population of book readers is the same population that is always seeking innovativeness. Audiobooks are the result of their demand.
Let's get on to the state of Audiobook app market as promised.
Why to Invest in Development of Audiobook App like Audible App
In the era of digitization and at a time where there are limited players but maximum users, the need of innovation has been turning pages of the Publishing story.
One such innovation that has been introduced by the industry is Audiobooks.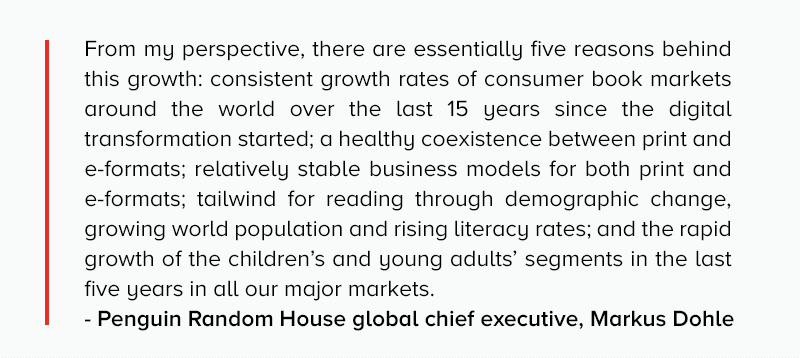 The Market Standing of Audiobooks
Publishing houses like HarperCollins, Hachette, Simon & Schuster and Penguin Random House all swear upon the role that Audiobooks have played in gaining them profit yoy.

There are a number of reasons that have contributed to this profit that the market is bagging for the Publishing industry and among all those reasons Readers' Fondness tops the list.

These reasons and stats are cue to guaranteed profits when an investment is made in Audiobook App Development.
How do Audiobook Apps Make Money? – What is the Business Model of Audiobook Apps?
Audiobook Apps like Audible App and Kobo charge their users a membership fees after keeping their app open for use for around 30 days. The membership usually cover 1 free audiobook on a per month basis and offers a 30% discount on purchase of additional audiobooks.
Users then pay an annual or monthly sum to get an access to the titles that are present on the service.
They follow a subscription model for pricing their audiobook services. Almost all the audiobook apps on the market today use subscription model where users have to pay to access 1 audiobook every month.
There are services like Spotify which provide selective audiobooks free of cost and service players like Playster that along with a subscription plan offer premium plan which gives an access to all the 60,000 title in catalog.
The general rule of thumb here is to go with the subscription model to generate revenue from the audiobook app.
Tech Stacks of Audiobook Industry leaders like Audible App and Kobo
Development Tech-Stack

Google Maps

Google Cloud Messaging

Bolts

ReactiveX

HTML5

SproutCore

BootStrap
Marketing Tech-Stack

Facebook Login

Amazon Advertising

Extole

Login with Amazon

Rockerbox
Payment Tech-Stack

DEVOPS Tech-Stack

Logback

Amazon S3

Dyn DNS

Symantec SSL

LiveJournal

Neustar UltraDNS

FoxProxy
Analytics Tech-Stack

Adobe Analytics

Adobe Target

Google Analytics
Cost of Audiobook App Development
The answer to 'How much does it cost to create an Audiobook app' and 'How much does Audible App Development cost' cannot be given in exact numbers. The cost estimate depends entirely on the project complexity and time frame.
The cost, beside the Audiobook App Development Cost would also include the cost of hosting services, library size, usage cost of the audiobook, publishing, promotion, and distribution rights, etc.
What's New With Apple and Android App Store in Terms of Audiobooks
Seeing the stability and rise in demand chart that the Audiobook App segment is coming adorned with, the two App Store Giants has brought in their share of changes and renovation in the category.
Let's have a quick look at them –
*Apple App Store*
While on one hand Audible App for iPhone App Store is performing very well in the store on the other, App store has been making changes to its e-books app.
The brand is looking to revamp the category page with a completely new design, making it a better digital bookstore than it was.
The revamp, which is handled by Kashif Zafar, ex Audible SVP and GM, has more than design changes lined up for the new Apple page. The new e-book store will look the revamped Apple Store and will have a separate section for the Audiobooks.
*Google Play Store*
Even though the Audible app for Android Play Store is seeing a high download rate in the Google play store, the tech giant have launched its own audiobook store as a part of the Google Play Book Services, with the facility of pay-as-you-read model (no subscription option).
The consumers will be able to buy the audiobooks from inside the Google Play Books app from Play Store and the web.
Google has also integrated this service from Google Home devices. Consumers will now only have to say "Ok Google, read my book" and the book will start playing.
Audiobooks Trends 2019

Smart Speakers
Smart Speakers like Amazon Alexa, Apple HomePod, and Google Home are where the future of audiobooks belong. According to a survey by Audiobook Publishers Association, 19% of the audiobook listeners have listened an audiobook on one of their devices – a number that is expected to rise with the growing adoption of Smart Speaker devices.
On the Retail Front
Audible App will be launching more genre specific subscription platforms, ones that are similar to Audible Romance.
Kobo will introduce greater innovativeness in their Super Point Loyalty Program – Through the program, whenever the users buy an audiobook from Kobo, they get points which can be redeemed for rewards from a portfolio of more than 1.5 million titles.
More Languages
Publishers from across the globe will start translating their upcoming titles in foreign language and will be devoting more resources into the production of audiobooks. The general intention among the publishers is to increase the amount of title that they released by over 40% in 2019.
*BONUS SECTION*
Where to Find Content to Fill Your Audiobook App?
When it comes to filling your audiobook app with books, you have quite a few options. Let us explore them –
Create Your Own Audio Book
If you have enough resources, in terms of manpower, devices, and money, time, you should think about publishing your own series of audiobooks on the app – something that would be specific to your target audience.
Head on to the Marketplace for Audiobook Industry
Visit the Audiobook Markets like ACX and CD Baby and you will find a number of options, both in terms of books and the audio recorders who will help you in filling your Audiobook App.
APIs
API is the most cost and development effective way to fill your audiobook app library. APIs like Findaway make titles available to the audiobook apps from where users can access them.
Use Multiple Content Type besides Books
One quick way to fill your audiobook app would be to fill it with other content like news, podcasts etc. You can create different channels without restricting yourself to just the audiobooks.

Read more blogs
Classified ads have come a long way from their humble beginnings in newspapers. The rise of internet platforms has revolutionized the way we buy and sell goods, and Dubizzle is at the forefront of this movement. With its user-friendly interface and multitude of listings, Dubizzle has become the go-to app for savvy shoppers and businesses…
Sudeep Srivastava
29 May 2023
Startups, entrepreneurs, and professionals are now getting highly involved in business networking platforms to nurture their networking skills, boost profile visibility, and connect with like-minded people. It can be rightly said that business networking applications are now being considered the stepping stone to success for anyone who makes the right use of it. This points…
Sudeep Srivastava
13 Apr 2023
We are living in a digital age and have ultimately become increasingly dependent on various applications to assist us with our day-to-day tasks and activities. From social media and messaging applications to shopping and payment applications, there are mobile apps available for almost every aspect of our lives. Now enters the major potentate of this…
Sudeep Srivastava
17 Mar 2023