The series of surprises that started with Google I/O 2018 event has not yet ended. After announcing the Android P and Measure app update, the tech giant has recently launched the 'Messages for Web' – the web version of Android messages mobile app. This Android messages app update will let the Android users have chats from their PC and Mac- giving a relief from holding phones for a long.
Announced on this Monday, the app allows you to open your Android messages and continue the chats from any browser. All you need to do is to open this URL: messages.android.com on your web browser. Open the three dots on your messaging mobile app, select 'Messages for Web' option and scan QR code from your phone, just as we do in the case of WhatsApp Web.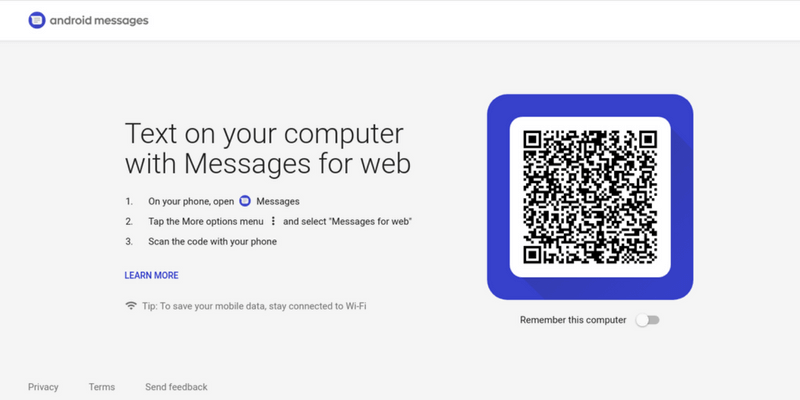 Although Google has launched many chat apps before like Google Duo, Hangouts and Allo, the 'Messages for Web' is quite different. This android messages desktop update is completely based on its prime feature, i.e., messaging. It does not offer any phone call, video call or any such option as a cherry on the cake. It just lets you enjoy SMS and MMS from a desktop.
But still, this Android messages update has a bunch of cool features, making it more competitive to Apple's iMessage app and Facebook's Messenger app. Some of the significant features are:
Unlike Mac's iMessage app, Android messages on PC app can work from anywhere, provided there's a browser. You can use it on your laptop, Google phone, Pixelbook, and even Mac.
The Android messages web app has three handy buttons on the right side of the message to send stickers, files and emojis. In other words, the app empowers you to send photos and files, which is still not available on iMessage application.
Apple Messages app has recently gained Cloud syncing, which you can access only if you have the latest version of iOS 11 and macOS High Sierra. Whereas, Android messages application has no such limitation. Once you logged into Messages for web application, the messages and conversations sent from one source can be instantly seen on the other medium (just like that in case of WhatsApp).
Messages on the Mac has the option to quickly search through the conversation. However, the Android messages on Web does not. It is integrated with Google Duo and other SMS apps but is still a text-only application.
Android messages desktop application already has a dark mode, which is getting rolled out in case of Apple messaging application now.
Not just this, the Android messages app is also expected to support payments without involving Google Wallet, which will heat up the competition between the two top tech giants.
For more such updates related to android app development and mobile app industry, check our blog section.
Read more blogs
The victim-count of Coronavirus has increased to 28,276 while taking 565 lives already.  With the virus epidemic being on the verge of becoming pandemic, there is a cloud of concern hovering over not just the affected nations but also the rest of the entire world.  The grim picture of Coronavirus is not just of the…
A few days ago, Dropbox acquired an open-source Store library. The aim behind taking the ownership was to modify it to make it more suitable to the prevailing Android developer ecosystem. Now, Store also includes Google JetPack collection of libraries which poses as a solution for creating current-day Android apps. Google JetPack makes it possible…
Google recently announced that they have acquired AppSheet, a Seattle based no-code mobile app development platform. The terms of the acquisition have not been disclosed yet, but it has been revealed that AppSheet will continue to serve its existing customers. AppSheet was founded back in 2014 by Praveen Seshadri and Brian Sabino to help businesspeople…
Bhupinder Kour
15 Jan 2020