With millions of mobile apps active on Play Store and Apple App Store individually and several million other being prepared to enter the competitive industry, can app entrepreneurs really afford to not look for the answer to how to solve mobile app development challenges? Is there an option to ignore the mobile app development hurdles?
With the state of mobile app economy being such that it is now getting next to impossible to estimate one count at any given point in time, it has more important than ever before for the new entrepreneurs entering the mobile segment to look at the different problems with mobile apps. And find a solution to them before the app gets live for the world to install and use.
While it can be a good starting point to look at something like a mobile app development process guide that will help you prepare you for what is coming next, it is equally important to understand what all can go wrong during the whole process, so that you are better prepared.
Well, the intent of this piece is to find and then help you find you an answer to just the question – How to solve mobile app development challenges?
So without further delay, let us get to it.
The List of Several Application Development Challenges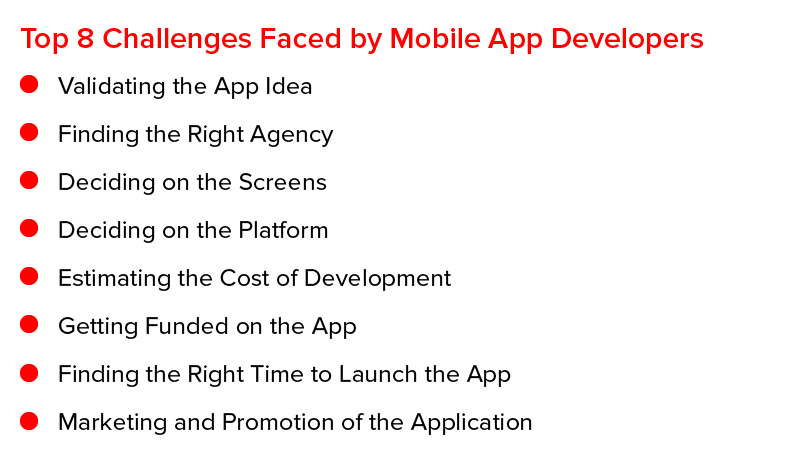 Validation of an app idea is hands-down one of the most crucial and first mobile software development issues that an entrepreneur will have to face. A single wrong move on this front can have dire consequences on the future of the mobile app. Considering everything that rides on the idea of the application, the challenge also becomes one of the most important points to be considered for profitable app development.
There are multiple steps that you can follow to ensure that the idea of your application is one that is most definitely going to be well accepted in the mobility domain.
At a time when every mobile app development company whose name comes up in the Google search promises to be the number one in the industry, it can get very difficult to actually identify the best out of the lot. Which makes finding the right mobile app development company second in our list of common problems in app building process.
In order to make the whole decision easy, we have enlisted questions that you should ask from your list of shortlisted app development companies to then come to a concrete conclusion. Here's the link to that – 17 Questions to Ask Before Hiring A Mobile App Development Company.
When you look at today's millennial generation, you will find a situation showing that they are operating on multiple devices in a day. While, it is true that the device is mostly a smartphone, but it is no way fixed. Your app users would be equally active on wearables or tablets as well. So, deciding on which screen should you present your app in, is the next thing to consider when thinking of how to solve mobile app development challenges.
The answer to this can only be achieved after doing a thorough market research of both your competitors and the users. It is only after a detailed research you will be able to define your mobile app usability checklist, something that is based on the screen choice to a great extent.
Choosing the platform between Android vs iOS: for mobile startups is the next important thing to consider when answering how to develop an app for beginners. The choice of platform becomes even more difficult when the choice is to be made between the two platforms that each come with a series of perks on an individual level.
Now, generally in our role as the leading app development company, we recommend a platform on the basis of our clients' requirement. But we also keep the option open for them to avoid the problems with native apps and choose cross-platform instead, which brings them at a stage where they are able to enjoy the perks of both platforms simultaneously.
Estimating the Cost of Development
Next in our list of how to solve mobile app development challenges is first estimating and then finding ways to lower the mobile app development cost.
Now when it comes to finding the mobile app development cost, the answer depends on a number of different factors. Factors which we have touched upon in our Mobile App Development Cost guide.
While the guide linked above would help you with getting the cost estimate of different mobile app development type, what we would like to talk about here is the importance of getting to know the cost estimate before the whole development process is started.
Although it is a given that you need to estimate because ultimately that would be the amount that you will have to arrange, what is less talked about is the different additional costs that rarely make it to the scope of work. Here are the different expense categories that get added to the list of hidden costs – Administrative, Functional, IT, and Infrastructure costs.
Getting Funded on the App
What is the purpose to build a successful mobile application if you won't be able to get investors' attention?
Knowing how to get funds on a mobile app is one of the next big mobile application issues that would require a solution on a much later stage in the app development process. Until you are someone who has a high inflow of funds, chances are that you would be requiring investors' help to kickstart your business and then act as a guiding hand throughout the whole app growth stage.
When we talk about mobile app funding, while it is possible to get funds even on mobile app prototype, there are a number of preparations that you have to make nonetheless, like developing a MVP, pushing it in the market to see how well people are reacting to it and then ultimately collecting your success stories and converting them into a pitch to then present to the investors.
Finding the Right Time to Launch the App
Next in list of answers you need to get on how to solve mobile app development challenges is knowing the time when you should launch your mobile app.
If you delay a lot, you might lose the window to success and if you launch the app instantly, you might face the issue of untimed launch. Both being the situations leading to your loss.
So, it is very important to know when is the right time to launch your mobile app in the market – a question whose answer looks at several factors like market scenario, trends created by other apps in your category, time of users' interest, etc.
Marketing and Promotion of the Application
The last and most groundbreaking mobile app development issues that a new app entrepreneur faces is of app marketing and promotion. The fact that there are so many platforms where the app can be pushed, makes the decision all the more difficult for the attached costs are always on a high note.
The difference in purpose and reach of the platforms make it very important to look at the solutions for how to get million downloads on your app – an event which is needed for you to survive in the market.
So, here was our list of different challenges that every entrepreneur will have to face when starting their app journey. Now that you know what they are, the only thing left for you to do is get in touch with a mobile app development team that would hand-hold you through the entire process.
Read more blogs
We are operating in a time where the wave of digitalization has evidently spread in not just the business space but also governments. Since the last decade, owing to the convenience, security, and demand of nationals and citizens, government bodies from across the world have started turning towards the digitalization of government-level processes such as…
Sudeep Srivastava
16 Aug 2023
VisionOS is an advanced operating system developed specifically for spatial computing, a unique computing paradigm pioneered by Apple with their Vision Pro headsets. Unlike conventional desktop or mobile computing, spatial computing creates a work environment seemingly hovering in front of the user. This innovative approach to computing offers users a highly immersive and intuitive experience,…
Sudeep Srivastava
26 Jul 2023
The mobile app market is growing by leaps and bounds in today's fast-paced world. As a result, digital enterprises are trying to implement every possible app strategy to stand in the competition. Many enterprises now regard mobile application development as a goldmine because of the revenue the apps are capable of generating. According to Statista,…
Sudeep Srivastava
10 Jan 2022