Noida, U.P. – July 07, 2015 – AppInventiv Technologies, an industry pioneer and global leader in mobile app development services and solutions, today, announced that the company has received ISO 9001:2008 certification for its mobile app development services and solutions.
Certification to ISO 9001 implicates that a recognized third party auditing organization methodically reviews an organization's internal quality management system processes, hence, ensuring that the organization is capable of consistently delivering services that meet customers' needs and expectations. ISO certification is based on quality management principles that include customer-centric approach, motivation and focused implication from top management, effective company's quality processes & methodologies, continual improvement and process-oriented reviews. The certification's goal is to ensure that the clients receive consistently high quality products and services. And, AppInventiv's commitment to providing the best-in-class mobile app development services is affirmed with securing of this coveted certification. Being ISO certified means that AppInventiv's clients have the confidence in its high quality deliverables and outstanding services.
"AppInventiv had the opportunity in the last few years to invest in the business to improve its services for its clients in the rapidly changing technological world. To ensure top-notch services and high-quality deliverables, AppInventiv did a huge investment in infrastructure, capital and additional services. The team has worked extremely hard in order to gain accreditation from ISO. We believe that this process will re-affirm our commitment to world-class services we deliver and also our clients' confidence in it." said, George Blake, Business Head, AppInventiv.
Furthermore, he added that, "being among the leading Mobile App development service providers, we are happy that we are at the forefront in achieving ISO 9001:2008 certification. And, as a strategic and technical partner to our clients, we are helping them achieve greater return on their investments and gain value and revenue, both. Bestowed with top industry experts, we are known to deliver best-in-class services. And, by officially becoming certified, we are demonstrating our unwavering commitment to a strong culture of quality," concluded Mr. Blake.
ISO highlights our world-class professional services that we deliver to our esteemed clients and reflects our kink-free internal processes, procedures and culture that we have in our company. The accreditations represent AppInventiv's unfailingly followed processes for continual improvement. To develop this avenue further, AppInventiv is in the process of gaining more certifications by the end of the year. AppInventiv recognizes this certification as a key point to reiterate its commitment and understanding of its clients' businesses needs and concerns. We look forward to continuing the journey while being a strategic partner to our clients. said, John Lanford, Business Development Manager, AppInventiv.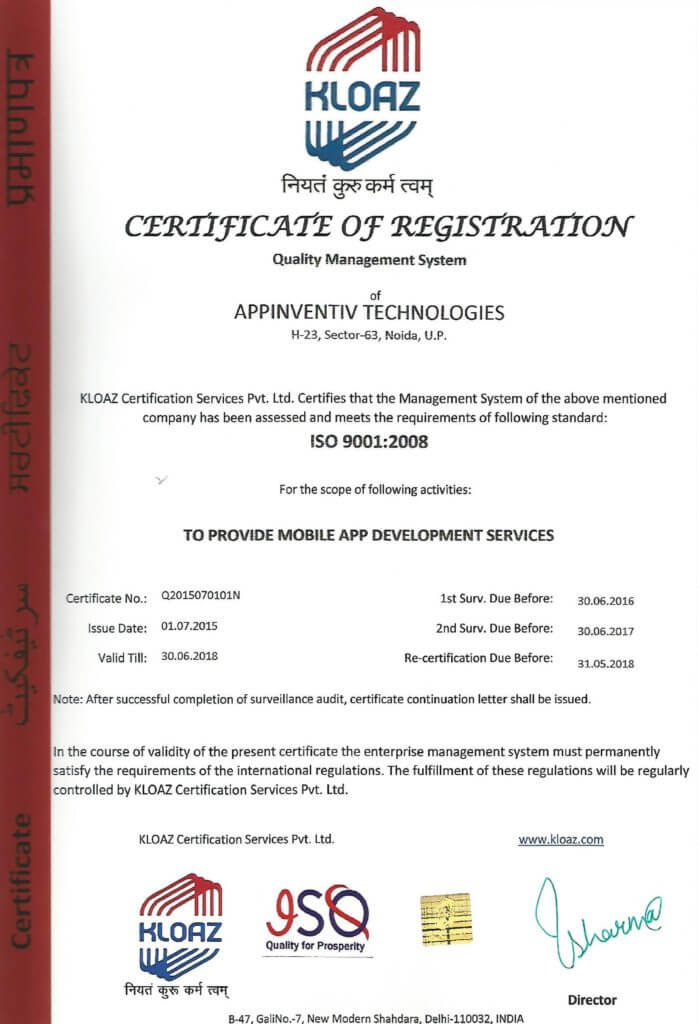 About AppInventiv Technologies
AppInventiv Technologies, an industry pioneer and global leading provider of mobile app development services and solutions, enables businesses to gain traction and meet their expectations and goals. Smart mobile business strategies, innovative UI/UX designs, exceptional agile app development, productivity – driven business models and dexterous mobility experts – That's the mobile – first space we have. Commitment to Quality is in our DNA. We are committed to deliver high quality services across all areas – professional, innovational and functional – by following strict guidelines. Our technological brilliance mingled with our creative prowess increases effectiveness of our people, our ideas and our deliverables resulting in near – zero defects and complaints. Here, at AppInventiv, we're pushing the edge of innovation with our non-outsourced expertise and pioneering process perks – creativity, simplicity and affordability.
Read more blogs
The victim-count of Coronavirus has increased to 28,276 while taking 565 lives already.  With the virus epidemic being on the verge of becoming pandemic, there is a cloud of concern hovering over not just the affected nations but also the rest of the entire world.  The grim picture of Coronavirus is not just of the…
A few days ago, Dropbox acquired an open-source Store library. The aim behind taking the ownership was to modify it to make it more suitable to the prevailing Android developer ecosystem. Now, Store also includes Google JetPack collection of libraries which poses as a solution for creating current-day Android apps. Google JetPack makes it possible…
Google recently announced that they have acquired AppSheet, a Seattle based no-code mobile app development platform. The terms of the acquisition have not been disclosed yet, but it has been revealed that AppSheet will continue to serve its existing customers. AppSheet was founded back in 2014 by Praveen Seshadri and Brian Sabino to help businesspeople…
Bhupinder Kour
15 Jan 2020