7 Business Benefits of Rapid Application Development
January 30, 2018
2. min read
Last update on:
October 21, 2020
Not every brand has a six month to year time frame for getting their apps launched in the market. It might happen that the app idea you have come up with, has the potential to attract a lot of competition from the industry.
So what do you do? Do you compromise on quality and deploy an app that is a peek into your concept? Or do you extend your time and increase the probability of coming face to face with greater competition?
None of it.
We get a lot of queries from brands looking for strategic mobile app consultancy for finding ways to deploy apps in the least possible time, without compromising on the app quality or paying hefty amounts. The solution that we offer them, is – Rapid Mobile Application Development.
This article is dedicated to the concept where we will be looking into the various benefits of developing an app using the RMAD model.
What is Rapid Mobile Application Development?
Rapid Mobile Application Development (RMAD) means using code free tools to expedite the process of creating mobile applications.
RMAD can be seen as the mobile version of RAD model, which is based on a concept that high quality products development can be expedited by using processes such as reuse of software components, early prototyping, and lesser formality in team communication.
For a brand that is looking for a smaller launch time and has a low feature mobile app, Rapid Application Development, with its USP of delivering quality apps in the least possible time, comes in very handy. There are a number of reasons that come attached with this that has brought in a demand for RMAD among the businesses.
Let us look at some of the advantages of Rapid Mobile Application Development or low code no code app development that is turning brands into the direction of the in-trend approach.
.
Benefits of Rapid Mobile Application Development
1.

Quick Delivery

Under the Rapid Mobile Application Development Process, the whole project is segregated in modules, which are treated as an individual prototype. Each of these prototypes are tested instantly, before being winded together. This helps in faster delivery of an app which is tested to ensure lesser bugs.

The primary advantage of RAD is a faster development life cycle, and a better turnaround time of the software product. This is achieved by rapid prototyping, and by using automated tools like Computer Aided Software Engineering or CASE tools, that enable the developers to re-use previously generated codes, thus saving the time needed for manual coding. The CASE software tools are a major contributing factor in reducing the delivery time in the RAD methodology.
2.

Fast Action on Market Analysis

Since every module is treated as a separate prototype, brands can easily get it reviewed by the end users, without having to wait for the final product to be launched. Also, since changes are to be made on one module out of the suppose 5, maximum portion of the app remains unchanged.
3.

Reduced Waste Time

When developing mobile apps, it is found that the elements like wait times, task switching, handoffs, and defect solving contributes to extension of the app development cycle time.

Rapid Application Development process comes with tools that help with visual development, on the spot testing and deployment. All these processes and supporting tools together brings substantial reduction in waste time.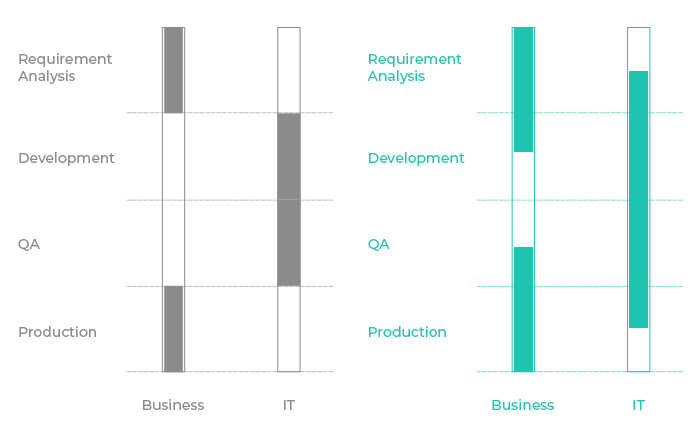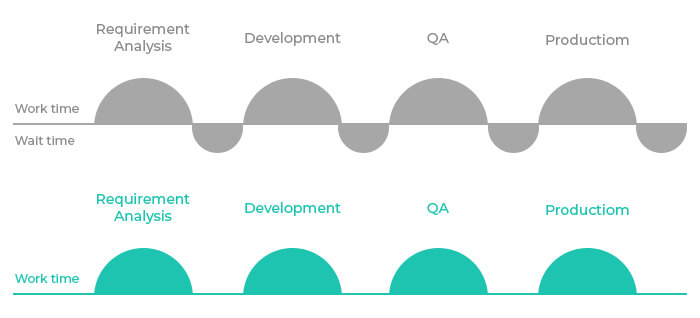 4.

Better Quality

Even though the Rapid Application Development Process comes with compromises related to range of features in the app and its scalability, the overall quality of the app is better when compared to their counterparts.

Since they provide greater reduction in error by using prototyping and automation tools, there is a reduction in errors and bugs.
5.

Low Production Cost

Rapid Mobile Application Development involves use of reusable software components, which ultimately leads to lowering the cost range that goes into programming of the mobile app.
6.

Aligned IT and Business Teams

IT professionals across the globe admit to spending half of their time on rework. The occurrence of rework happen because of the change in views between the IT and Business Team. Rapid Mobile Application Development eases the process by bringing both the IT and business together, in all the processes – Requirement Analysis, Development, QA, and Production (As shown in the right side of the image above). Since the method works on bringing development and validation to operate side by side, rework is immensely reduced and cost overrun is protected.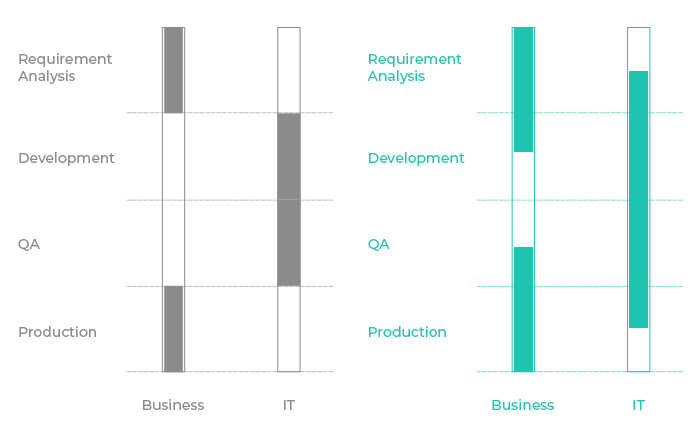 7.

Faster Release of Product Versions

Rapid Mobile App Development make use of a method known as time boxing, which controls the features that are to be deployed in the present, and the next level versions of software product.

The method helps with releasing product versions in the least possible time, by keeping the next version features added in the app development process.

So, here were the seven benefits that has brought Rapid Mobile Application Development in the business decision of brands looking to develop quality apps in the least possible time.

Want help with expediting your Mobile App Development Process? Contact our Team of Experts today.

Have you launched and deployed an app following the Rapid Mobile Application Development process? Let us know in the comment below.

In search for strategic sessions?.

Let us understand your business thoroughly and help you
strategies your digital product..
Related Articles: