What will you do if you want to renovate your house? 
Simple, you begin your search for a skilled interior designer. Someone who won't just amp up your space but also make it more cozy, and add an aesthetic value to it.
Whenever we envision our dream house or think of redecorating our existing space, there are a couple of things that we have unknowingly charted out. From the palette of colours that the rooms will be a combination of, to that particular couch that will go so well with the walls of the living room. Be it the furniture, fabric, window treatments, tapestries or luminaries, all require a lot of thought. 
After all, your special project is no less than any business project.
You will dig up inspiration on Pinterest, hunt through a myriad of portfolios, read a couple of case studies and finalize that one designer whose work appealed to you the most, particularly someone who is quite aligned with your budget and timeline.
Of course, the designer that you have hired is highly skilled. But what do you do next, leave everything to him? 
Well, that's one way to go about things. 
But what if the end result is nothing compared to what you have dreamt of?
Wouldn't it be a total waste of time and money? 
Hence, it is essential to communicate to the designer your likes and interests, the items that appeal to you, and how you have visualized every nook and cranny of your house. It will help your designer streamline the entire process and deliver exactly what you want. 
This is where a Discovery Workshop comes into the picture.
Be it a special project, a business project or a digital product, it is crucial to conduct a discovery workshop. A discovery workshop is not just about finding the right solution, it primarily facilitates a shared understanding between the team and the client. It is the ideal approach to set the right foundation and start off on the right foot.
More often than not, a product and its technicalities sound really simple at the start, but when it is in the development pipeline the complexities tend to resurface. A Discovery workshop outlines potential challenges in the very beginning and saves the project. 
What is a Discovery Workshop? 
A Product Discovery workshop is the most efficient way to handle any project. It is the initial interaction between the client and the project team, wherein both parties develop a shared understanding and mutually devise strategies to solve a particular problem. A Product Discovery Workshop is a part of the planning phase in the app development lifecycle.
It not only aligns the project team, stakeholders and clients but also provides the opportunity to mutually explore the scope of an idea and steer the project in the right direction.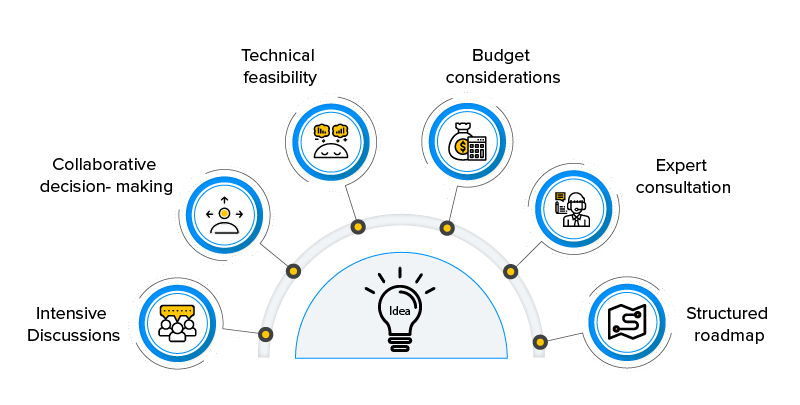 By the end of a discovery workshop, we outline business goals and objectives and streamline the entire development process. 
Participating in discovery workshop activities help anticipate critical business challenges that may come up during the development phase. The  product development company charts out a roadmap which outlines how the end goals will be accomplished.
What are the key objectives of a Product Discovery Workshop?
A Discovery Workshop is conducted with the main aim to assess the scope of the project. Here are a few objectives of a product discovery process that are significantly important: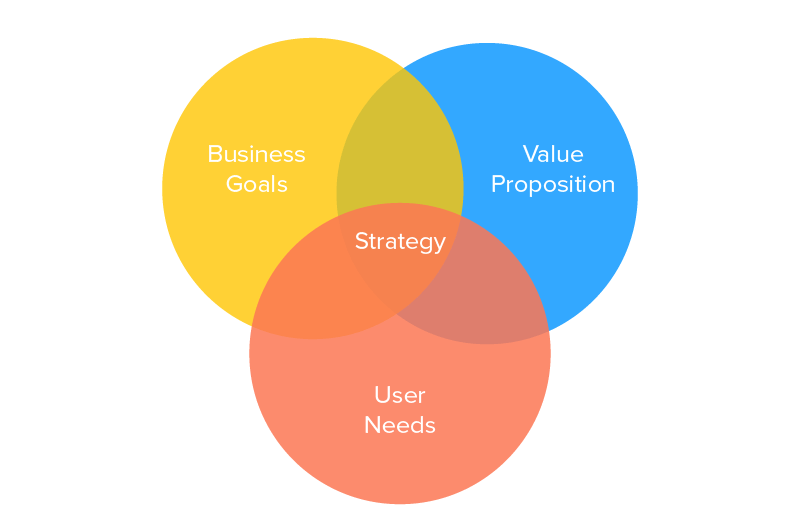 Set SMART goals that need to be accomplished. 

Define the purpose of the project.

Outline the core functionalities of the product. 

Establish the target audience, define user personas and map user journey. 

Characterize the value proposition.

Estimate the project timeline for discovery process product management.

Estimate the required budget to successfully develop the product.

Define the metrics for success.

Deliverable, particularly a Product Specification Document which streamlines the entire set of product discovery activities and processes.
Who is it for? 
Whether you are a Startup keen on rapidly launching an MVP in the market or an established company looking to move beyond key functionality, tap on new features or release a new product, a Discovery workshop is the right choice for you. 
Regardless of whether the project is big or small, a Discovery Workshop works for everyone. When building a small product, you may think of skipping the workshop, but we recommend you not to. Even with standard or minimum functionality, with a discovery workshop template, you can discover new frontiers and efficiently build a product. 
With large projects and complex products, a discovery workshop is more like a necessity. It helps in defining every element, all the pertinent information regarding the project, assessing the scope of work for every phase and streamlining the entire project at once. Through a discovery workshop, we dive deep, turn challenges into opportunity statements and explore new avenues to tackle a problem. Big project implies more issues and you can overcome potential challenges in the very beginning through a discovery workshop. 
From our experience, sometimes when a client deems a project to be complex and outlines a big scope of work, a discovery workshop template helps us identify that there is no need for too many functionalities. This reduces the scope of the project and cuts costs for the client. While in other cases, we unravel too many complexities as opposed to what was predicted which gradually increases the scope of the project. 
Why is a Discovery workshop so important? 
A product Discovery platform plays an instrumental role in transforming an idea into a reality. All the planning, scoping and streamlining is done in the very beginning to witness tangible results.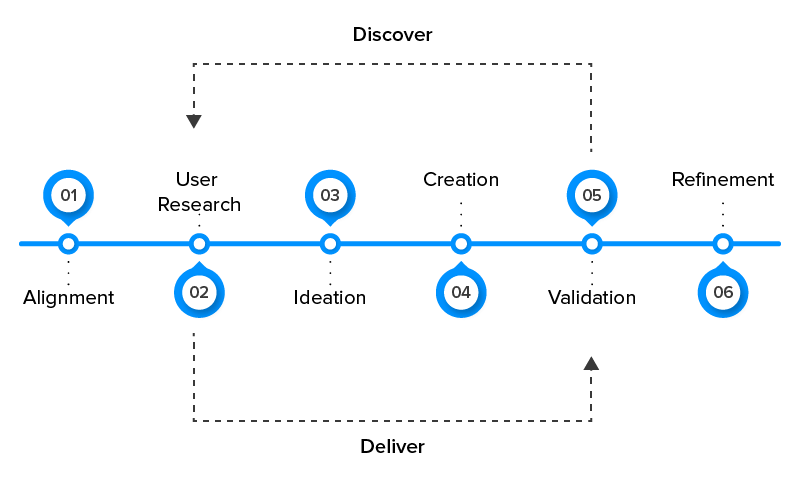 Here's a list that outlines why skipping this intensive workshop is a bad idea. 
A Product Discovery Platform

play

s

a defining role in the success of any app.  No matter how great the idea is, a product

launch

can lose its value if enough thought is not given to it in the initial phase of development.

All the necessary questions that may arise from both the parties during the app development lifecycle are answered in advance. It provides due clarity and saves

a lot of time.

Complex projects can easily be simplified through a workshop and it results in a

structured roadmap

.

Through a Discovery workshop, you can map if the requirements are achieved and if your

end product aligns with your goals

. 

It helps the project team

arrive at a common ground

even though they may have varying opinions. 

A Discovery workshop ensures that the project is completed in the given deadline or in some cases even earlier, as the core functionalities are always prioritized.

For any

app developmen

t

, across any platform, a discovery workshop has proved to be the best practice. It not only ensures that what you have envisioned turns into a reality but that too on a budget. It truly facilitates maximum utilization of resources.

Through a  discovery workshop, you can streamline the entire development process, fully ensuring the client and stakeholders are abreast at every step of the way.
A discovery workshop helps unravel discrepancies, identify potential challenges that may arise later and highlight project areas that lack clarity.

 In certain cases, by running a discovery workshop, the initial concepts and ideas transition into

an end product that is way better

than what was visualized in the first place. 
Who all are involved?
If you are curious about who all will be a part of this workshop, it usually depends on the project and scope. A cross-functional team is allocated to you, which includes a Design Strategist, Product Manager, Developer, Business Analyst, basically, a cross-functional team represents everyone. They ask probing questions to elicit the necessary information and give you invaluable insights to steer the project in the right direction. In a discovery workshop, we cover every element, every topic and look beyond the seemingly mundane to identify fresh perspectives. There is always a decision-maker present in the room and expert opinion on matters of utmost importance is a usual practice.
Each person in the workshop brings value to the table and with the combined expertise you are bound to witness positive results in the long run.
Include real users
During the discovery phase, a good amount of time must be spent on meeting and interacting with real users. Defining user personas, mapping user journeys is very insightful and shapes how the product launch plan will turn out. 
How long does the workshop last? 
Every digital product launch comes with a unique set of specifications and technicalities. A discovery workshop is customized for every business to provide maximum value and generate requirement based solutions.
Some projects are so well-scoped that there is little room to fill in the gaps with pertinent information. While others come with a bare-bones idea, which requires a great deal to refine the idea and define the scope of the project.
These intensive sessions usually last from 2 to 4 days depending on the scope of the project and by the end, we have a structured roadmap to accomplish set milestones and goals.
Frequently Asked Questions in a Discovery Workshop
In a discovery workshop, we elicit necessary information from our clients and capture project requirements and functional specifications. We ask the right set of questions which leaves no scope for assumptions and disagreements. 
So if you have made up your mind and are keen to springboard your idea through a workshop, here are some frequently asked questions that you should definitely go through in order to advance your approach.
1. Strategic
What is the end goal of this collaboration?

 What is your vision and objective?

Who are your competitors and how does your product launch plan stand out?

What is your business perspective and what do you plan to accomplish? 

What measures shall we undertake to actively evaluate the success of the product?
2. User-centered
Who is the target audience?

What is the demographic of your user group?

What are the needs and interests of your users?

How do you solve their problem?

How will you map the user journey?

Which devices will the app run on?

What is the ideal platform for your app?

What are your concerns and challenges?

How can we ensure maximum user satisfaction?

How do we retain your users?

What are the key functionalities? 

Is there a scope for eliminating certain features?
3. Visual appeal
Are there any design references that you already have in mind?

Do you have any particular requirements regarding the look and feel of the app?
4. Miscellaneous
Is there any specific development framework that you want us to follow?

What's your take on agile?

What is the preferred method of communication? Which tools shall we use to collaborate?
You may encounter questions on functionality, technicality and product launch but even if you do not have answers for most of them, a discovery workshop provides you the platform to get acquainted with such concepts and explore such avenues collaboratively. 
What is the output of the workshop?
After successfully conducting a workshop, we move through large chunks of information, structure it thoroughly and arrive at a roadmap for your digital journey.  We provide a Product Specifications document that includes all important information, captures key takeaways and streamlines the entire process discovery workshop from start to finish. It provides due clarity to the client and assures that at any given point, we are on the same page.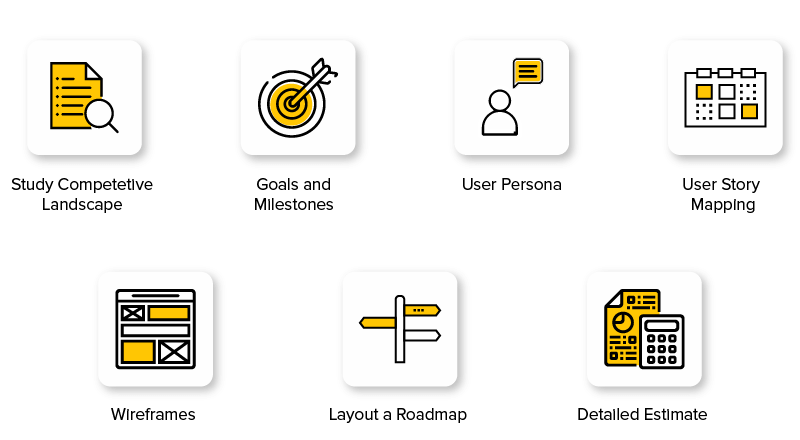 A Product Specifications document majorly covers: 
Product vision and purpose

SMART goals and the primary aim of the product

Establish the target audience.

User personas, user flows, and user scenarios 

User Journey mapping

Design mood and visual vibe of the product.

Paper Sketches and Wireframes

Frameworks and tech stack

Project roadmap

Prioritized functionality

Budget and Timeline
Conclusion
Though a discovery workshop or product discovery may seem like an added expense on the project's budget, it is completely worth it. Kicking off a project with a discovery workshop ensures that the ride is smooth. It promises not just a set of deliverables but increases the chances of conversions. In case you have any queries related to product discovery process or software product discovery, contact us to get the top most product development solutions. 
Read more blogs
It is best to test the waters before taking a dip. The minimum viable product helps you do exactly that. It enables you to develop a product with basic features, test it on the ground, make changes according to the market analysis, and finally launch the final product. Even better is to follow the agile…
Sudeep Srivastava
25 Oct 2022
Equipment needs, office rentals, and employee hiring are all necessities for new businesses or startups. They'll need outside funding to complete these tasks in almost all instances. This is where seed funding and pre-seed funding for startups enter the picture.  In other words, one thing is necessary for the start-up process: money or capital. Without…
Sudeep Srivastava
23 Aug 2022
Fundraising during recession becomes difficult for startups as they operate on a shoe-string budget. At the same time, the interest rates of financial institutions are rising to combat the recession. Besides the issues of lesser demand, the constantly changing consumption patterns along with high revenue losses is making it challenging for the startups to raise…
Sudeep Srivastava
18 Aug 2022