When you move to a new job, everyone is ecstatic for you – sad a little, but mainly proud that you took that big leap and are venturing in a new place that will soon be the mark in your career chart. Your old office mates make toast to your soon to happen adventures and swear they will stay in touch – "it'll be as you never really left" they say.
But you are one itching the most to embark this new journey. Why else did you ever uprooted your comfort space that you developed in your last company to move on among new place and new people?
So as you move on, you are more than ready. Sad? – nah. Dewy-eyed – a little. But you know you need this change, your reason can be any – better salary, better job title behind your name, or the push of the feeling that you need something new something more. But above all, you get driven by the need to immerse in a new work culture, exposed to new possibilities and ideas.
Between these thoughts and daydreaming about the endless possibilities in front, an email popped up on my system. It was from the HR of Appinventiv, the brand I was moving on to. With brimming hopefulness, I went on to reading it.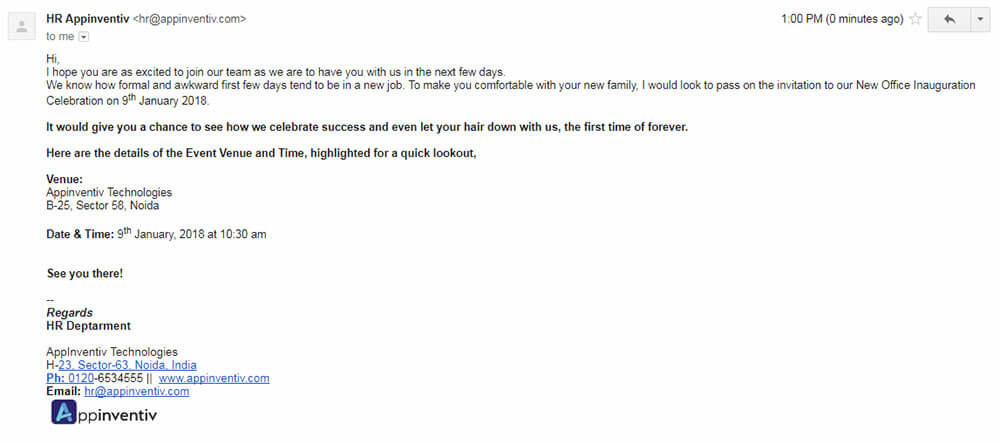 It was an invitation to their new office inauguration party. I had never experienced something like this before – getting an offer to be a part of a company's celebration even before your first day. The first feeling that I got when I saw the mail was gladness. It felt very heart touching that could relate with the feeling of new joinees' discomfort.
Came the dawn of 9th January and I was all ready and excited to meet the new people who were soon going to be my new family.
I got ready and booked an Ola to take me to the office address. The crowd that had gathered there and the decoration with which the building was been embodied, made it easy for me to know the exact location.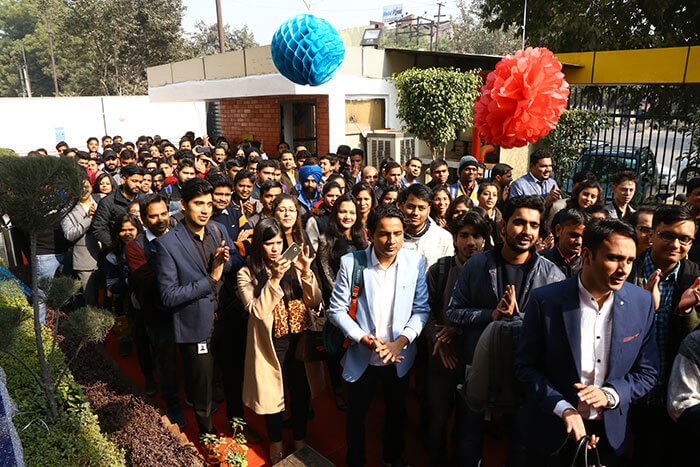 After a brief welcome by the company heads, I and some of the other new joinees were invited to cut the ribbon and lead the team members in.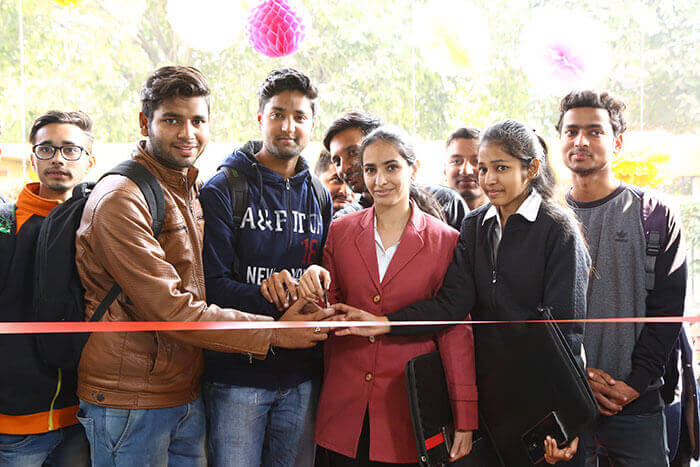 After cutting the ribbon and witnessing the uproar and hooting that followed, we came inside the office.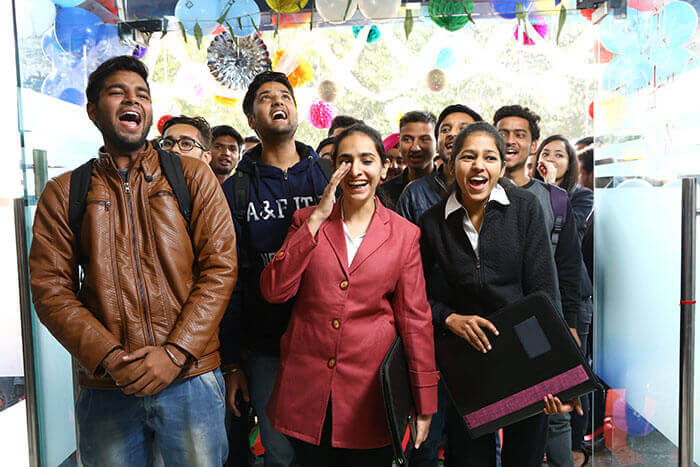 Where we were welcomed by a Dance Performance!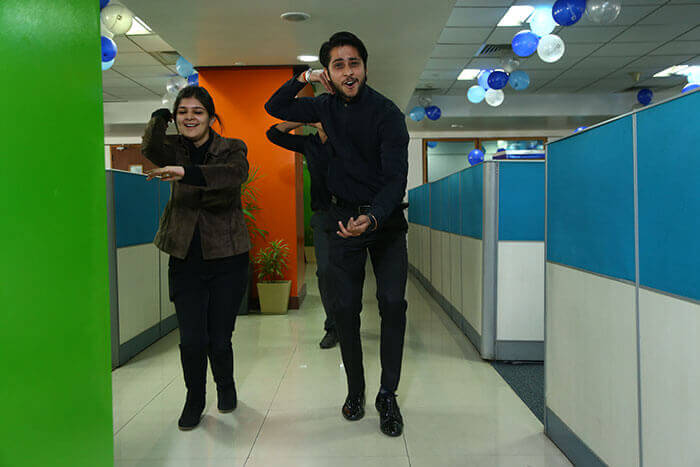 And then everyone joined in, but suffer from two left leg syndrome, I remained out. And thankfully, wasn't forced into it.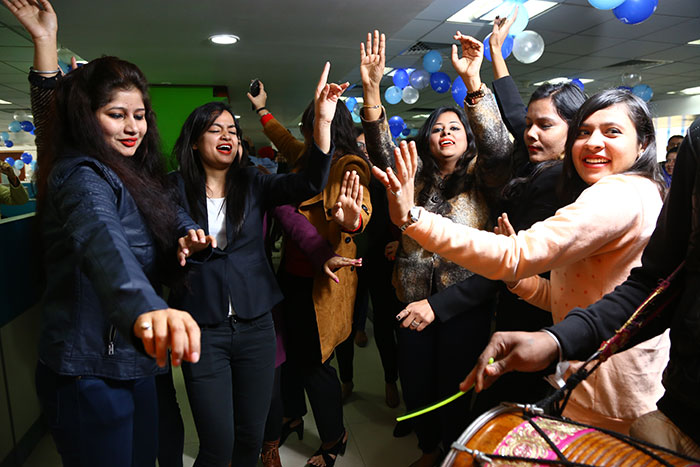 As I and the many others looked on…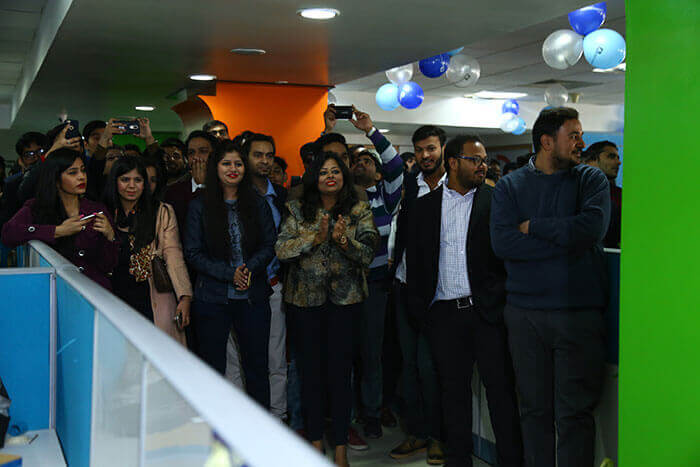 The last thing that I had guessed was that there was another surprise waiting up to be revealed.
We all had got gift boxes with our name on it.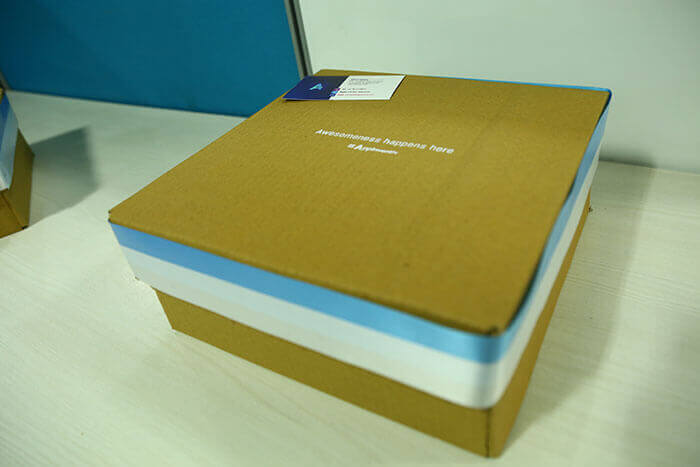 It was such an amazing surprise. We were all ecstatic when were asked to open the gift boxes.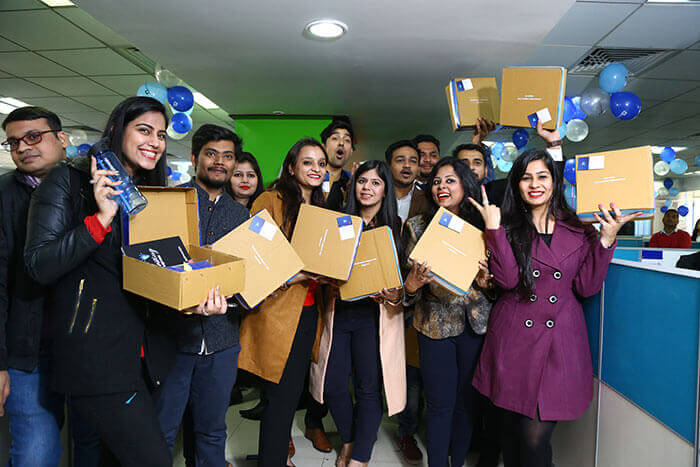 Inside was an uber cool t-shirt, a printed sipper, a diary, and a pen.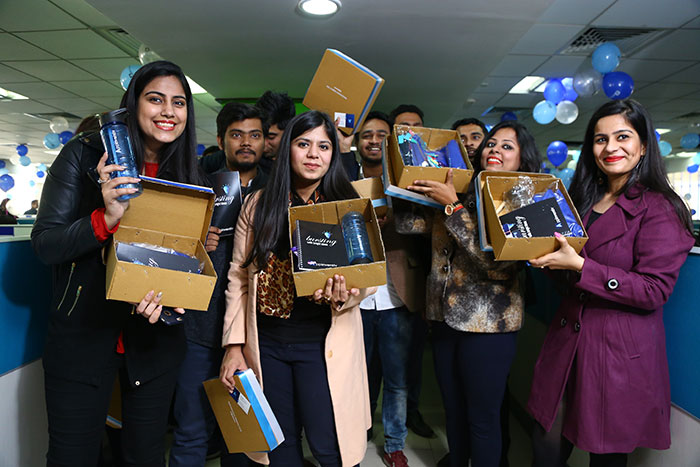 Once we got the gifts and a tour inside, of the reception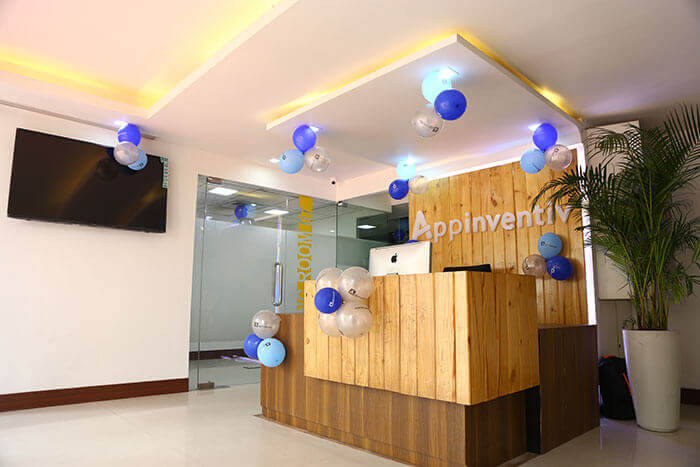 Of the conference room, which I have now gotten habitual of calling the Ideation room. The idea of the room is that people should gather around here to discuss and come out only when they have an idea.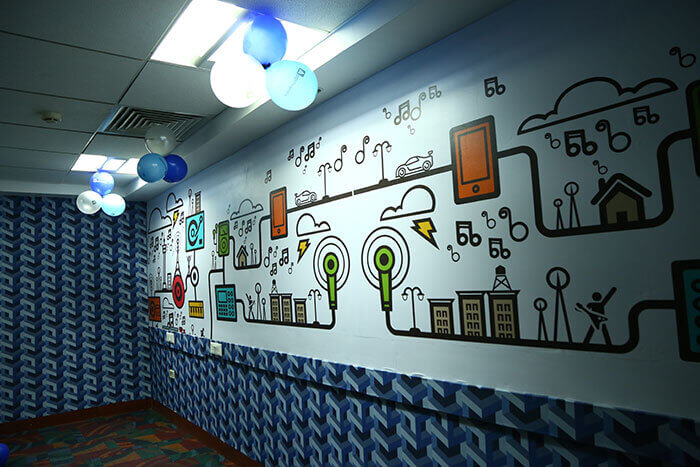 Of the place where I am soon going to spend a good portion of my day – Cafeteria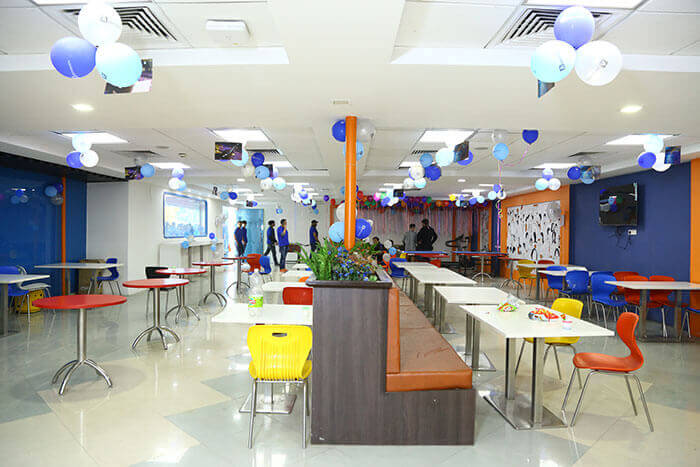 Once we were done with the little guided tour of the office, we once again all went out for some more photo session.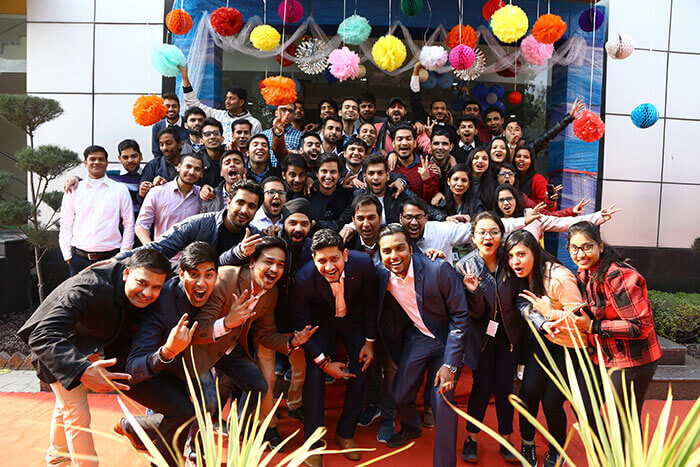 Then came the time, when we were all asked to wear the t-shirt that had the company's name on it. And then we got clicked some more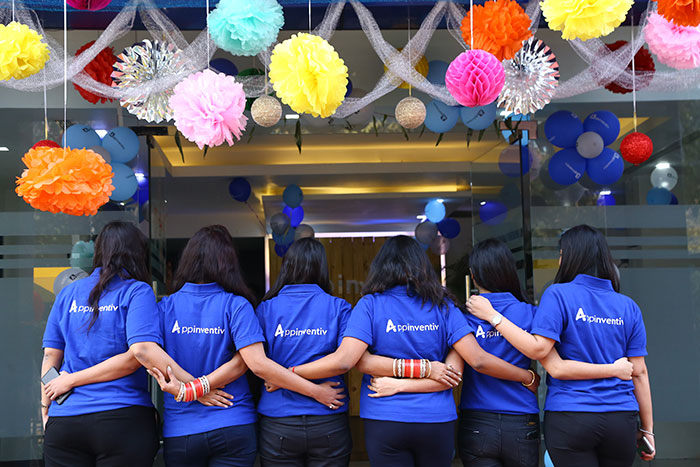 Then more at the work stations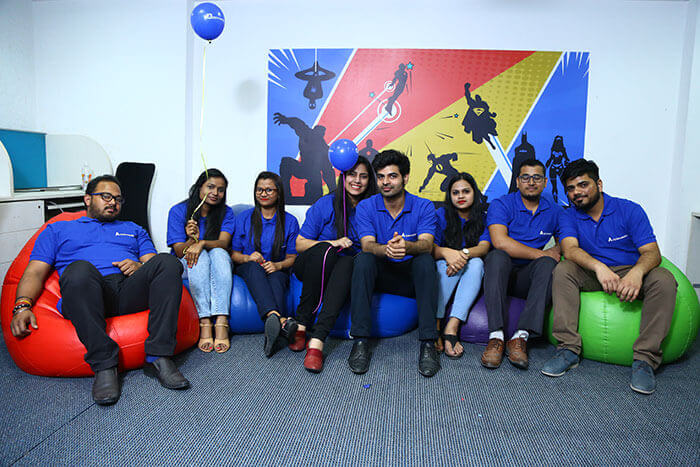 Then came the next big affable moment of the day.
Enter Balloons.
We were each giving a balloon, it took me a split second to realize that what was to follow was going to be very picturesque.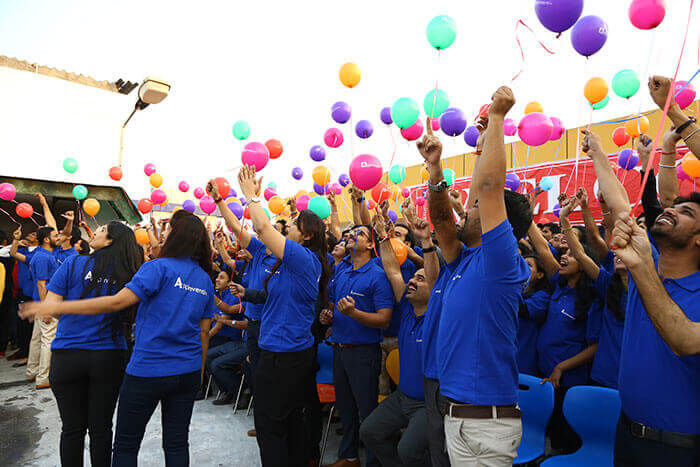 See them go…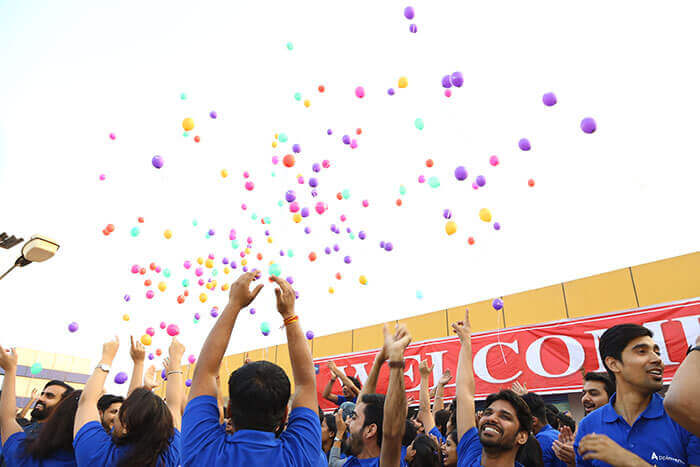 I thought that with the balloons finding their place in the sky, the ceremony had ended. But least did I know that the best was yet to come.
The most scenic part of the company was unraveled before us.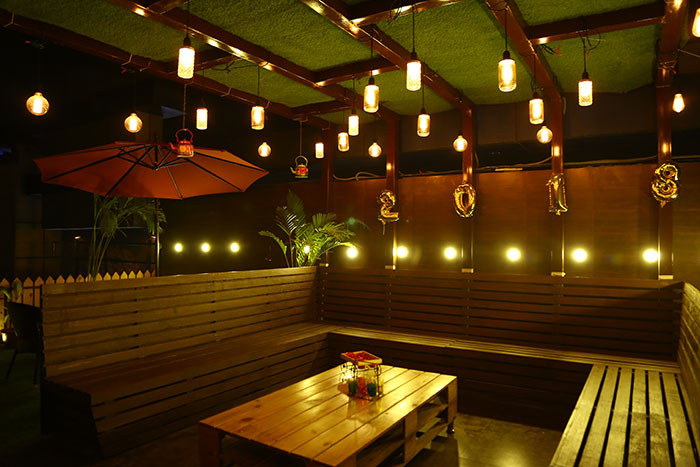 The Appinventiv Café. The place which I frequent a LOT.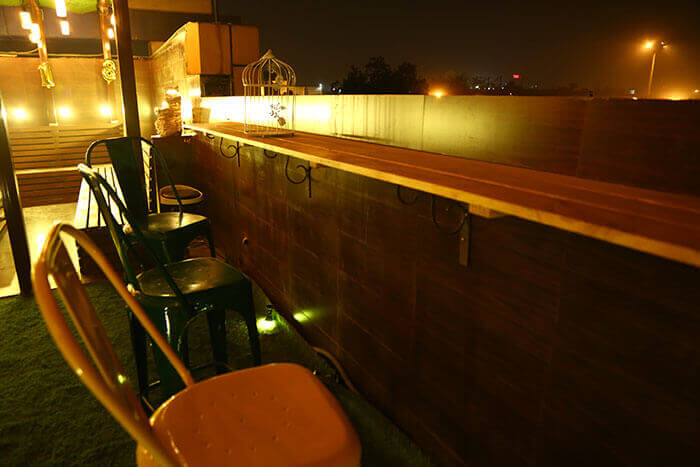 The unraveling brought the day to an end and I left for home with the feeling of excitement and something that I could not describe. But one thing was sure, I was definitely looking forward to spend my next years in the company of people who appreciated me, even when I was not a full-fledged part of them.
Read more blogs
Do you want to know the secret of making your employees stay in your company? The answer lies in learning. According to LinkedIn, 94 percent of employees would stay with a company longer if they were given the opportunity to learn. But why? Encouraging new thinking with a solid training and development programme increases employee…
The outbreak of COVID-19 has impacted nations in an enormous way, especially the nationwide lockdowns which have brought social and economic life to a standstill. The global crisis has brought new urgency to some of corporate India's long standing challenges, and that companies which act now to address these priorities and adopt the "next normal"…
The blue-collar job trajectory is increasingly becoming unattractive for the youths. The fact that the pay is lower than white-collar jobs and that physical labor comes with the image to be unpleasant adds to the stigma that surrounds blue-collar jobs. While unpleasantness lies at one end of the spectrum, on the other end lies a…