There is a very famous saying in the marketing world that the first thing that subconsciously connects your brand to the customers is your business name.
And now with the world moving to mobile, the saying that once majorly revolved around brick and mortar business has moved to the mobile domain as well – making it completely unignorable for mobile app entrepreneurs to not pay attention to their app name.
Now the importance of giving a lot of time in deciding how to name an app was as true some two-three years back as it is today – something that made us curate an article around tips for naming your mobile application, two years back.
But with the changing time, there are a few things like example – Camel Case – that has come into prominence. Something that has made us relook at the whole mobile app naming process yet again.
Only this time, we are looking at it from a different and more personal level – How we help our partners know the steps to find an app name.
While on the journey of finding how to name an app, it does help to know what name type, word, and character count are working in the industry, let us nonetheless share the tips that we share and operate on when trying to finalize a mobile app name for our clients.
But before we move on to the tips that might help you name your mobile application better, let us first touch the basics with what all things you need to keep into consideration when starting with the brainstorming session of how to come up with the right name for your app.
A look back at the factors to be considered when answering how to name your app
A.

Aim for Zero Confusion

If you don't want what happened in the Surf Excel row where a user accidentally tweeted a backlash on MS Excel's Twitter thinking it's Surf Excel, it would be better to stay away from keeping names that sound too similar to other apps or brand's name.
In fact, when you try to find the answer to how famous app names were created, there is a high probability that you will come across to the point that they didn't copy.
While both Play Store and App Store are pretty slow and ignorant when it comes to verifying the similarity in names, it is only right to not take a shortcut and take advantage of the name of famous brands by piling on to their brand image.
B.

Create Familiarity

In case yours is a case of an existing chain of business, with one business going mobile, it is recommended that you aim for creating a sense of familiarity. So, for you the ideas to choose the right name for the app should help you ensure that there is some familiarity in the name of your app and your parent company, simply to present your app as an extension of the brand.
When we talk about familiarity, there is one other way to look at it – seeing that the app name is the best representation of the app's aim. So, look into both the points when looking to create familiarity.
C.

Understand the Stores' Difference

When finding the answer to How to Name an App, it helps to understand the difference between the required characters limit accepted by the App Store and Play Store. While both the stores come with a character limit of 50 characters, an optimal amount in case of App Store is 23 character while in case of Play Store is 30 characters.
Knowing the scope of innovation you can work around helps in leveling your field of search for the right app name brainstorming ideas.
D.

Global Appeal

One of the most important things that brands generally ignore when deciding on the apps' name is looking at it from a global perspective. Assuming that your business will not be restricted to any one geographical location, it helps to go with a name that when translates to another language is something that is culturally appropriate in the geographical location.

Well, here were the four most commonly ignored but must consider factors that you must, at all cost attend to, at the end of the day when you pick a name for an app. Now with that attended to, let us now look at how we go about naming the application for our clients' apps.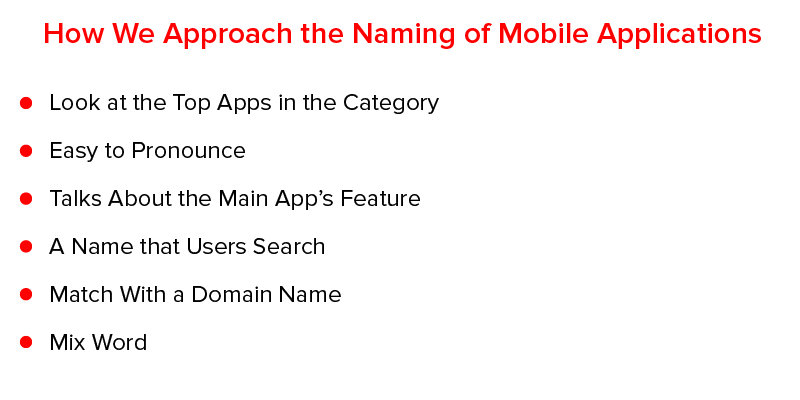 How Do We answer How to Name an App?
A.

Look at the Top Apps in the Category

We start by looking at the top apps in the category in which our clients' app would function. The aim of this is to get the idea of what elements are the competitors choosing – is it emotions of the users they are after or are they ensuring that the app category name is mentioned somewhere when they choose an app name?
Doing this gives us a head start in terms of what line we should also brainstorm in.
B.

Easy to Pronounce

The second thing that we look after when deciding on how to name an app is if it is easy for the world to pronounce, especially for the user demographic who would be interacting with the application. What happens is that sometimes brands use a foreign word like suppose French or Japanese (commonly) to name their application.
But, they forget a crucial thing that the internet is filled with questions asking how to pronounce French, Italian, or Japanese words – meaning, not a lot of people understand the right pronunciation. And, in the fear of being seen as a noob, they refrain from taking it altogether.
C.

Talks About the Main App's Feature

In line with the relevancy factor that we discussed above, we try to ensure that the app's name is in line with the functionality that the application comes with – as much as possible when looking to answer the question of how to pick the perfect app name for you.
After all, keeping the users confused as to what the application does, while seems like a titillating idea can backfire real quick, knowing that the patience of users who are given with n number of options is very low.
So, like WhatsApp which has the word App in it or even Candy Crush, the name that tells that the users would have to crush candies, we try to include the features of our clients' app in the name as well.
D.

A Name that Users Search

Ever since we have gotten our hands on the statistics that more than half of the searches happen out of the Play and App Store, we have been taking advantage of the occurrence that people search for applications on the SERPs and then on the stores. One way we achieve that is through search engine traffic suggestions.
Our team of SEO experts looks at the terms that people are using to search for the category your app is looking to master and then work it around in a way that it is present in the application's name.
E.

Match With a Domain Name

One thing that is easily missable by you as an entrepreneur is you not thinking beyond the naming your next app or startup. You might forget that mobile apps, most often than not, comes with the plan of expansion into a website as well.
Now, imagine you have got a brilliant name that is just perfect and your prospective users are also in love with it but when you search it online, you find that it is already taken by a website online. Disappointing, isn't it? Well, that is why we make sure that the name we are searching for the application is available in the website domain world as well.
F.

Mix Words

Mixing words and then showing them in camel case is not just something that WhatsApp loves but we do too. Along with being an extremely fun thing to do, mixing two words together to form single flow word that describes not just the essence of the app but also the creative side of the application – can come in very handy to show a brand image as well.

So here were the six approaches that we have followed in over 70+ applications that we have named for our clients across different industries.

But after everything said and done, the crux of the matter when it comes to the Tips on How to Choose a Successful Name for Your App lies in two things – A. The name should be culturally appropriate and easy to remember, pronounce and B. No matter how well you name your app or how much time you put behind it, it is equally important to make sure that the experience you give to the users the moment they enter the app is something that is very similar to the emotion that they felt when they read the name – pure bliss.

Both the things, while being equally challenging are also the things that we are prepared to help you with. So, get in touch with our team of mobile app developers and marketers today.
Read more blogs
With over 15% of the global population falling under the specially-abled category, dedicated efforts are being taken by businesses and governments alike to help people with special needs live a life at par with their able-bodied counterparts. While in the offline world, the efforts are clearly visible on the infrastructure level, the digital world is…
Sudeep Srivastava
02 Nov 2023
We are operating in a time where the wave of digitalization has evidently spread in not just the business space but also governments. Since the last decade, owing to the convenience, security, and demand of nationals and citizens, government bodies from across the world have started turning towards the digitalization of government-level processes such as…
Sudeep Srivastava
16 Aug 2023
VisionOS is an advanced operating system developed specifically for spatial computing, a unique computing paradigm pioneered by Apple with their Vision Pro headsets. Unlike conventional desktop or mobile computing, spatial computing creates a work environment seemingly hovering in front of the user. This innovative approach to computing offers users a highly immersive and intuitive experience,…
Sudeep Srivastava
26 Jul 2023