7 Amazing Tips for Naming your Application
August 15, 2017
5 min read
Last update on:
February 9, 2018
The name of your mobile app is your first impression. It gives you the chance to capture the interest of your users and even compel them to download the app. If you fail to give a strong name to your app, then it is likely to be unrecognized or forgotten. There are some important parameters which you might want to take into account to not only help you in coming up with a memorable name, but the one that will increase your downloads. In order to help you in this process, several companies are coming up with some interesting tips for naming your app.
Carefully Consider mentioned below tips for naming your app

While it is very important to stay creative, but there is a need to stick to those names that people can easily understand. According to an expert, it is good to stay away from fancy words and stick to simple words that reflect the objective of your app. There is a need to avoid strings of numbers, initials or words which only you can relate to.
When you get an app name idea, then immediately search it on Google. This is because no matter how unique your idea sounds, there may be other apps using it. If your app is not fully developed, then you can't squat on a name. There are 120 days to submit your initial binary in order to hold that name.
You should not forget that short and concise is the way to go. There is no denying that long names are arduous to read and look terrible in someone's app collections. However, app name under 25 characters is the best choice. This is because the name will be completely viewable on a single screen.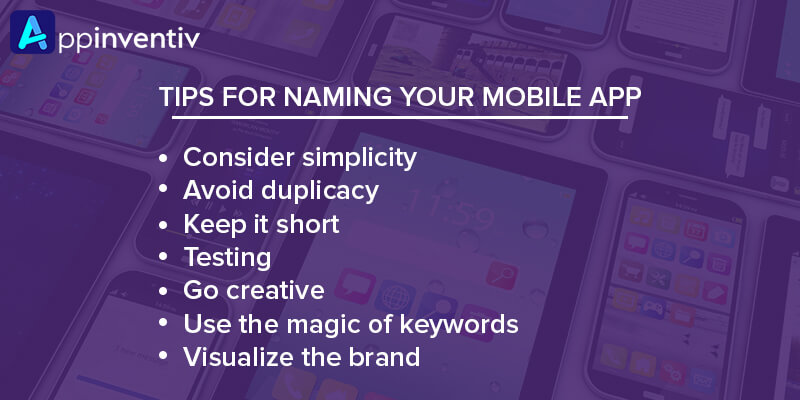 Test your app name by looking for outside opinions. Consult your friends or colleagues and you can even reach out for expert advice. You can come up with some app names and can test them among your potential customers or co-workers. This is one of the most important tips to name your app, which you should consider.
There are millions of new applications and to make your app stand out, there is a need to come up with a creative name. In this regard, you can consider the combination of real words and prefixes for your app name.
Use the Magic of Keywords
Keywords are of huge importance in the app name in comparison to any other section. Within a limit of 25 characters, consider 1-3 keywords in your title. If a report is to be believed, apps with keywords in the title have a 10% increase in downloads.
There is nothing wrong in saying that if the name of your app and brand are not aligned together, your audience find it difficult to create a link. Thus, you should decide what you want to achieve and how your brand should be perceived.
In conclusion, in most of the cases, it is seen that a good name is a result of a thorough process. By following above-mentioned tips for naming your app, you will be at a higher chance to come up with a great name.
Shivam Srivastava
Marcom Manager
In search for strategic sessions?
Let us understand your business thoroughly and help you
strategies your digital product.
Recent Articles: