Thanks to Uber, Ola and Lyft, hailing a cab is just a tap away! One need not call travel agencies to inquire about taxi availability, price rate and go through other formalities. Today, one can easily pick their initial and final destination, get familiar with the calculated price, know about the cab and cab driver details, etc. In short, one can effortlessly enjoy their ride. This comfort has made the customers shift towards the cab android apps, which eventually means if you are into transport industry, it's the need of the hour to look for a company offering the best android app development services.
"Not having a mobile app in the era of smartphones can restrict your business and limit your customer base. So, think about it!"
Ways Android App can Elevate your Taxi Business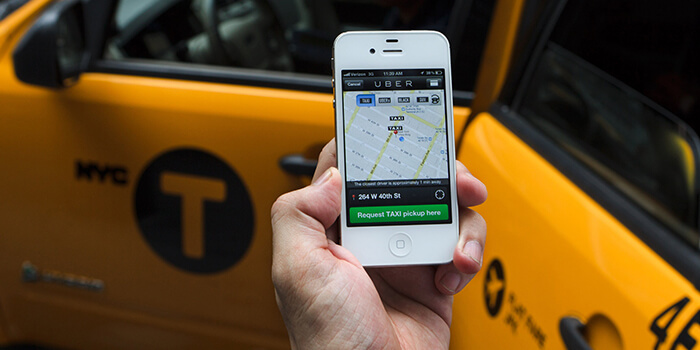 An android application can take your transport business beyond conventional in the following ways:
"Having a mobile app means being closer to your customers."
As people, nowadays, turn to their smartphones for every need, developing an android application means a broad visibility and automatic boost to your business. They can easily get to know about your company, your services, cost and several other factors that could prompt them to choose you over the others.
Make Real-Time Connectivity
"Who wants to go through the hassle of calling the drivers repeatedly to make pickup easily?"
With real-time connectivity through maps, both the drivers and passengers can easily get to know about each other's current location. As a result of it, they can enjoy seamless pickup without undergoing additional woe or any kind of confusion.
Build Stronger Relationship
Unlike traditional transport systems, the development of Android apps provide the customers with an opportunity to easily communicate and take the right decision. With rating and review feature, the user can determine what people say about the company/driver as well as share their experience with the others. This lessens the risk of discomfort during the journey and encourages the customers to choose your services. Besides this, the feedback system can also enable you to cater the needs of the customers and remain in the good books of the passengers. As a whole, feedback system motivates both the ends for a better and healthy relationship.
Evaluate Driver's Efficiency
Monitoring the driver's performance and productivity is quite tough with the conventional method. But, it is as easy as pie with a mobile application. Through GPS, you can make it certain that the drivers do not waste time, and directly reach the passengers. Besides this, you can also make sure that they do not misbehave with the customers or demand additional charges through the feedback system.
"An idle driver at a particular location can directed towards the nearest pickup request, which means that the drivers can be optimally used and faster services can be served to the passengers."
Having your own app will save on commissions paid to the taxi aggregators. You are the ultimate owner and can set your own rules and guidelines in the manner it renders higher profits to your business. So, what are you waiting for? Look for the best android app developer now!
With an android mobile app, you need not run here and there for nitty-gritty details; the business will be as smooth as silk. You can log in the application with the master admin panel and manage everything. You can monitor the drivers in real-time, view their previous driving history, ask for a feedback from a customer, and much more.
Tips to Choose the Right Android App Development Services Provider
The process of finding a taxi android app development company is somewhat same like that of choosing the best mobile app development agency. However, here are a few questions you can ask to find the best android app developer for your taxi app requirement:
Can they show any taxi android app made by them?
You might come across several companies claiming to have an experience in taxi mobile application development. However, to find the company that offers you with a solution exactly what your business is in need of, it is required that you check their work portfolio. Examine the success of the apps- their features, appearance, security and other associated factors.
If a taxi android app development team cannot show an impressive portfolio, it is not the right company to rely on.
Can they provide a reference of their previous clients?
This is an important question to consider for finding the right app development agency and thus, for enjoying effective android app development services. After all, it provides you an insight of the kind of experience and quality of services you will get and the kind of relationship they maintain throughout the process.
The clients who have already worked with the company can assist you in preventing falling for wrong companies and regret your decision later. Thus, do not compromise at this point.
Will they adopt a lean development process or not?
Lean application developers tend to have a better approach to Minimal Viable Product (MVP) and perform the tasks efficiently. Thus, it is advisable to go with a reliable taxi app development company. To find out this, you can ask various questions to your developers like how they act in the critical hours, how long they work on a project and how they solve the issues faced.
BONUS READ: MVP- The First Step Towards Ensuring the Success of the App
What is there approach for user experience and design?
With thousands of Android applications hitting the market every week, UX is the weapon using which you can outshine the competition. Therefore, it is necessary that you choose the company that does not compromise on the design and user experience of the app developed.
Remember, the users use cab booking apps to enjoy faster and reliable services. If your app's interface is complicated and lengthy, the users will take no time to switch to an alternative.
Will they provide post-launch app solutions?
Developing a mobile application like Uber is not a one-time task. Various fixes and new features will be introduced with the time. This means that it is required that the app developers building your Android application stay by your side even after the project ends; it should not be a one-time relation. Thus, select the android app development company that provides support and maintenance facilities along with.
Wrapping Up!
Customers calling to book a taxi is an age-old method. In the present era, all prefer to book a cab/taxi instantly. So, to remain competitive and grow your business, reach the top app development company offering exclusive taxi android app development services.
Shivam Srivastav
Marcom Manager
In search for strategic sessions?
Let us understand your business thoroughly and help you
strategies your digital product.
Recent Articles: