The colossal app economy is nowhere near meltdown.
Shutting all naysayers down, App Industry grew bigger than before, without a single sign of decline or of its bubble getting burst.
If you are one of those brands who even this year didn't get on mobile thinking the "trend" is declining, you have faced a major hit in the revenue and visibility that you could have generated but didn't.
But it's okay, let 2017 pass with a pinch of salt and let us now settle you with the idea of getting on mobile in 2018.
Starting small, we will first take you through the first question.
Should I develop an Android App or should I develop an iOS App? aka the trending question – iOS vs Android 2018, which one to choose?.
Here's a comparison table enlisting the iOS vs Android app comparison

[Read More: Android Oreo vs. iOS 11: Who's Winning]
As you deep in further in the industry, you will find there are a number of reasons that will help come down to the decision. But there are some elements that comes as the basics of it all.
And those are the ones we will talk about today.
Here are the points that differentiated Android Mobile App Development Services with iOS Mobile App Development Servcies in 2017.
1.
Market Share
In 2017, out of the world's total smartphone numbers, 86.1% of the devices that are sold to the end users ran on Android. The number includes Operating System for smartphone, tablet, and wearable.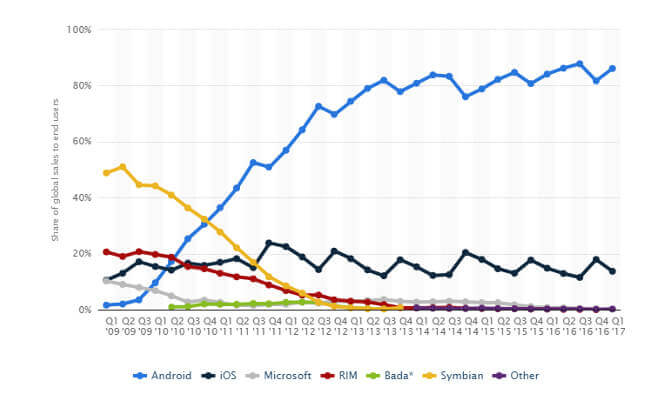 There are two reasons that can be attributed to this.
As compared to Apple, Android has greater number of device variants in the market. They offer more variety to the users in terms of features, usability, and budget. This has brought a greater demand in the market for Android as compared to Apple

Cost per Installation in Android is much less than that in iOS. The low CPI rate is the sign of greater number of apps in the store as compared to App Store.
Both of these reasons were enough this year to bring about a rise in demand for Android Application development in among a whole range of industries.
2.
App Downloads
Greater market reach ripples down to greater number of app downloads as well. When you include the third party Android stores in the mix, the number of downloads that an Android app sees is 7 times greater than what is seen by iOS.
For the social apps, Android app development proves to be a much profitable investment than Apple.
3.
Revenue
Apple won the round when it came to app revenue this year too. Even though Android has more users and sees more downloads, but it is the Apple users who pay for the service. Android users are still more comfortable with freemium apps.
While it is anticipated that in the coming years, it will change with the Android third party stores changing the ball game, that is still the thing of the future. And till that happens, Apple is the unprecedented winner.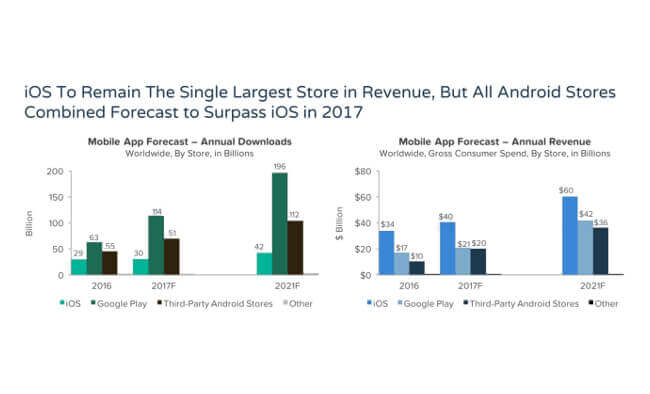 4.
User Demographics
Android even now has the biggest platform share of the world. By being a market leader among the developing nations and among lower income groups, the platform beats Apple when it comes to having great variety in user demographics. It is one of the biggest reasons why every company who wants to make it big, needs an Android app.
Apple's user demographics consists of higher income, education people. Its users show greater signs of engagement and have the capability to spend more in an app. Although Android users can also show a similar behavior, that percent is generally smaller than iOS's.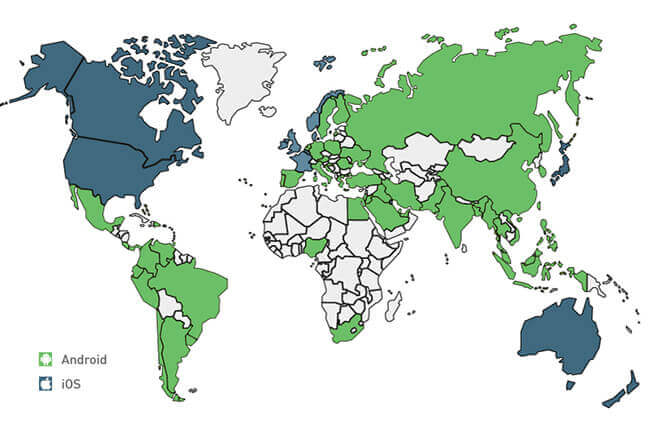 5.
Release and Approval
Play Store takes lesser time in releasing an app. The time is within hours, on average. Which is not the case with Apple that takes somewhere from days to weeks to publish an app on the App Store.
The situation is same when you submit an update in the store. Play Store takes less time to accept the update and make the app live with new or changed features, while it takes a lot of time in Apple to update an existing App Store application.
So, when it comes to ease of time, Android wins the race.
6.
Development Complexity
The biggest dependency when developing apps for mobile is the variety of devices that they are to run on. Now when it comes to this, Android definitely lags behind. When businesses invest in an Android app development company, there are a lot many devices, each with their set of features and icons placements to test our apps on. But when we develop an app for iOS, the number of devices that need to be worried about are very few.
By August 2017, Nougat (the latest Android OS edition) runs on 13.5% devices. On the other hand, iOS10 (the latest iOS edition) is running on 87% and iOS9 on 10% devices. The difference gap is that big.
The difference becomes even more troublesome when it comes to updating the app according to the OS versions.
For brands looking for a non-complex app build process, iPhone App Development is what they turn to.
7.
Development Cost
There are a number of factors that affect the cost of app development. But for sake of this discussion point, we will look at it superficially, without adding size of the app in the mixture.
Solely at the back of how fragmented the Android market is, the cost automatically rises. Also, when you look at the capabilities that are needed to develop apps for both the categories, there are more languages and tools that come in picture when building an app for Android, which is not the case with Apple, which still primarily focuses on Swift.
With this settled that which platform ranked where in app development process in 2017, let us now move on to the other element.
Now we are coming to the next big question that got you and have kept you in the article for this long.
How will you choose which platform to opt for your next year's app?
Before you head towards the last element of this article, i.e., when to choose Android and when to go with iOS platform, I suggest referring to our mobile application development guide to know everything that can influence your app project plan, besides picking the right platform.
Assuming that you have gained insights from our guide, here's how to decide which mobile app platform to entertain for your next app:-
When to choose Android
The biggest reason why companies launch their app first on Android is the number of users the platform has. Factors like ease of publishing, greater options to customize only follow later.
If your app idea is something that is not based on any specific in payment model, and is made for a more diverse group of users, the platform can be your ideal choice. Also, if you are looking for a faster launch time and lesser app update publish time, Android might come in handy there as well.
Android users are more inclined towards tool based, entertainment, and communication category apps, those that have in app ads. If your low cost app falls in either of these categories, the platform is for you to enter the market with.
When to choose iOS
The number one reason why businesses look for iOS app development company and apps wind up on iOS is because of the demographic the platform inhabits. What follows are reasons like less operating systems and devices to work around, the paying capability of users and the greater focus on security.
For your next app, if it is based on an in app payment model, go with iOS. Also, if you are looking for a more secure platform, Apple is your friend.
While you would have read the points of differences favoring iOS and by now you would have measured your idea up with them, let's talk about its marketing.
You should choose iOS if you are looking for influencer marketing for your application.
In Coachella 2015, maximum number of attendees were Apple users. And the trend has remained same among popular events as well. So, if you are looking to get some press coverage from the world's influencers, iOS should be your choice.
In search for strategic sessions?
Let us understand your business thoroughly and help you
strategies your digital product.
Related Articles: