Google's Triangle App- A Big Step in the App Development World!
July 7, 2017
2. min read
Last update on:
April 8, 2020
For a long time, the data consumption by the apps remain a major concern for both the developers and users. The smartphone users were demanding apps that do not consume the whole of their data. This problem was more prevalent in case of users with limited data, or among those living in less bandwidth region. Various updations were made in the app development process and strategy, but none provided satisfying results. This has forced developers to cut down the app functionalities so as to prevent excessive data usage.
But, now no more! Google has introduced an app Triangle which will allow the users to better control their data usage. When compared to the Google's previous attempt of including 'Data Saver' feature in the mobile Chrome browser, this app will function more effectively.
It will enable the users to view their data balance and check how much data is consumed by each app. Also, it will give the users privilege to block the apps using most of their mobile data. The smartphone users will be able to customize their data usage as per the time or even block them. That means they can choose between the options like for 10 minutes at a time, 30 minutes or always.
This way, Triangle will minimize the data usage and even help the developers to give ultimate experience to the users. As now, they can fully focus on creating unique and innovative apps, without worrying about data consumption.
The perk of this app is not limited to this! According to the experts of Appinventiv- the renowned mobile app development company, Triangle app will be a big step in the world of mobile market. This app will be a boon in developing markets where WiFi isn't common and people have limited data.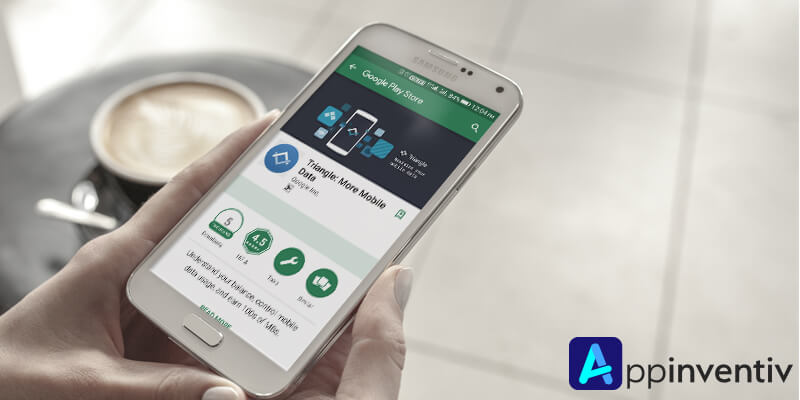 Triangle mobile app will allow users to see their data balance on carriers like Globe and Smart. These carriers will provide them data rewards, which means the users will be free to download and try new apps without concerning about its impact on their mobile data. Developers will also be benefited by this mobile app. This app will prompt the users to use existing apps in return of extra data. Thus, a newer and effective way of app marketing is about to enter the mobile app market.
This app has been in knowledge since April 2017 and is undergoing testing in Philippines right now. Google has not yet announced anything about its launch or impact on the emerging markets. But, still one can hope for a big change in the app development world with the emergence of Triangle app.
In search for strategic sessions?.
Let us understand your business thoroughly and help you
strategies your digital product..
Related Articles: