Google Play Store recorded 19 Billion Mobile App Downloads; 145% more than App Store
January 27, 2018
2. min read
Last update on:
March 27, 2020
With more than 2.35 billion smartphone users demanding all the services on their phones, mobile app industry is observing a significant rise. Today, we are using mobile apps almost everything. They are becoming an indispensable part of our lives, and this is quite clear from the recent report shared by App Annie.
As per the report, there has been a seven percent increase in app downloads (only new downloads are counted, not the update and re-installs). More surprisingly, Google Play Store recorded 19 billion app downloads globally till Q4 2017, which is 145% higher than the Apple App Store downloads.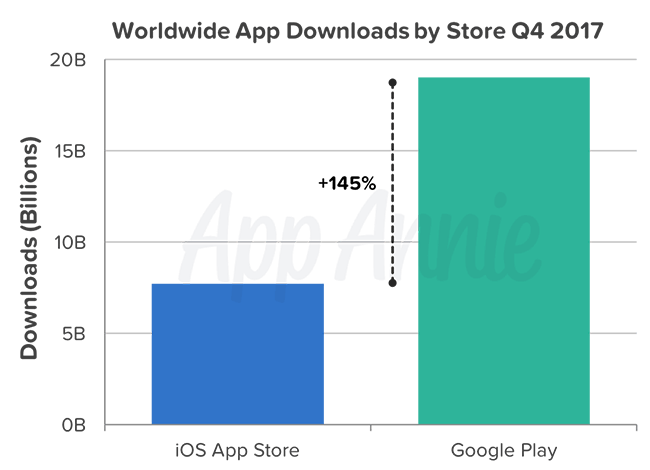 The report claims that the three popular categories that have been flourishing year-over-year in the Play Store are Games, Personalization, and Finance. While the first two achieved considerable numbers in Q4, Finance is expected to grow in Q1 2018 because of brewing tax season and various users experimenting with the new finance-centric mobile applications.
The report also threw light on the increase in the consumer spending on Entertainment-category applications globally. The spending on entertainment apps has grown by 4 times from 2015 to 2017, thanks to the video-streaming applications' in-app subscriptions that empower the users with features like offline viewing, playback of live TV, removing ads, etc.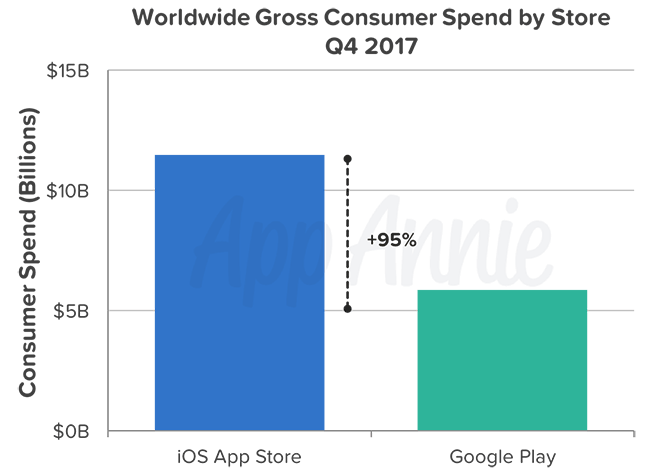 Another area that showed a significant rise in the past few years is mobile games. Revenue generated by gaming industry grew over 100% as per the report, and the figures are continuing to increase.
Besides, the report stated that while Google's Play Store is leading in app downloads, Apple is still generating higher app revenue. In Q4 2017, App Store recorded 95% higher revenue than Play Store.
From the above figures, it can be said that every business needs an android app if they wish to reach a higher audience and enjoy higher downloads. Whereas, investing in iOS app development is a profitable deal for earning higher revenue from the apps.
In search for strategic sessions?.
Let us understand your business thoroughly and help you
strategies your digital product..
Related Articles: