The video sharing has always remained in the limelight; it has been so much liked by the people that according to a 2016 Cisco study revealed that online videos alone will bring more than 80% of internet traffic by 2020. In such a scenario, it is insane not to implement this feature in your mobile app. Lately, but finally the top B2B social platform, Linkedin has realized this fact and introduced a native video feature to its mobile application.
LinkedIn's Native Video Feature
LinkedIn has recently released the native video feature, which has opened a new door for companies, clients, and consultants to interact with each other. As we all agree that you can build better relations with other companies/clients or showcase your potential in a better way when interacting face-to-face. This feature will definitely revolutionize the user experience of the biggest B2B social media app. It could be seen as a next powerful tool for job-hunting and promoting your company culture and services.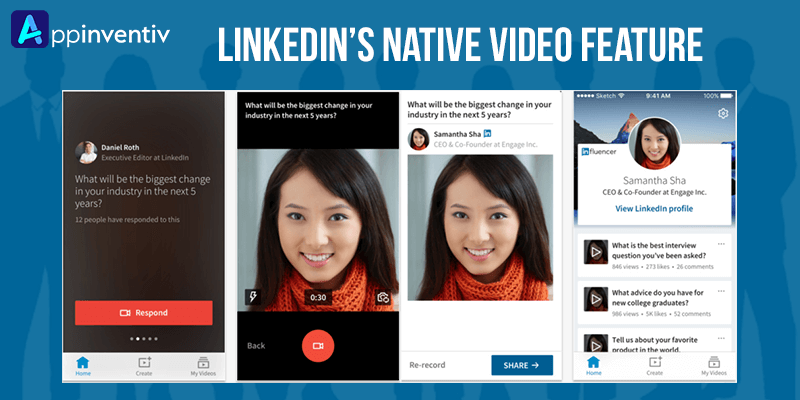 Using the video feature on LinkedIn is surprisingly very easy, provided you have an access to this feature (Video content feature is available in the USA only; will be available to the other parts of the world very soon). When you click on 'Write Post' option, you will find a small recording icon next to the camera icon. Just tap on the recording icon, give LinkedIn access to your phone's camera & microphone and you are ready to go. Record your video horizontally or vertically for almost 10 minutes. Once done, just press 'Next' and your video will show up as an attachment in your post.
Video Sharing Feature on Facebook v/s on LinkedIn mobile app
To some extent, you can say that the native video feature of both the social media apps is similar. But, the LinkedIn video feature is not a copy of that of Facebook. You can upload your video in both horizontal and vertical manner. The basic viewer stats will appear not just to the video's creator, but to everyone.
Apart from this, LinkedIn allows creators with key professional information about their video's viewers including the titles & companies for a few well-known audience members. This is a game-changing point from the business point of view.
Impact of LinkedIn's New Feature on Market
If we talk about the brands and companies, they will find it easier to promote their business by developing ads wrapped in these videos. The companies would observe a better reputation in the market by sharing about their workforce, work culture and products' quality via this video sharing feature. Also, with the help of rich analytics, the brands will be able to see likes, views, shares, location of each viewer and much more which could provide a wealth of new insights into potential leads. For LinkedIn, it is undoubtedly a milestone in the path of fixing user retention problem.
According to our mobile app development agency , the Facebook experienced a wider user growth and engagement when it went live. We expect something same in the of this B2B social platform.
Wrapping Up!
Having video sharing element integrated into your mobile application has become a trending move! It has come up as a great tool to entice users and market your business. So, what's your plan? Are you ready to integrate such trending features into your mobile app? If so, take no time to visit us. We, at Appinventiv, have years of experience in mobile app development. We have developed over 230+ 'top-grossing' applications till date and are looking forward to provide our best optimal services to the clients worldwide.
Shivam Srivastav
Marcom Manager
In search for strategic sessions?
Let us understand your business thoroughly and help you
strategies your digital product.
Recent Articles: