Battle of Mobile Security: Android vs iOS
July 13, 2016
5 min read
Last update on:
September 12, 2017
Major companies such as Apple and Google have been in the mobile industry for a while and sales of their handsets are touching the sky. Every year they come up with the latest version of their OS (Operating System) which brings new features and better user experience.
Even after having cool new features and an amazing user experience, the security will remain a concern for mobility.
Android and Apple are the two leading mobile ecosystems but both of them are concerned about the security issues. They have started to bring new approaches in order to cope up with the security threat. Let us examine both companies and their recent approach towards security and see who comes ahead.
Background
These days, mobile specific vulnerabilities, malware and network attacks are on the rise. The increase in mobile device, vulnerabilities and malicious apps present unique technological, legal and security challenges to IT and security professionals.
Now mobile security is relatively on a good place, the security mechanisms namely app sandboxing, app store distribution and permissions are getting stronger. Cyber attacks are also getting controlled as both Apple and Google have recognised this urgency and are taking necessary steps to control the cyber attacks.
Both Apple and Google are actively attempting to identify vulnerabilities in their mobile offerings. Both these companies are putting a lot of effort to enhance security which includes the integration of third party app. Although, both the companies are addressing to security issues but they both have different approach.
iOS
One of the biggest news which we heard last year concerning the Apple was their approach towards security, when apple refused to unlock its iPhone for FBI stating the user's data is private and should remain private.
Apple's iOS devices be it Mac, iPhone and iPad are known for strong security as the Apple's control the entire ecosystem like hardware, firmware and software. After the request from the FBI to unlock the iPhone, Apple has strengthened its encryption around iCloud and hardware to make it even difficult to hack.
Recently, at WWDC event, Apple announced that it would require to use of its App Transport Security (ATS) feature in all apps by January 2017 which is more secure than HTTP.
Android
Android was in the line of fire whenever the topic of the security used to come. Then Google made a lot of changes to its mobile OS to meet the challenges of security. Google did work really hard to get rid of harmful apps from its app store.
Now Android asks your permission to perform an action is more likely to be trusted by the user and the apps which are not trusted by user, the Android will not install it.
Google recently announced automatic security updates for Android, which makes the OS fast and easier to patch applications. We have also heard that Android N will also be getting a new system upgrade which is similar to Chrome OS, where apps will be patched in the background. But android will always be limited in its capabilities because not all people have moved to latest update.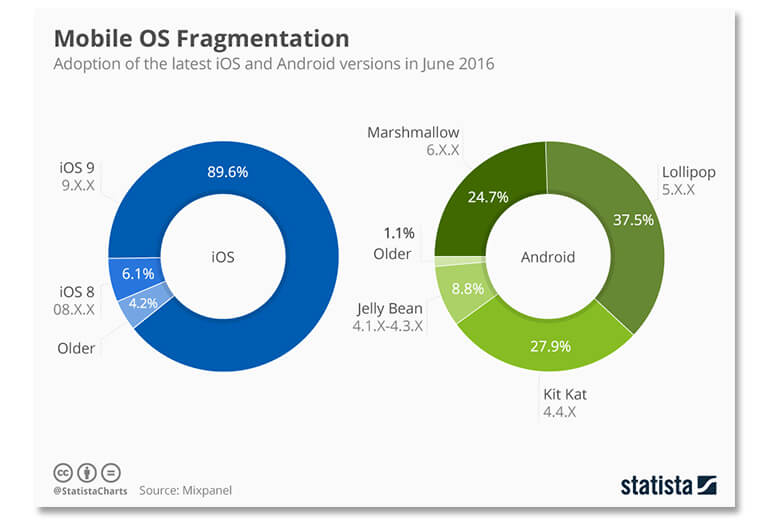 Result
In this shootout the iOS marches ahead and claims the top spot in terms of security but when it comes to features Android prevails.
The Android has made some significant changes but iOS remains more prevalent of the two. Major enterprises still feel safe and secure to store their data on iOS platform.
The Apple must have won this battle but in years to come we don't know which platform marches ahead. But the real winners would be the users who will continue to benefit from the security upgrade.
How did you find our shootout? Let us know in the comments section below.
Shivam Srivastav
Marcom Manager
In search for strategic sessions?
Let us understand your business thoroughly and help you
strategies your digital product.
Recent Articles: