Apple September Event 2018: What to Expect and How to Watch it Live?
September 12, 2018
2. min read
Last update on:
April 5, 2020
We are just a few hours away from another exciting Apple event – the Apple September Event 2018 where the tech giant will introduce its latest product lineup. The event which will bring us closer to the Apple's new collection of innovative and consumer-centric iOS devices, and wearables along with the software updates that will influence our present and years to come, both in terms of features and quality of service.
Sounds exciting? Eager to know what all devices will Apple reveal at 10 a.m. PT today? While there are numerous rumors prevailing the market about the upcoming products, here are some of the products and software update that we expect to find at the Apple's September "Gather Round" event today.
What to Expect at Apple iPhone Event 2018?
1.

iPhone Xs, iPhone Xs Max, and iPhone 9

Last year, the Apple team launched iPhone X, iPhone 8, and iPhone 8 Plus during this Apple launch event. Following the same tradition, Apple is going to launch the three new iPhone sets this evening, i.e., iPhone Xs, iPhone Xs Max, and iPhone 9.
iPhone Xs: The iPhone Xs will be the updated version of iPhone X- the device that brought the wave of disruption in the iOS market with an OLED full-screen and Face ID facility. The upcoming iPhone Xs is supposed to have the same notched, 5.8-inch, bezel-less display screen but with tweaked internal specs.

iPhone Xs Max: iPhone Xs Max (and not iPhone Xs Plus) will be the 6.5-inch screen iPhone of the Xs family that is expected to add excitement to the event today with its 6.5-inch screen, longer battery life, and other top-notch features.

iPhone 9: iPhone 9 (also rumoured as iPhone XC and iPhone XR) will be a budget iPhone model with 6.1-inch, bezel-less display screen and Face ID features, and potential to replace iPhone 8 and iPhone 8 Plus in the market as well as provide the best of the features of iPhone Xs series without making a hole in your pocket.
2.

Apple Watch Series 4

Though the new set of iPhones will be the staple element of the event, Apple Watch Series 4 will also prevail in the Apple Launch event. Reported as the first major redesign of the time since its release back in 2015, the Apple Watch Series 4 will come up with a bigger edge-to-edge display, slightly sledged size, LTE model and watchOS 5 version which will boost the automatic workout detection, notification, and walkie-talkie mode in the device.

Also, as shared by TF International Securities Analyst, Ming-Chi Kuo in his research note, the new Apple Watch Series is expected to work with EKG (Electrocardiography) technology that will enable advanced heart rate monitoring; implying a great opportunity for the healthcare industry and the healthcare app developers to offer better healthcare services.
3.

iPad Pro

As per the rumours prevailing the market, the iPad Pro will get a touch of 'iPhone X', i.e., it will be introduced with a slimmer bezel, no home button, Face ID, updated A-series processor and lower RAM specification.
4.

iOS 12 Release, Mac OS Mojave, and Other Software Update

Apart from the hardware launch, the Apple iPhone Event 2018 will also release a various software update to the public, including iOS 12, tvOS, watchOS, and macOS Mojave.
iOS 12: iOS 12, as we have covered in an

earlier blog

, has been already out with various exciting features for both iPhone app developers and users. In this Apple Sept event, the iOS 12 will be updated with improved features like better notifications, ease to track time spent on the phone, and new custom emojis called 'Memoji'. Besides, the Apple will upgrade its ARKit framework to ARKit 2 which will enhance the AR experience

watchOS: The new watchOS version will provide you with better Siri shortcuts, health and fitness tracking facilities, and Walkie Talkie mode. With this update, you will no longer be bounded to hold your wrist up to your mouth to interact with Siri or say "Hey Siri" to activate her.

macOS Mojave: The macOS update is expected to come up with features like the revamped App Store, new Dark mode and automatic arrangement of files on the desktop.
NOTE: Apple might save the release of macOS Mojave for rumored Mac Hardware special event this fall.
Besides, the AirPower, AirPod and various other accessories will also make a significance in the Apple event when Tim Cook will take the stage. So, don't miss the Apple September Event 2018 today. Visit Steve Jobs Theater in Cupertino, California to watch Apple event at 10 a.m. Pacific time.
But, if you couldn't make to Cupertino due to some reason, you can catch all the latest update via live streaming option as follows:
How to Watch Apple Live Event?
To Watch the Event on Your Smartphone, Laptops and Computers
Go the Apple official website and watch the live video on the landing page or simply, go to September 2018 landing page. You can also watch the clips of the major highlights of the event on-demand after it ends on Apple website.
NOTE: To get the best experience, use Safari on iOS 10 or macOS Sierra 10.12, and Microsoft Edge and latest versions of Chrome and Firefox on Windows devices.
To Watch the Apple September Event 2018 on Your Apple TV
Download the Apple Events App from the app store and tune into it. Or stream from your iOS device with the help of AirPlay.
NOTE: You are required to have an Apple TV of 2nd generation or later with latest tvOS and Apple TV software.
To Watch the Event on Twitter
Besides, you can also cover the complete Apple Sept. 12th 'Ground Round' event live on Twitter. Just tap on the 'Like' in the tweet as shown in the image below and you will get the real-time updates.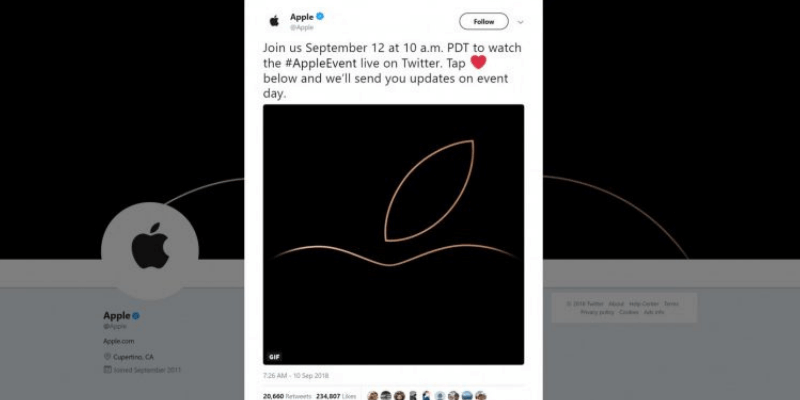 For more such latest news and update related to mobile market, keep reading our blogs.
In search for strategic sessions?.
Let us understand your business thoroughly and help you
strategies your digital product..
Related Articles: