App Store New Guideline : Cryptomining Apps to Get the Axe From Apple
June 16, 2018
5 min read
Last update on:
September 17, 2019
With Blockchain ecosystem and cryptospace now starting to grow and engulf itself in what the world is now calling – Industry 4.0, the instances of risk has also increased alongside the hopes of better security.
One such crypto associated risk that brands like Google, Amazon, and Apple has been trying to safeguard their users' interest from is Cryptomining malware.
To prevent cryptomining malware from entering and then surviving in the App Store, the brand, through its Apple app store guideline, has announced a global ban on all iOS and Mac apps that mine cryptocurrency in the background.
In addition to this, Apple has curated a complete section on Cryptocurrencies addressing the developers of cryptocurrency apps, to warn them before they launch a cryptocurrency mining malware app –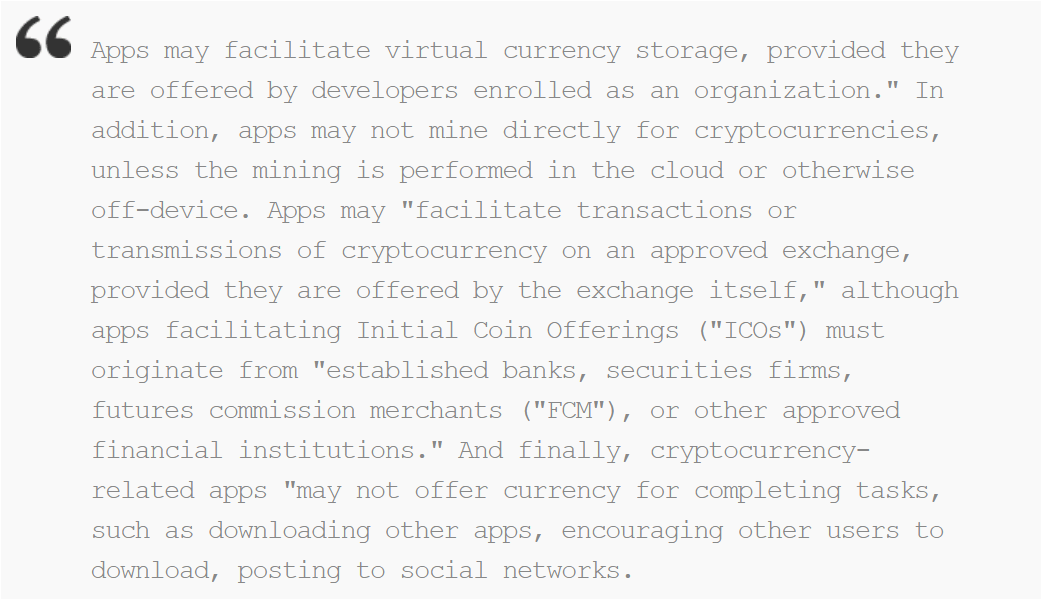 Through this move, Apple is taking a proactive approach where the brand is not waiting to find out all the damages that these malicious cryptocurrency and mining apps can make.
Leaving zero scopes of misunderstanding among the iOS app developers working on cryptocurrency apps, the tech giant has expressly defined "Cryptocurrency" in Apple App Store Guideline Section 3.1.5(b). A move to prevent instances of cryptomining malware.
Here are the definitions cum guidelines related to different aspects of Cryptocurrency Apps, as passed down by Apple –
1.

Wallets:

Apps can enable virtual storage of currency, as long as they are being offered by developers who have enrolled themselves as an organization.
2.

Mining:

Apps cannot mine cryptocurrencies until processing is done off the device.
3.

Cryptocurrency Apps:

They cannot offer currency to the users for completing tasks on the app
4.

ICO:

Apps giving access to ICOs must come from security firms, banks, and other financial institutions and should comply with the applicable laws.
5.

Exchange:

Apps should facilitate transmission of cryptocurrency only when they are offered by the exchange itself.
What will be the Repercussions of the Guideline on the iOS App Developers and Users?
1.

For the Users:

iPhone and iPad users can now comfortably download Apps from the App Stores knowing that their interest is safeguarded.
2.

For the iOS App Developers:

All the developers rolling out cryptocurrency and mining apps, will have to think of some other business model if they are planning to run the apps in the background and otherwise they will have to ensure that their apps abide by the rules set by Apple.

This cryptomining app ban move is a direct portrayal of how proactive Apple is when it comes to saving its users – whether it's from the cryptomining malware or from other malicious apps.

In search for strategic sessions?

Let us understand your business thoroughly and help you
strategies your digital product.
Related Articles: