With the growing market for mobile app development, developers are looking forward to experiment with other technologies. They are working on developing apps for all the possible gadgets. One such gadget is Wearable devices. Though the wearable apps have debuted some years ago, it is gaining more popularity these days. The products like Fitbit, Apple Watch, Pebble, HoloLens and Google Glass has completely changed the market demands. And this has motivated the developers to go for wearable development.
This innovative technology has raised curiosity among different sectors, prompting them to explore its relevance and potential. And is supposed to remain as an ongoing trend in the market. Many businesses have already started looking for ways to use the capabilities of wearable for their brand marketing.
Though these small gadgets are equipped with some breathtaking features, still the  app developers can face some major challenges, like:
Wearable devices have smaller screen size compared to phones and tablets. That means the user interface will also differ. This is a challenge for developers. According to the best wearable app development company, the developers must focus on simple and rapid user interaction, passive data collection and voice commands. Also, they should avoid flashy icons and detailed navigation since these devices do not have enough space for them.
The two significant qualities of a wearable are its ease of use and mobility. The apps developed for such gadgets must be created keeping these two features into consideration. According to our experts, one should consider users needs in developing wearable applications instead of releasing a replica of an existing app.
Many people resist investing in wearables because of data security and privacy concerns. No doubt the data sharing is among the prime features of wearables, adequate security measures are must-needed for protecting sensitive information.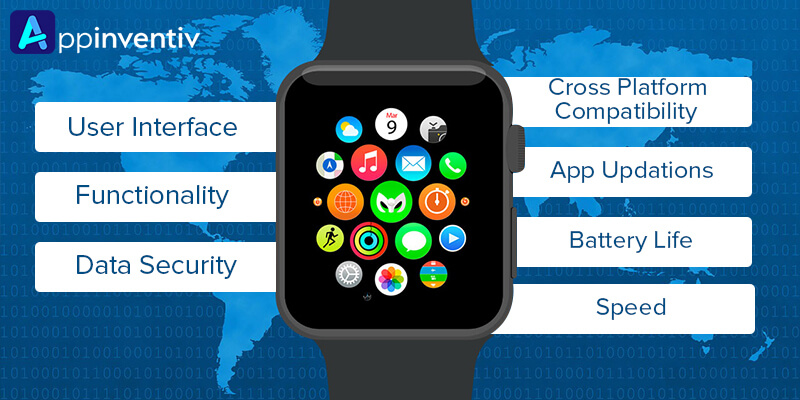 Cross Platform Compatibility
Making an app for wearable devices for an individual platform or all is again a challenge faced during wearable development. If you make an app for a single platform, it will limit the targeted audience. Whereas, in the case you think about developing a custom wearable application, coding will be different.
Wearable App Development is the hot topic for industry! Experts are coming up with rapid and effective changes in the field every other day. In such a scenario, it's must that your app remains updates with the latest technology and trends. This is again a challenge for the developers to remain in the market and ensure lifelong success.
Many wearable devices have shorter battery life. If your app consumes high battery, the device might drain earlier. This can lower down the app usage and also increases the risk of app uninstallation. After all, no one likes to charge their devices again and again.
As the competition is increasing day-by-day, it is required that the app development for these devices must be done quickly and effectively. According to the top wearable app development agency, the earlier you launch your app, the higher will be the response from the market.
Conclusion
Now as you know about the major 7 challenges faced by developers in Wearable development, plan the app development strategy wisely! And for any further guidance, contact us! We, at Appinventiv, have an experience in wearable application development. Our experts are skilled and use the latest technology, and thus can help you to remain up-to-date with technology trends.
Shivam Srivastav
Marcom Manager
In search for strategic sessions?
Let us understand your business thoroughly and help you
strategies your digital product.
Recent Articles: